Progressivism in the Church
Church Revolution in Pictures
Photo of the Week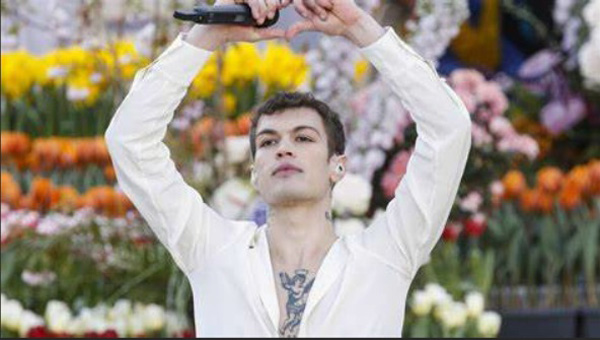 Blanco sings for the Pope
The star of the Italian song
Blanco,
alias Riccardo Fabbriconi, was invited by the Italian Conference of Bishop to sing for the Pope during his encounter with the Italian youth, which brought together 80,000 people according to the press. The meeting was celebrated on Easter Monday, on April 18, 2022.
The invitation
raised a controversy
since Blanco's morality is quite opposed to Catholic Doctrine. He has no problem appearing in homosexual poses, kissing lovers or showing his head between a male legs, as shown on this page. He sometimes also appears in loving poses with young woman, which would seem to characterize him as a bi-sexual.
Despite the opposition, the Italian Bishops held to the schedule, affirming that he was a good model for the Italian youth.
Pope Francis endorsed this decision with his presence and listening to the star sing
Blu celeste
.
It is another significant denial of Catholic Morals made by a Pope who should represent Our Lord Jesus Christ, and not the free-love customs of our pagan times. It brings to mind the dire prophecies of Our Lady of La Salette who said that Rome would become the seat of the Antichrist.


Posted April 24, 2022
___________________________



________________________