Progressivism in the Church
Church Revolution in Pictures
Photo of the Week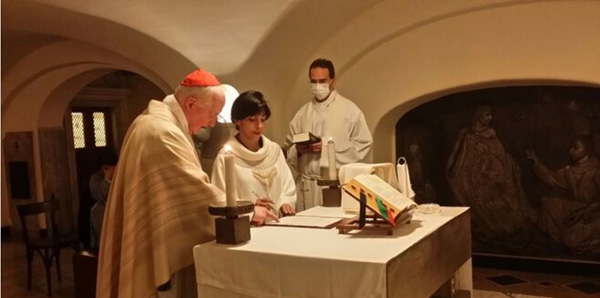 Liberation Theology promoter heads Papal Commission
Emilce Cuda, a member of Argentine Theology of the People – a branch of Liberation Theology – was named by Pope Francis as the head of the Pontifical Commission for Latin America.

Above, she is behind the altar in the presence of Card. Marc Ouellet taking possession of her new office on September 1, 2021.

Cuda was formed by Jesuit Juan Carlos Scannone, last row below, who was also the mentor of Fr. Jorge Bergoglio. She is being presented as one who knows how to interpret Francis' documents.

Under the pretext of enforcing Sustainable Development and Ecology, Cuda's agenda is to spread the principles of Liberation Theology and support the Popular Movements, which are communist cells established to destroy present day Capitalism by means of armed class struggle.

It is yet another step taken to destroy the Catholic Church and replace her with a Communist Church. It is another confirmation of the words of Our Lady in Fatima: "Russia will spread its errors throughout the world."




Posted November 21, 2021
________________________