Progressivism in the Church
Church Revolution in Pictures
Photo of the Week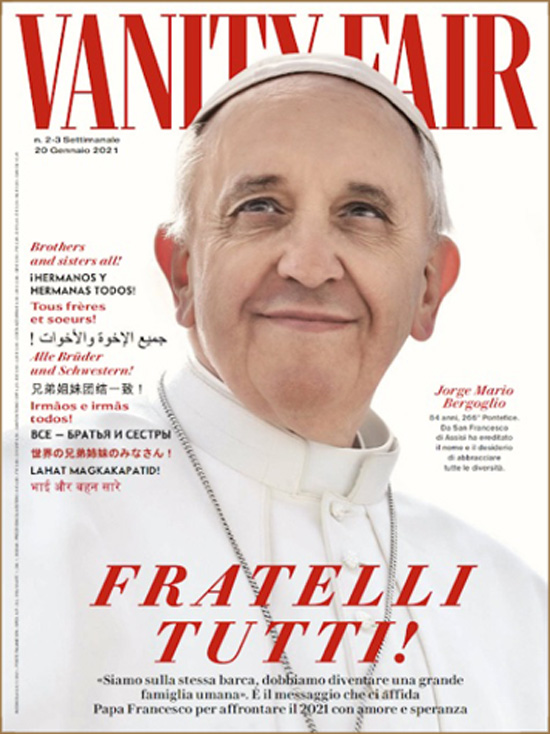 A Pope loved by the world
The Italian edition of
Vanity Fair
, issued on January 7, dedicated its cover to Pope Francis and declared him "Man of the Year."
On the cover is a quote from the Encyclical
Fratelli tutti
encouraging mankind to "become a big family."
On page 20, there is
an article
by Andrea Tornielli, editor of the Vatican media, praising Francis's approach to the coronavirus crisis and inviting people to build a new society and a new economy.
This exaltation of a Pope by a clearly worldly and revolutionary magazine shows how much the world loves Francis.
This love brings to mind the words of Our Lord to the Apostles:
"If the world hate you, know ye, that it hath hated me before you. If you had been of the world, the world would love its own: but because you are not of the world, but I have chosen you out of the world, therefore the world hateth you.
"Remember my word that I said to you: The servant is not greater than his master. If they have persecuted me, they will also persecute you: if they have kept my word, they will keep yours also." (Jn 15: 18-20)
Interestingly, 2000 years ago Our Lord Jesus Christ judged Pope Francis. He is not being persecuted by the world, but receiving its full support for his communist and One World Order agenda.
It is not difficult to see that Francis is a part of the world; he did not follow the words of Our Lord and is not His servant.
Posted January 10, 2021
________________________