Progressivism in the Church
Church Revolution in Pictures
Photo of the Week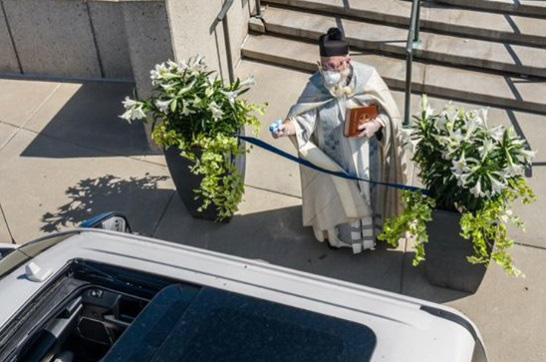 Detroit priest uses squirt gun to spray Holy Water
The sanitary face of the Conciliar Church offers new features every week... Recently a reader sent us these photos of Fr. Timothy Pelc from St. Ambrose Parish in Grosse Point Park, Detroit, Michigan, blessing flowers baskets for Easter.

We can expect all kinds of extravagant and irreverent initiatives from these priests and Prelates...

The only thing we cannot expect is to find them acting as the Catholic Church always did in the past when faced with contagious illnesses and plagues. That is, to continue to give spiritual assistance to the Catholic faithful, especially to the sick and the dying.

History will record this position of the Conciliar Church authorities in face of this Covid pandemic as a stigma of shame and cowardice, which per se, independent of the flood of other errors they promote, deserves the scorn due to deserters.

Curiously, shortly before the outbreak of this crisis, Pope Francis was urging all the religious Orders to set aside their age-old missions and "go to the peripheries," "dirty their hands," and assist the poor.

However, as soon as the Covid-19 epidemic manifested itself, the Pope, the Prelates and the clergy joined together to abandon the faithful – no matter how poor and sick they were – to run away from any danger of contagion. Moved by this feminine fear, they abandoned saying public Masses and administering the Sacraments, and let Catholics die without any spiritual care.

If they no longer have Faith and courage, they could at least have a little consistency in order not to completely lose face before the faithful. But not even this made them assume a position of valor.




Posted May 24, 2020
________________________