Progressivism in the Church
Church Revolution in Pictures
Photo of the Week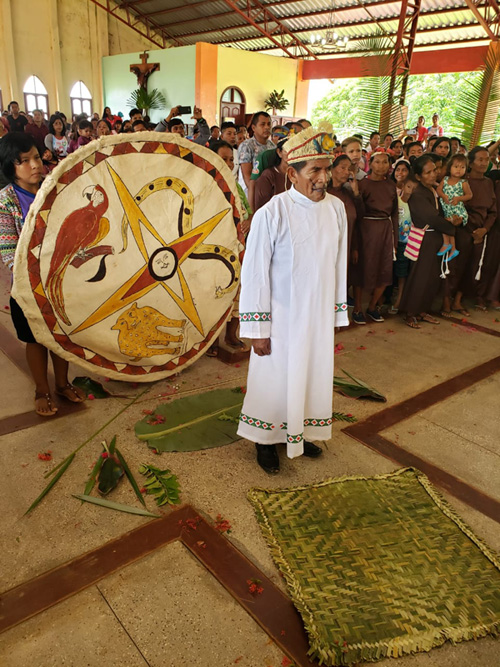 Amazonian Deacon ordained in 'new rite'
On Sunday, March 15, 2020, Antelmo Pereira,
above
, from the Ticuna tribe, received the order of Deacon. The ceremony took place in the city of São Francisco de Assis, Diocese of Alto Solimões, State of Amazonas, Brazil. Bishop Adolfo Zon performed the ordination.
Antelmo Pereira is a local teacher, married and with nine children. He has helped his local church for many years.
The ceremony – essentially a
Novus Ordo
Deacon ordination – included many indigenous notes in order to please Pope Francis and meet his requests/dreams expressed in his
Apostolic Exhortation Querida Amazonia
.
The bulletin of the Brazilian Conference reports the event, trying to confer messianic notes to it: "The Ticuna people from Belém of Solimões headed to the São Francisco de Assis Church singing and dancing, each with his face painted according to the 12 clans of the ethnicity of the Sacred Land of the Eware. These clans, comparing them to the People of God's history reported in the Bible, can be related to the 12 tribes of Israel in the context of an inculturated evangelization."
Besides the Indian musical instruments, painted faces, dances and songs, other Indian symbols in the ceremony included Deacon Antelmo's headdress made of straw and adorned with feathers and small red coconuts, the straw mat made of
buriti
– a local palm tree – on which he prostrated himself, and a circular tapestry, a good-luck pagan talisman to bring him the protection of the forces of nature.
After his ordination,
last row below
, the new Deacon "concelebrates" with the Bishop...

Posted April 26, 2020
________________________