Progressivism in the Church
Church Revolution in Pictures
Photo of the Week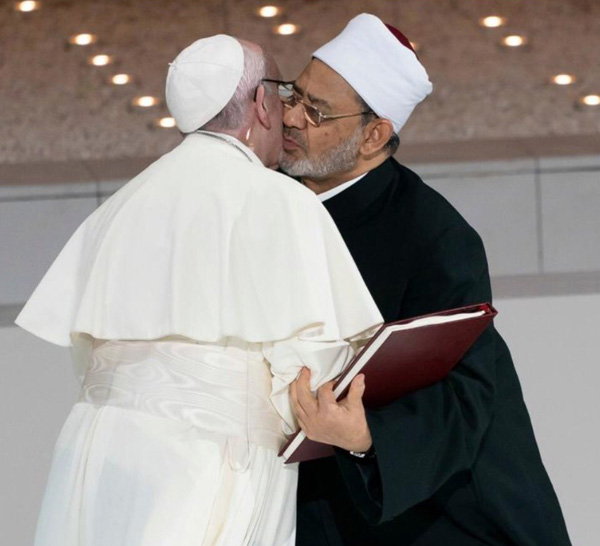 Francis kisses Imam to seal the Panreligion
The main goal of the Pope's visit to the United Arab Emirates was to meet Imam Ahmed Al-Tayeb, who is the highest authority of the Sunni Muslims. On February 4, 2019, the two signed a document of peace. The act was sealed by an embrace and a kiss, as shown on the photos on this page.
The Abu Dhabi document basically affirms the principles of the French Revolution: liberty, equality and fraternity. It also states that "the pluralism and diversity of religions ... are willed by God in His wisdom."
Now then, until Vatican Council II the Catholic Church has taught that God willed only one religion, the one He founded when He took flesh and dwelled among us. Therefore, this document is in complete opposition to almost two millennia of the Catholic Magisterium.
Since Pope Francis declared that the signed document "does not go one millimeter beyond the Second Vatican Council," it is an indirect affirmation that the Council broke from the Catholic Magisterium as well.
It founded a new religion that has the goal of uniting all faiths, no matter how different they may be, to reach a Panreligion and allow the Revolution to establish its One World Order or
Universal Republic
.
As a side note, it is interesting to see, in the
fourth row below
, that in that walk the Pope was not given the place of honor, which is occupied by the sheikh.
In the
last row
, we see Francis bowing as he visits the tomb of the founder of the United Arab Emirates, another way he found
to humiliate the Papacy.


Posted February 10, 2019
________________________