Progressivism in the Church
Church Revolution in Pictures
Photo of the Week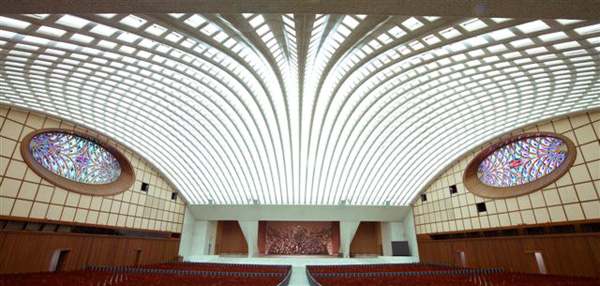 Teaching from the serpent's mouth
Soon after he became a Pope, Paul VI ordered the building of a new architectural structure, the Paul VI Audience Hall or Nervi Hall, pictured
above
, to host the papal general audiences. Commissioned in 1963 and inaugurated in 1971, it was designed by Italian architect Pier Luigi Nervi.
From one perspective of its interior,
above,
one has the impression of a serpent with stained glass windows for eyes set on a scaly looking ceiling and walls, large off-white columns for fangs and a middle aisle for its tongue. The serpentine form can be confirmed when placed together with a snake photo,
below first and second rows
. From a view of its exterior something similar to a serpent head also can be seen,
third and fourth rows
.
If these analogies are objective, the Pope stands precisely in the center of the serpent's mouth. It is from there that he delivers his speeches during his general audiences and special meetings. Quite different from speaking from the chair of Peter, the
cathedra
of truth. The conciliar Popes now deliver their new doctrine from the serpent's mouth.
As if this were not sufficiently occult, inside the serpent's mouth is a strange-looking representation of Christ's resurrection by sculptor Pericle Fazzini,
below fifth row
. In it Christ figures as a part of an explosion of energy, as if he were a superman opening the way for a new era of the universal evolution. We have analyzed this sculpture previously,
here
.
A
recent message
from one of our readers brought our attention to this serpentine perspective of the Paul VI Hall, which so far had escaped our radar. A parallel search brought us to a
3-minute video
focusing on these and other analogies between the architecture of this Hall and the shape of a serpent. Although we do not endorse all the suggestions of the author, it is a study worthy of attention.
Our Lady of Fatima, through Sister Lucy, warned that the Devil has entered into his final battle against the Church. After seeing these pictures, how can we not ask whether the Vatican is paying homage to the Devil with this Hall?

Posted October 22, 2017
________________________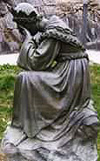 Our Lady of La Salette,
restore the Holy Church.
________________________