Progressivism in the Church
Church Revolution in Pictures
Photo of the Week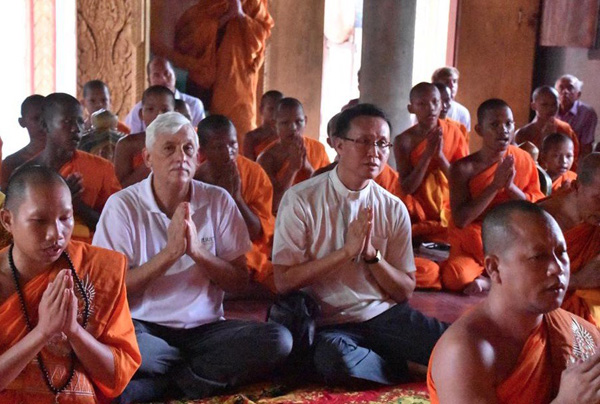 Jesuit Superior at a Buddhist temple
On July 15, 2017, Fr. Arturo Sosa, Superior General of the Jesuits, visited Wat Svayromeat, the oldest Buddhist temple in Siem Seap, Cambodia, as shown on this page.

In a tour of the Jesuit missions in Asia, Sosa participated in a common prayer session with Buddhist monks, above. He sat on the floor cross-legged with his hands joined together to look as much as possible like a Buddhist monk.

During the Buddhist ceremony, first row below, we see the Jesuit Superior General being lectured by one of these monks. Soon afterward, Fr. Sosa stated how impressed he was by the deep concentration of the monks during meditation. In the second row, we see him posing with boys and teens who are studying in its monastic school.

Sosa also participated in another inter-religious event with Buddhist monk Ven Sovechea and peace activist Bob Mat. The dialogue included the "blessing of the wheels of reconciliation," fourth row, which are situated along a pond in Meta Karuna that was hollowed by a cluster bomb. While holding hands around the place where the bomb fell, the Buddhist monks chanted blessings for peace and reconciliation and the Catholics sang the beatitudes in the Khmer language. The red arrow in the photo points to Sosa.

So, we have the Commander of the Army of Jesus, founded by St. Ignatius of Loyola to defeat heresies and spread the Reign of Christ, who today is assimilating in his Order all the heresies and is completely heedless of the glory of Our Lord.

The only one worse than him is another son of St. Ignatius who is the present day occupant of the See of Peter.




Posted July 23, 2017
________________________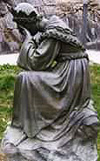 Our Lady of La Salette,
restore the Holy Church.
________________________