Progressivism in the Church
Church Revolution in Pictures
Photo of the Week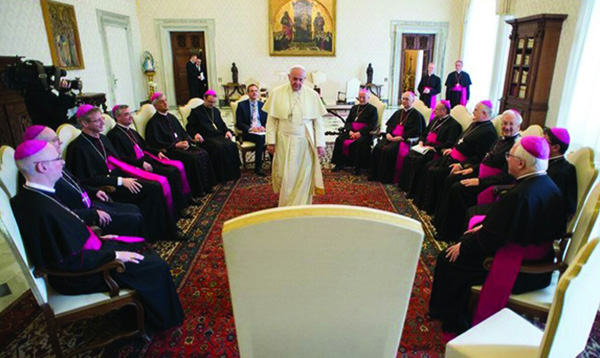 Who changed the Bishops' protocol?
Every five years every active Catholic Bishop is obliged to make an ad limina visit, that is, a visit to the Pope in Rome in order to give an account of the state of affairs in his Diocese.

The complete name of the visit is ad limina Apostolorum, to the threshold of the Apostles, a reference to the pilgrimage to the tombs of the Apostles St. Peter and St. Paul that they should also make to ask for orientation and strength to govern their Dioceses.

During such visits, it has been an immemorial tradition that the Bishops must rise and stand when the Pope enters the room where they await him. The reason is obvious: It is a sign of acknowledgement that the Pope is the Vicar of Christ on Earth and the successor of St. Peter.

For some months now, we have noticed that the Bishops are no longer standing when Pope Francis enters the room. We can see this egalitarian attitude in the Bishops of Switzerland, above, received on May 5, 2015, and in the Bishops of the Dominican Republic, below first row, received three days ago, on May 28, 2015.

The other rows illustrate how the protocol used to be until recently: respectively, we can see in the second row, the Spanish Bishops on March 3, 2015; the third row, the Ukrainian Catholic Eastern Bishops on February 20, 2015; the fourth row, the Bishops from Eritrea on May 9, 2014; and the fifth row, the French Bishops on September 21, 2012.

Should we attribute this revolutionary change in the Bishops' protocol to some sudden revolt of the Bishops against the authority of the Pope? Or, rather, should we see in this action another step of the Bergoglio Revolution? We believe the latter hypothesis is the case, since this Pope is doing whatever he can in the shortest time possible to destroy the monarchical character of the Papacy.

Thus, by commanding the visiting Bishops to remain sitting when he enters the room, Francis spreads the idea that the Pope is not a Monarch and does not deserve the veneration he used to receive. He is just a Bishop like any other Bishop...

Posted May 31, 2015
________________________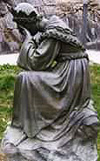 Our Lady of La Salette,
restore the Holy Church.