Progressivism in the Church
Church Revolution in Pictures
Photo of the Week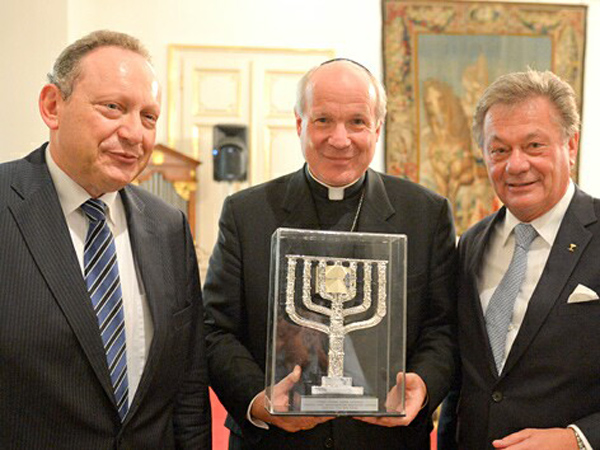 Card. Schönborn receives B'nai B'rith award
On October 23, 2013, the Cardinal of Vienna, Christoph von Schönborn opened the door of his Archiepiscopal Palace to receive members of the Jewish Freemasonry B'nai B'rith.
The reason for the festivity: The European Lodge of B'nai B'rith wanted to give Schönborn its symbolic award, the "Menorah for outstanding humanitarian achievement."
The strongest reason for bestowing the honor on the Cardinal is because, with the growing opposition to Judaism in German public opinion - especially in Austria - Schönborn has been one of its main supporters. He is known for his efforts to douse those reactions. Indeed, one such discussion concerns the Jewish custom of circumcising their boys, which certain parties affirm should be forbidden since it is considered cruel according to modern human rights criterion.
In his speech thanking the B'nai B'rith for the Menorah he received, the Cardinal of Vienna stressed that there are several things Progressivism has in common with Judaism, among them religious liberty. He also emphasized that he is opposed to anti-Semitism and intolerance.
After affirming his "great love for Judaism and Israel," he stated his determination to continue in the steps of his predecessor Card. Franz König, who was a strong supporter of Judaism as well. He concluded with words from Isaiah: "From Zion the law shall come forth" (2:3), affirming that in the Ten Commandments the Menorah lights the way for all people.
It is quite difficult not to see in these last words an implicit denial of the vocation of the Catholic Church, which replaced the Chosen People of the Old Testament and to whom those words of Isaiah must be applied.
Above
, is Card. Schönborn receiving the Menorah award at his Archiepiscopal Palace;
below
are two photocopies of B'nai B'rith websites reporting the award,
the first
from the European Lodge, and
the second
from the International Lodge based in Washington D.C.
Links to both websites are
here
and
here
.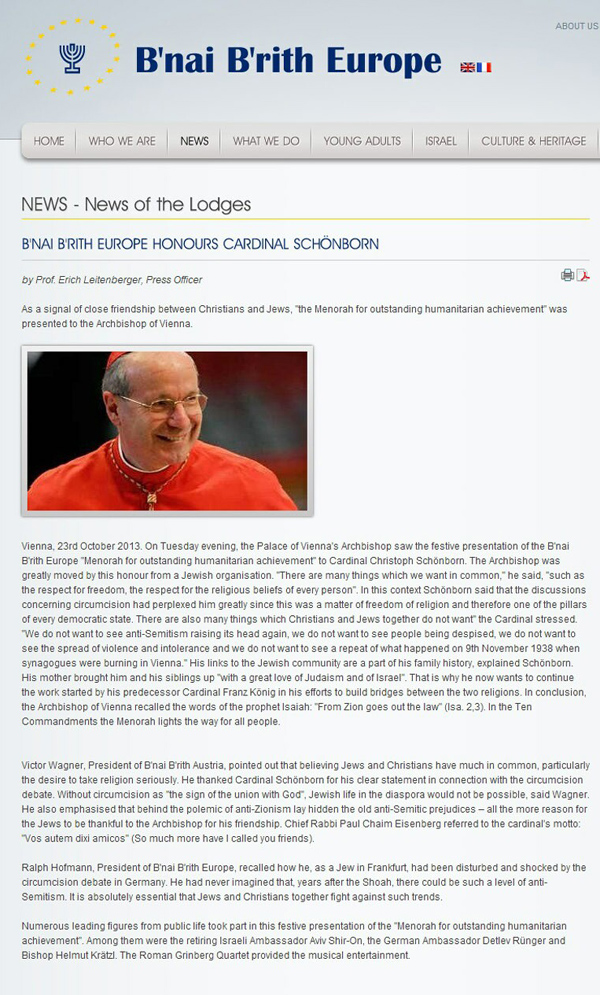 For the enlarged page of the B'nai B'rith Europe website, click here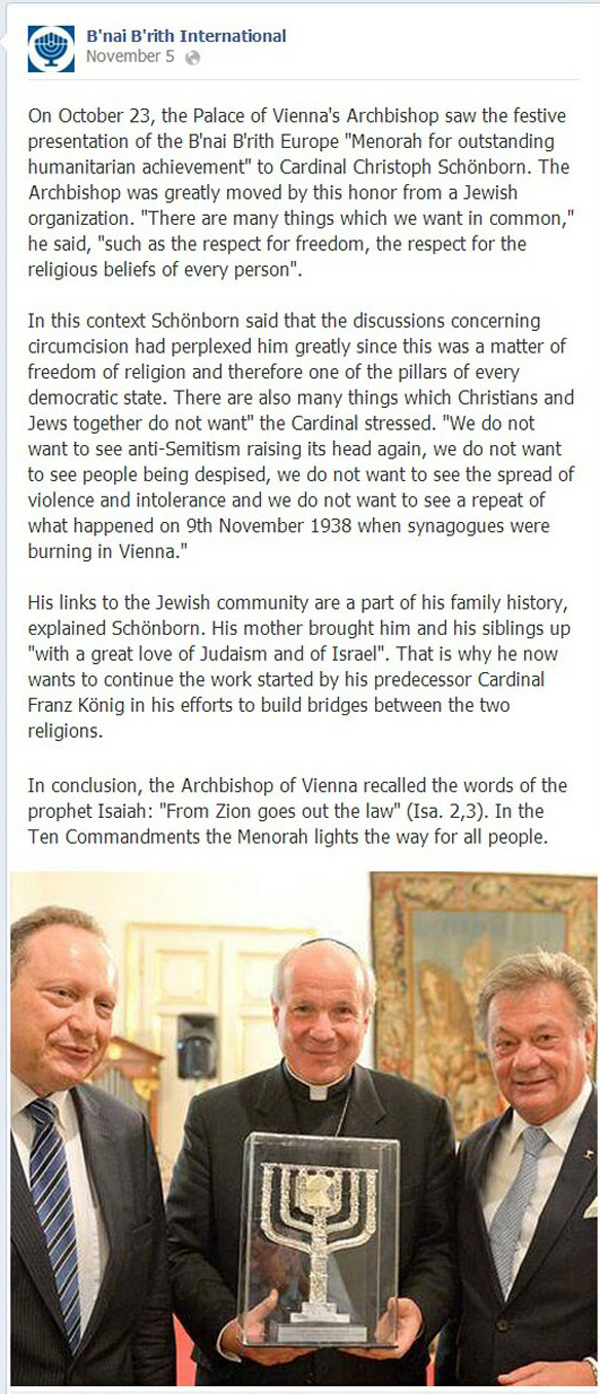 To see when this news was on the B'nai B'rith International website, click here
Posted November 17, 2013
________________________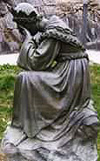 Our Lady of La Salette,
restore the Holy Church.