Progressivism in the Church
Church Revolution in Pictures
Photo of the Week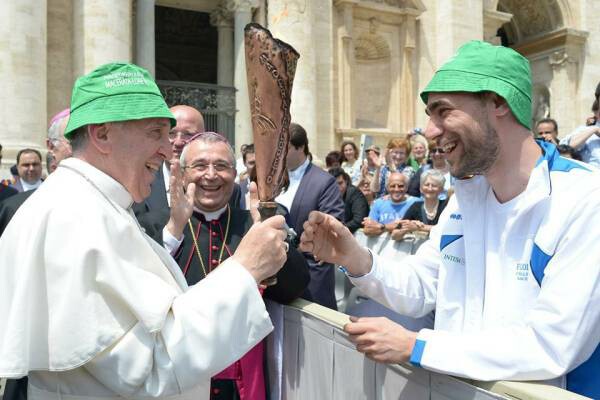 Francis dons a green hat
Following the agenda of the concilar Popes to democratize the Papacy, Francis donned the green hat of the pilgrims to Loreto last week.

On June 5, 2013, when an athlete asked Francis to bless a torch, he also gave Francis a hat, which Francis immediately put on his head. This torch, habitually blessed by the Pope, is carried by runners from Rome to the city of Macerata, a 180 mile distance, to mark the start of the annual pilgrimage from Macerata to the city of Loreto, 17 miles away.

Hats like these are provided to the pilgrims by the Diocese of Macerata every year to protect them from the dew, since much of the pilgrimage is made at night.

This egalitarian initiative of Pope Francis corresponds to many others made by Paul VI, John Paul II and Benedict XVI, trying to destroy the sacrality of the Papacy following the ideals of Progressivism.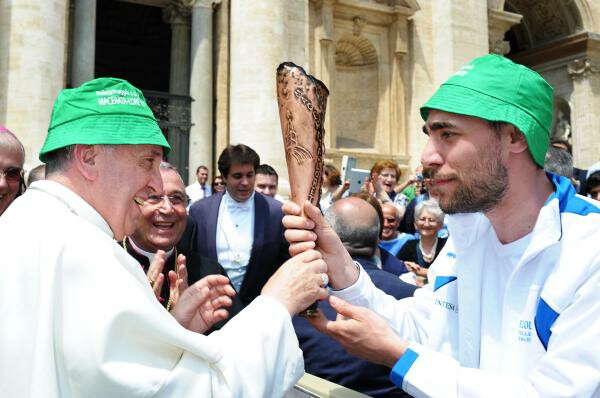 Posted June 16, 2013
________________________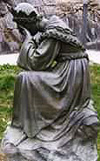 Our Lady of La Salette,
restore the Holy Church.