Progressivism in the Church
Church Revolution in Pictures
Photo of the Week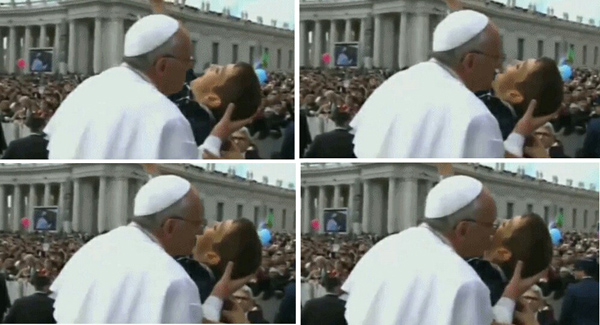 Is Pope Francis a good model for zero tolerance?
In the intense kissing activity of Pope Francis in his less-than-one-month pontificate, a tendency seems to be sprouting: he has a preference for kissing handicapped people. Although we are all sympathetic to their suffering and would like to give them some relief, the appropriate way to do this is not necessarily a pontifical kiss on the face. A prayer said for them or a blessing given on their forehead seems to be a much more fitting example of Our Lord Jesus Christ.
Pope Francis has not been following this divine example and has shown, as the photos on this page reveal, a very questionable way of offering consolation. As a matter of fact, he has been kissing children - both handicapped and not - on their faces and their mouths with such an effusive display of tenderness that one who sees the videos of his populist tours through St. Peter's Square can only wonder whether he is exhibiting a pedophile tendency.
Even if this were not the case, as we sincerely desire, what kind of example is he setting? Is he not aware that today the Catholic Church is suffering the devastating consequences of the scandal of pedophile priests, bishops and cardinals?
This factor has been ignored in Pope Bergoglio's eagerness to look popular and humble... For us, Catholics, it is fortunate that someone saw the damage from these kissing scenes and told him to counteract it. Thus, last Friday (April 5, 2013) he called the head of the Congregation for the Doctrine of the Faith and ordered him to reinforce Church policies against pedophilia.
It was positively a good thing to make this damage control. But if Francis does not stop his demagogic kissing activity and
videos like this one
continue to spread around the world, the message he sends is, at the least, that he is not a good example to reinforce the zero tolerance norms of the Catholic Church on pedophile priests.
Watch a short video
here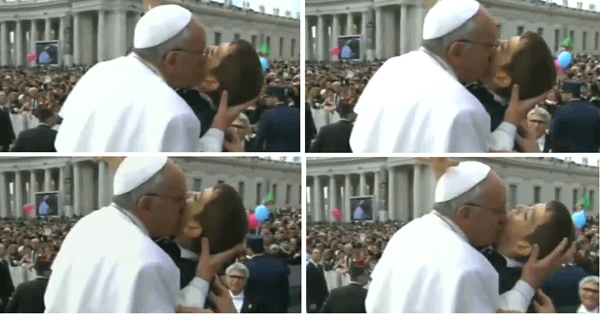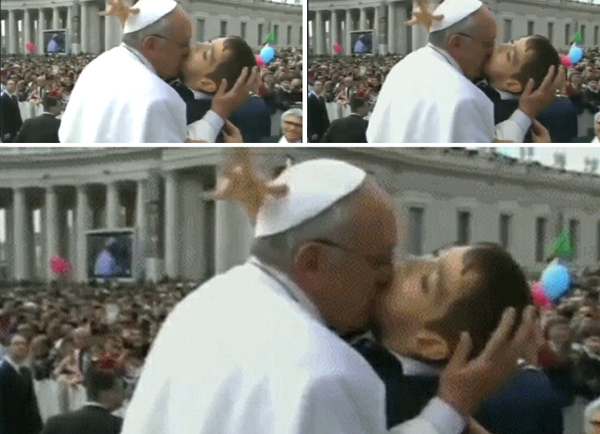 Posted April 7, 2013
________________________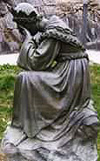 Our Lady of La Salette,
restore the Holy Church.