Progressivism in the Church
Church Revolution in Pictures

Photo of the Week
French Bishop attends Masonic meeting
The Island of La Reunion, located east of Madagascar, Africa, in the Indian Ocean, is an overseas French province, whose inhabitants share the same status of any citizen in France. The Island has only one Diocese in its capital, Saint Denis. More than 92% of La Reunion inhabitants (about 800,000) are Catholics.

On April 5, 2011, the Grand Lodge of France organized a conference in the city of Saint Pierre to answer the question: "Laicism, the republic and religion - What Connects Them?" Invited was Bishop Gilbert Aubry, who traveled from Saint Denis to attend the conference. Above right, he is delivering his speech.

Bishop Aubry stated that the union of all creeds and men of good will - Freemasons included among the latter - is absolutely indispensable for the conservation of the planet. Aubry praised the laicism born from the French Revolution and encouraged all religions to promote it. The way to accomplish this goal, he stressed, is for religious leaders to make sure their membres would all be fully integrated into the French Republic supporting its social initiatives.

With such words Bishop Aubry certainly pleased Freemasonry, following in the steps of Benedict XVI and other conciliar Popes (here and here).

Below left is Bishop Gilbert Aubry in his daily apparel; center, the representative of the Mayor of Saint Pierre; at right, Alain Dubart, Grand Master of the Grand Lodge of France.

Data and photos from the Diocese of Saint Denis website & Perepiscopus.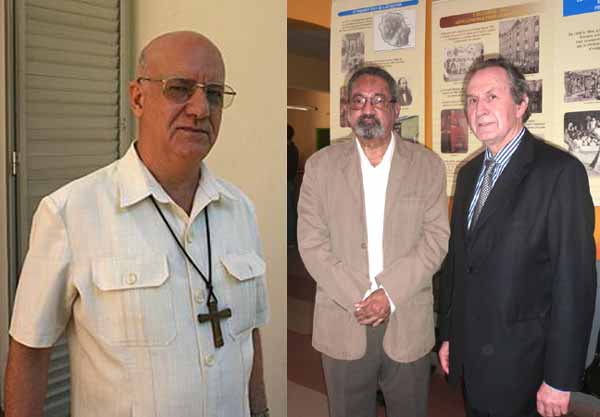 Posted April 24, 2011

Related Topics of Interest

The Catholic Church and Masonry

Pope Wojtyla Rewarded by Masonry

Cardinal Koenig and the Masonry

Hans Kung Receives a Freemason Award

Masons at a Brazilian Cathedral

American Monsignor Decorated by B'nai B'rith

Brazilian Bishop Gives a Speech in Masonic Lodge

Masonry and Cremation

Was Msgr. Bugnini a Mason?

French Priest and Mason
Pictures | Home | Books | CDs | Search | Contact Us | Donate



© 2002- Tradition in Action, Inc. All Rights Reserved