Progressivism in the Church
Church Revolution in Pictures

Photo of the Week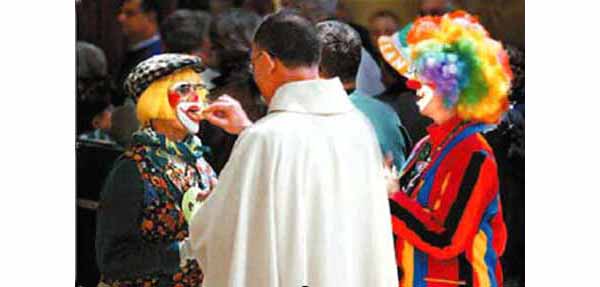 Inter Multiplices Una Vox
A clown Mass in Missouri
On March 17, 2004, at the parish of St. James the Greater in St. Louis, Missouri, the pastor invited Catholics to dress however they liked for Mass to commemorate St. Patrick's Feast Day.

Knowing the liberty and lack of seriousness that has dominated after Vatican II, some parishioners chose to wear clown costumes.

This circus apparel did not prevent them from receiving Communion...
Posted September 13, 2009

Related Topics of Interest

Benedict Receives Circus Performers

JPII Sabotages the Seriousness of the Papacy

Pope Wojtyla Blesses Break-Dancers at the Vatican

A Circus Mass in Monaco

A Clownish Mass in Switzerland

Archbishop of Salzburg Celebrates a Clown Mass

Cologne's Cardinal in Carnival Attire

Card. Lehmann Has Been Chosen Fool of the Year
Pictures | Home | Books | CDs | Search | Contact Us | Donate



© 2002- Tradition in Action, Inc. All Rights Reserved