Progressivism in the Church
Church Revolution in Pictures


Photo of the Week
Hindu Dancing to Consecrate a Catholic Church in England
In May 2007, at the consecration of St. Bede's Church in Basingstoke, UK, Bishop Crispian Hollis of Portsmouth said a Mass. To commemorate the event, he invited representatives from false religions to be present. The show included a performance by a couple doing Hindu dancing before the altar, as you can see above.

Below, first row, some other steps of the Hindu ritual that took place during the Mass. Second row, Bishop Hollis consecrating the wine; third row, a close-up of representatives of other religions present at the ceremony.

Here you have yet another example of the gestating Pan-religion of Vatican II.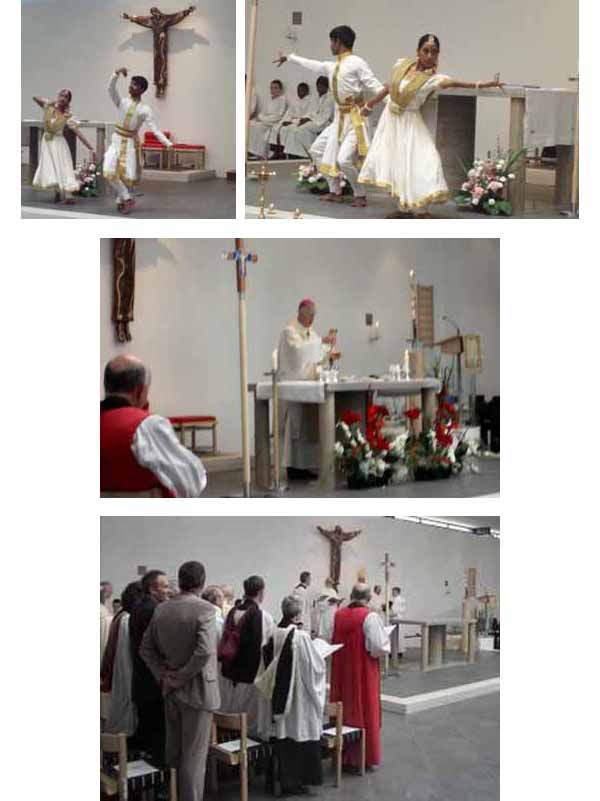 Cathcon
Posted April 5, 2009

Related Topics of Interest

Statue of Buddha over a Tabernacle in Assisi

A Tabernacle in the shape of a Phallus

Mother Teresa Worshipping Buddha

Benedict's Affinities with Buddhism

Is Benedict XVI Advancing a Buddhist Agenda?

Hindu Dancers at the Wurzburg Cathedral

Card. Ivan Dias Burns Incense to a Hindu Deity

The Vatican Wishes Hindus a Happy Dwali
Pictures | Home | Books | CDs | Search | Contact Us | Donate



© 2002- Tradition in Action, Inc. All Rights Reserved