Progressivism in the Church
Church Revolution in Pictures


Photo of the Week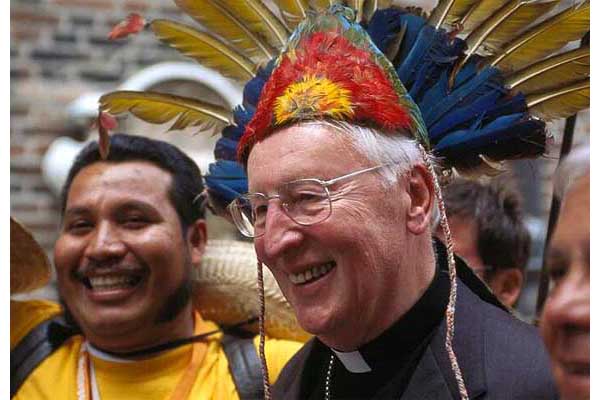 Cardinal of Munich Wearing an Indian Headdress
On August 2, 2007, during a visit to the city of Cotacachi, Ecuador, Cardinal Friedrich Wetter, successor of Joseph Ratzinger in the Archdiocese of Munich, wears the feather headdress of an Indian chief.

Below, he receives the pagan Inca symbols of the sun from the mayor, Auki Tituana.

Beyond the burlesque of seeing a Prince of the Church playing the clown, inculturation, which became a general norm after Vatican II, has the presupposition that the Church cannot bring her European model of faith and culture to other peoples in her effort to evangelize. She should assimilate the local "values" - no matter how pagan or evil they are. This notion implicitly denies the Roman note of the Catholic Church, which, as Roman, is necessarily Western.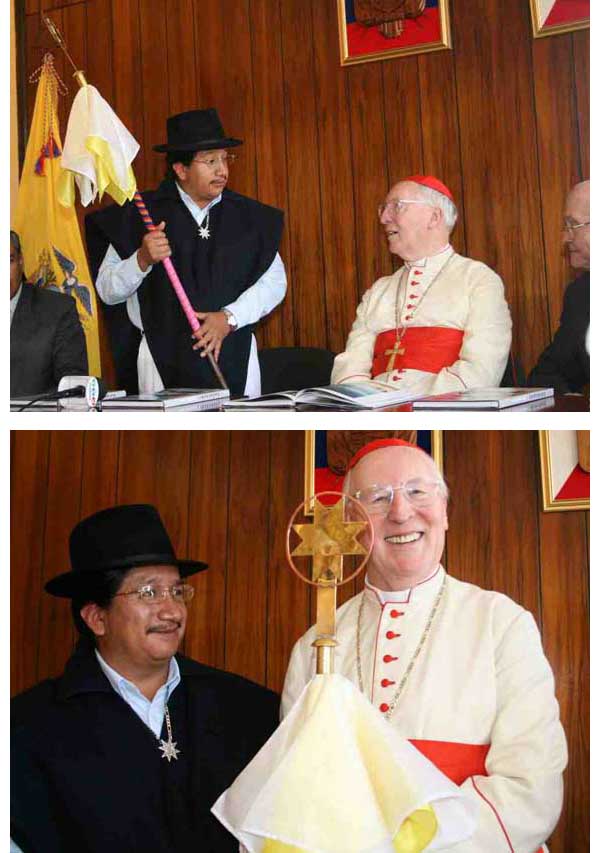 Internet photos
Posted September 7, 2008

Related Topics of Interest

Wojtyla Weaing an Indian Headdress in Brazil

JPII in American Indian Vestments

John Paul in a Tribal Headdress in Africa

Benedict XVI Initiated in Pagan Rituals

The Sydney outrage

Pagan Rituals Introduced in a Los Angeles Mass

JPII Blessed by a Priestess in a Indian Ritual

JPII Blessed by a Shaman

Pagan Ceremonies at Mission Santa Ines

JPII Greeting the Voodoo High Priest
Pictures | Home | Books | CDs | Search | Contact Us | Donate



© 2002- Tradition in Action, Inc. All Rights Reserved