Progressivism in the Church
Church Revolution in Pictures


Photo of the Week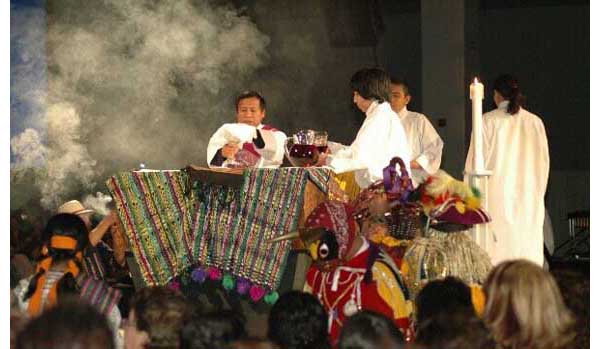 Pagan Rituals in a Los Angeles Mass
At the Educational Congress promoted by Cardinal Roger Mahony, a so-called Spanish Liturgy was performed on March 28, 2008. Incorporated into the Mass were Indian rituals and representations of pagan deities, the figures with horned masks as shown above right.

The burning of wild herbs, different from the traditional incense made of grains of resin, produced a heavy smoke, as used in Zapotec "blessings," below first row.

The presence of a supposed Indian chief, second row, put to rest any doubt that the qualification of "Spanish" given to those rituals was just an euphemism to hide the fact they were pagan.

Today, given the blatantly pagan rituals included by Benedict XVI in his final Mass at WYD in Sydney, Cardinal Mahony seems no more than a weak and timid follower of a much bolder inculturator Pope. We wonder what he will prepare for 2009.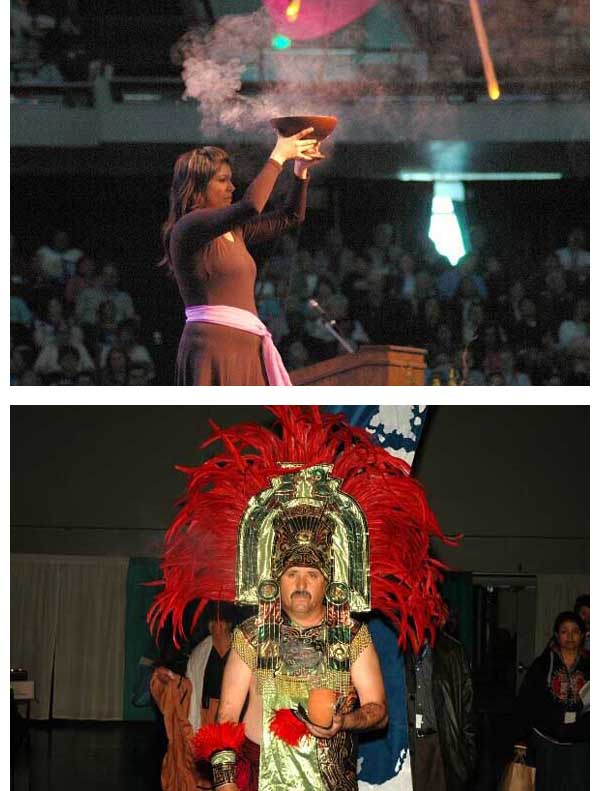 Internet photos
Posted August 31, 2008

Related Topics of Interest

Benedict XVI Initiated in Pagan Rituals

The Sydney Outrage

Miracles at the WYD-2008

JPII Blessed by a Priestess in a Indian Ritual

JPII Blessed by a Shaman

Pagan Ceremonies at Mission Santa Ines

JPII Greeting the Voodoo High Priest

JPII Blessed by a Hindu Religious Woman

Disturbing Papal Statements at WYD 2008

The Dancing Girls of Card. Mahony
Pictures | Home | Books | CDs | Search | Contact Us | Donate



© 2002- Tradition in Action, Inc. All Rights Reserved