Progressivism in the Church
Church Revolution in Pictures


Photo of the Week
BBC online / Internet photos
Inflatable Catholic churches
This summer Catholic nuns and priests in Italy are going to the beaches under the pretext of bringing back Catholic sunbathers who have left the church pews empty. Among other initiatives, an inflatable "church," above left, was pumped with air near a beach of Sardinia in July 2008. Due to strong winds, the structure fell.

After that first experiment, Catholic religious in Italy built a 98-foot inflatable church that was supposed to be put into use on August 9, 2008 in the Molise region on the Adriatic coast. The objective of the "church" is to provide a place to hear confessions and to promote Eucharistic adoration on the beaches, as well as to perform "liturgical" song and dance.

These projects are following an Anglican model raised in 2003 in Sandown, England, where a priest established the first inflatable church in the world, above right. Many religious ceremonies have been performed in it. Below first row, weddings celebrated at that inflatable church.

Below second row, two barefoot Catholic nuns pose on a beach in Italy to promote the "beach apostolate" initiative.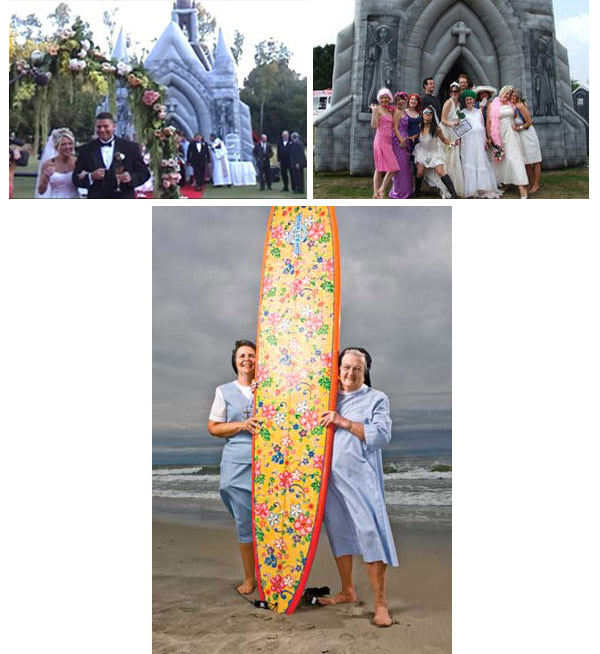 Posted August 17, 2008

Related Topics of Interest

Disco Mass in Austria

Circus Mass in Montecarlo

An Italian Boxing Priest

Whipped Cream Orgy in Vienna

Nudism in the Paschal Candle

The Jolliet Acolytes

Rock Show at The Lourdes Sanctuary

Bishop Plays the Drums in Nightclub

Massages by Contemplative Nuns
Pictures | Home | Books | CDs | Search | Contact Us | Donate



© 2002- Tradition in Action, Inc. All Rights Reserved