Documents for your files
PROGRESSIVIST DOCUMENT OF THE WEEK
Archbishop Müller: Catholics & Protestants
are United in the Same Visible Church
During a ceremony at the Catholic Academy of Bavaria on October 11, 2011, Bishop Gerhard Ludwig Müller, later chosen by Benedict XVI to be Prefect of the Congregation for the Doctrine of the Faith, presented an ecumenical award to Lutheran bishop Johannes Friedrich.
In the speech Müller delivered on that occasion, he affirmed that the base upon which relations between Catholics and heretics are established is no longer doctrine or the concept of Church, but rather the baptism that is common to both true and false religions.
Below
we present to our readers a photocopy of the first page of the 9-page-text of Müller's speech in German published by the Catholic Academy of Bavaria, and then the two more important excerpts from his speech. After the photocopies of these excerpts are our translations to English in blue. The full original document can be found
here
.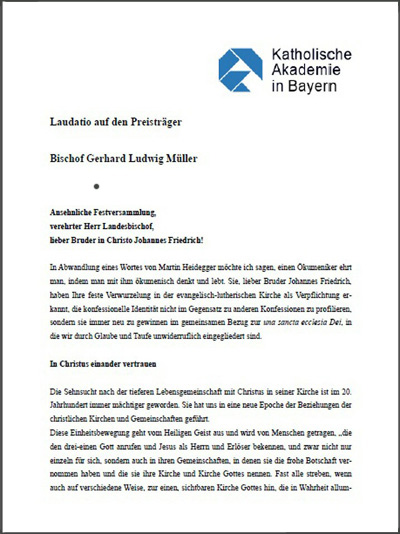 * "With much clarity, the paradigm shift away from polemics and controversies constitutes the present and the future of ecumenism. Its core is this:
We determine our relationship to each other no longer with regard to the differences that actually exist in the doctrine, life and constitution of the Church, but rather on the common foundation upon which we stand
– 'For no one can lay any foundation other than the one already laid, which is Jesus Christ … Know you not that you yourselves are God's temple and that God's Spirit dwells in your midst?' (1 Cor 3:11, 16). … "
* "
Baptism is the fundamental sign that we are sacramentally united in Christ, and that presents us as the one visible Church before the world. Thus, we as Catholic and Protestant Christians, are already united even in what we call the visible Church. Strictly speaking, there are not several Churches, one beside the other, but rather these are separations and divisions within the one people and one house of God
. …"
Posted on February 2, 2013