Social-Political Issues
Radio Maria Director Calls Epidemic
A 'Plan of the Devil'
On November 11, 2020, the director of the Catholic radio station
Radio Maria
in Italy, Fr. Livio Fanzaga, dared to speak out against the new lockdown rules imposed in Italy as in most of the Western world under the pretext of a
second wave of Covid-19
.
The impact of his words is not small.
Radio Maria
is an international conservative Catholic radio broadcasting service based in the Diocese of Milan that reaches millions with branches in 55 countries around the world.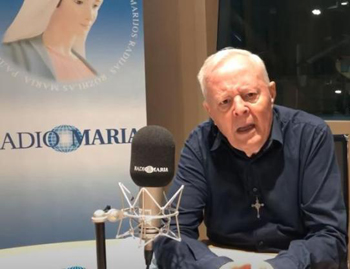 Radio Maria director Fr. Fanzaga calls
the 'pandemic' a plan of the Devil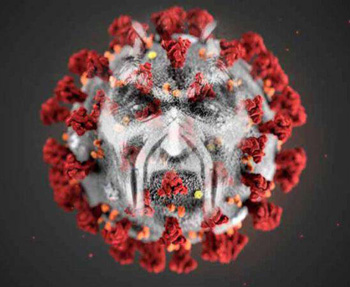 "I will tell you how I think," he affirmed in his radio program '
Christian Reading of History
,' "I have broadened my knowledge and horizons: This epidemic is a very specific plan aimed to hit the West.
I attribute it to the Devil, who acts through men's criminal minds
. They have carried it out with a very specific purpose: To create a sudden change – after an ideological, political and media preparation – that will bring about a kind of health or media
coup d'etat.
"
Behind the Coronavirus, he continued, is "a plan that wants to weaken humanity, bring it to its knees, establish a health and cyber dictatorship, and create a new world that no longer has anything to do with God the Creator. How? By eliminating all those who do not say 'yes' to this criminal project carried out by the world elites, with the complicity perhaps of some States."
So we have it, finally, from a priest in an influential position in the media: The Coronavirus was created by criminal minds who want a new world order without God. Fr. Fanzaga even singled out Bill Gates as one of the possible brains in this conspiracy.
Fr. Fanzaga went a step further: The objective of this plan is to "eliminate all those who do not play this game,
building a new world without God, Satan's world
, where we would all be zombies. It is a real plan, not something in the air. And, in my opinion, they are in a hurry to achieve it by 2021."
This new order, according to the director of
Radio Maria
, is nothing less than the Reign of Satan.
Finally, the election in the United States that is trying to make Joe Biden President would be, for the director of Radio Maria, "the icing on the cake."
One would expect such inflammatory words to raise a stir throughout the world. Here we have a respected and powerful priest who directs a major Catholic global radio network blatantly saying what so many normal people have come to believe: The so-called pandemic is planned and satanic.
Soon all Italy was abuzz with his words, which echoed an opinion deeply felt by many people but not by most scholars and scientists, and certainly not by the mainstream media. And the mainstream media – well, as expected, it has ignored his words. I don't imagine many of our readers have heard about this decisive condemnation of the supposed pandemic and its role in creating "the great reset" toward establishing a New World Order.
If Fr. Fanzaga had used his show to praise the violent demonstrations of
Black Lives Matter
or to promote Joe Biden as president, be sure his words would be broadcast on TV news, newspapers – especially the Vatican organ
L'Osservatore Romano
– and the social media throughout the world. But since he speaks on the coronavirus hoax and the plan behind it, he is labeled a
conspiracy theory
partisan and his words are smothered by the progressivist media.
A reaction in Italy
The new measures ordering Italian restaurants and bars to close from 6 p.m., shutting down cinemas and gyms and imposing local curfews in some regions were met with protests, both peaceful and violent, in about a dozen cities.
It is only the turbulent protests that the regular media reported, branding participants as hooligans, neo-Nazis and conspiracy theorists. Madmen who have no concern for the common good.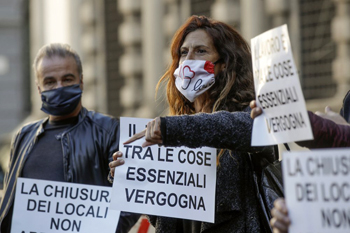 'Work is something essential. Shame on you!' read signs of small business owners; below, restaurant owners pour beer in the streets of Rome to protest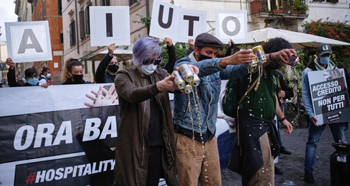 Yes, demonstrators took to the streets in Turin, Milan, Rome, Naples, Trieste and Palermo. And yes, they were mad men, furious at the common good being violated. Small restaurants and businesses are entering bankruptcy, families are forced to rely on the meager parceling of government help.
In Rome, restaurant and industry owners and workers
poured out beer
and supplies in protest against the newly imposed regulations.
"What you see here is part of our supplies that we've had to throw away and sacrifice, although we've already paid for them. Instead of serving them to our customers and friends, we're forced to throw it on the ground as we've already done in the past because there aren't customers," said one restaurant owner.
I hope that this healthy reaction will continue and have the success recently achieved in Denmark, after thousands
made a nine-day protest
before Parliament demanding the rejection of a new Epidemic Law. Will the Italians have the courage to thwart both government and Pope, the former making and enforcing the coercive laws, the latter supporting and applauding the effort to implant "the world of Satan"?
It is all the forces of power and "the criminal minds," as Fr. Fanzaga correctly described them, against the little people with good sense and a desire to preserve the remnants of freedom in the country they love.
Francis chastises protesters
Fr. Fanzaga is speaking for a growing Italian cohort who are pushing back against the government over closures, curfews and stricter regulations, a contingent who no longer believe the headlines that coronavirus numbers are spiking. These include Catholics who are disturbed at dictates by Fauci and his like who are
already predicting
more restrictions and lockdowns for the Christmas holy days.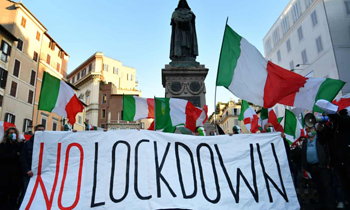 Francis slams the protesters against lockdowns
How has the Supreme Pastor of the Catholic Church responded to the protests and calls for new restrictions? Predictably, every opportunity Francis finds, he takes to insist on backing the Covid-19 promoters and
pointing out its beneficial effects
on society, providing mankind a time that "reveals what is in our hearts" and an opportunity to "rethink our priorities." It is increasingly clear that the primary point he wants to rethink and crush
is Capitalism
.
In a particularly aggressive action, Francis harshly criticized protesters against Covid measures in
an Op-Ed piece
in the November 26 issue of
The New York Times
. In effect, he preached that persons who protest these coercive restrictions in the name of "personal freedom" are selfish and indifferent to the common good.
"As if measures that governments must impose for the good of their people constitute some kind of political assault on autonomy or personal freedom!" Francis wrote of the anti-lockdown protests.
Francis similarly criticized such protesters in his
new book
Let Us Dream
: "You'll never find such people protesting the death of George Floyd, or joining a demonstration because there are shantytowns where children lack water or education. ... They turned into a cultural battle what was in truth is an effort to ensure the protection of life."
It is difficult to digest that the Pope is abetting the building of "the world of Satan," instead of doing all he can to thwart its steady advance.
Posted December 2, 2020