Social-Political Issues
Soros' Make-Marijuana-Legal Plan
"All of us owe George Soros a great deal of gratitude,"
said
Keith Stroup, founder of the longtime pothead group NORML, whose reputation was so bad that Soros had to form the "Drug Policy Foundation" to further his drug-pushing efforts.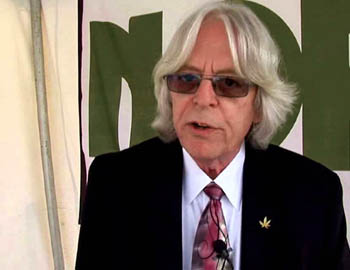 NORML founder Keith Stroup thanks George Soros for his supporrt to make pot legal
Soros then tried a new tack – the pothead's marijuana had suddenly become "medicine," with Soros operatives fanning out over various talk shows and other media to push this new ploy. Yet no medicine is taken by smoking it. After a few years Soros dissolved his "Drug Policy Foundation" and started a "new" group called the "Lindesmith Center." Then he dissolved that and started his new "Drug Policy Alliance."
In tandem with Peter Lewis, the billionaire head of Progressive Insurance who was once embarrassingly arrested in Australia for drug possession, Soros bankrolled marijuana "decriminalization" votes in various States, even though by law the FDA and the DEA have power over this area.
Soros' efforts bore fruit. Since 1996, 24 States and D.C. now allow "medical marijuana," with four states and D.C. allowing recreational use and more Soros-bankrolled State votes set up in this year's election.
Big business
Articles from
Herb
magazine provide an idea of the extent of businesses built around "legalized" marijuana: "From Whoopi's line of menstrual relief products to the glamorous AnnaBis bags to hide your stash, women can enjoy pot now more than ever," "
You Won't Believe These 10 Awesome Bongs Are Under $100,
" and a Washington D.C. taxi service where "not only is he giving you a private place to smoke but he also promises top-shelf medical-grade Kush."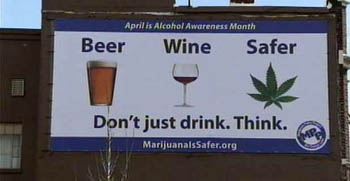 A poster in Portland to promote legal marijuana
For $50 you get a half hour ride; trips are available from noon to 9 p.m. But, HERB warns, "If you as a cannabis entrepreneur have not contributed to the activism required to free the plant, then you don't deserve to profit from the boom."
Incremental inroads in permissiveness for marijuana use were demonstrated when the Olympic Committee
voted to accept
150 nano grams in the system without disqualifying a competitor, while a unanimous Connecticut Supreme Court
ruled
that a state worker fired after being caught smoking marijuana on the job was punished too harshly and should get his job back. Recently President Obama's daughter
Malia was observed
smoking marijuana at a public concert, apparently a chip off the old block from her father and his Choom Gang.
2016 election push
The notorious drug magazine
High Times
ran
a story
in July titled, "If You Like Legal Marijuana, You Must Vote for Hillary." Fundraising in Colorado with Senator Mark Udall (D-CO), Hillary Clinton pointed to the foam atop Udall's latte and said, "Look at you, you got like a plant. Is that a marijuana plant?" Apparently going for the pothead vote, Hillary
announced
, "I want to move marijuana off of Schedule 1."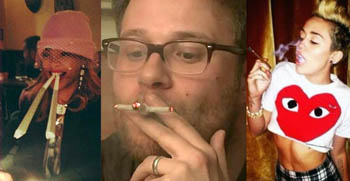 Celebrities smoking pot popularize it among the youth
But drugs are not regulated by such executive action. The Food and Drug Administration approves drugs through a procedure in which drug companies must present proof from clinical trials that a drug works and is safe enough to use. Marijuana is classified as a Schedule 1 drug by the DEA, with no medical use and high potential for abuse, based on extensive statistics from emergency rooms, car accidents, etc.
When Hillary Clinton tried to distance herself from marijuana,
claiming
, "I didn't do it when I was young, I'm not going to start now." Allen St. Pierre, who recently stepped down as executive director of the notorious National Organization for the Reform of Marijuana Laws
said
, "I will eat both of my shoes if she and Bill didn't trip their nuts off at Wellesley and Oxford."
A high-powered operation pushing
Soros' longtime plan for using media and private organizations is aimed at the 2016 elections. "In 2016 there is going to be a number of States with legalization initiatives on the ballot and there will be broad support,"
said
Tamar Todd of the Soros-funded Drug Policy Alliance.
Chuck Todd of NBC's "Meet the Press"
has eagerly promoted
legalization, telling Attorney General Loretta Lynch, "One of the easiest ways you could clean this up is if the federal government rescheduled marijuana," and complained that "marijuana is a Schedule 1 drug, the equivalent of heroin and all this stuff." Lynch replied, "Well, I think States have to make those decisions on their own. They listen to their citizens and they take actions."
A lengthy plug for marijuana titled, "A memo to Hillary Clinton and Donald Trump on marijuana policy," comes from the Brookings Institution, currently headed by longtime Soros collaborator and close Bill and Hillary Clinton friend Strobe Talbott.
Repeatedly using code words like marijuana "reform" and marijuana "rescheduling," Brookings lays out steps for the next president to follow: "Dear future nominees: Eight months from today one of you will be inaugurated the 45th President of the United States… Marijuana policy will be a serious part of the next administration's domestic policy… get it right… when vetting possible appointees, ask them about cannabis… select the right individuals for such posts… it is important to remember that science is the key to understanding marijuana… Science is an integral part of the cannabis conversation."
The real world
Fans of "Weeds," much of the media and many politicians remain oblivious to the real world effects of marijuana. "Fatal crashes involving drivers who recently used marijuana doubled in Washington after the State legalized the drug," the AAA
reports
. "The significant increase in fatal crashes involving marijuana is alarming," said Peter Kissinger, AAA Foundation for Traffic Safety CEO, adding that "Washington serves as an eye-opening case study for what other States may experience with road safety after legalizing the drug."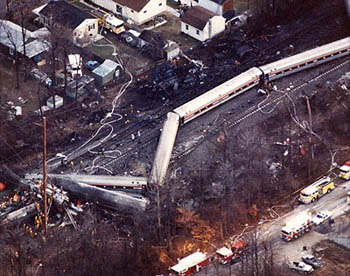 Ricky Gates admits this Amtrak crash was caused by his use of marijuana
No discussion of marijuana would be complete without mention of Ricky Gates, the poster boy for marijuana, who drove his Conrail train through three red stop signals head on into an Amtrak train in 1987, killing 16 and injuring 174.
In a 1993 interview with
The Baltimore Sun
,
Gates
said the accident would have never happened if not for marijuana. Herb magazine instructs, "If you're having friends over and want to make special brownies, this quick and easy canna-butter recipe is what you need," ignoring the fact that small children will grab and eat anything that looks like food and are now being poisoned across the U.S. by such "recipes."
Pot smoke
constricts
blood vessels three times longer than tobacco smoke, making it difficult for proper blood flow and setting up heart problems. It harms the lungs,
kills brain cell
s and can
cause psychosis
.
In this context, Dr. Christine Miller, a semi-retired molecular neuro-scientist, has been documenting literally dozens of cases of marijuana use linked to mental illness and violence.
A group in Canada, the Marijuana Victims Association, is now warning of possible marijuana-related birth defects.
Prescription drugs
In the series "Nurse Jackie," actress Edie Falco, previously the main character's wife in the mega-hit "Sopranos" series, now graduates to star in her own show where the opening credits show her sucking drugs up her nose through a straw – an action she repeats periodically throughout each program.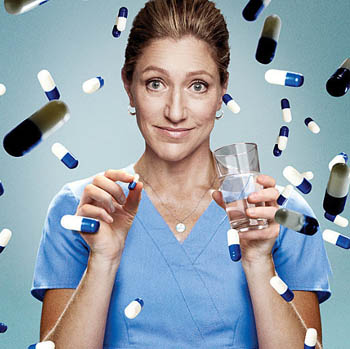 The media presents Nurse Jackie as a 'positive' and comic drug addict
The New York State Nurses Association
condemned
the show's detrimental depiction of nurses. "In the first episode, Nurse Jackie is introduced as a substance abuser who trades sex with a pharmacist for prescription drugs." New York magazine
praised "Nurse Jackie
" for its "truly breakthrough female character." At the 62nd Emmy Awards, actress Falco
won
an Outstanding Lead Actress Primetime Emmy Award.
The hero in the TV series "House" is a doctor addicted to his own prescription drugs, featuring British actor Hugh Laurie as "the most electrifying new main character to hit television in years,"
according to
The Washington Post
's Tom Shales. "House" was the most-watched television program in the world in 2008.
This depiction of legal prescription drug abusers in a sympathetic light is also treacherous, since prescription drugs can be just as dangerous, harmful and addictive as illegal drugs. In fact, they can lead to heroin use.
Conclusion
The entertainment industry's contempt for moral standards, and obliviousness to real world consequences, in glorifying drug abusers as heroes is a highly dangerous development.
President Obama has told the entertainment industry not to glorify gun violence,
saying
, "We've got to make sure that we're not glorifying it because the stories you tell shape our children's outlook and their lives." However, he has been conspicuously silent about Hollywood glorifying those who contribute to the drug problem.
This article was published in Accuracy in Media on September 16, 2016

Rehab 4 Alcoholism
is a free and impartial helpline for people troubled with drug and alcohol issues. Rehab 4 Alcoholism aims to save lives by stopping addiction before it becomes too late. Tel: 0800 111 4108 - Web:
https://www.rehab4alcoholism.com
Posted December 7, 2016
| | | |
| --- | --- | --- |
| Volume I | Volume II | Volume III |
| Volume IV | Volume V | Volume VI |
| Volume VII | Volume VIII | Volume IX |
| Volume X | Volume XI | Special Edition |