International Affairs

Making America Socialist - Part II
Reconquering Venezuela… & Spain
On January 8, 2007, during the swearing-in ceremony of the new cabinet of his administration, Hugo Chavez told the Venezuelan Catholic Hierarchy: "I recommend that the Bishops read Marx and Lenin and go review the Bible to find Socialism in texts in the Old and New Testaments, and especially in the Sermon on the Mount."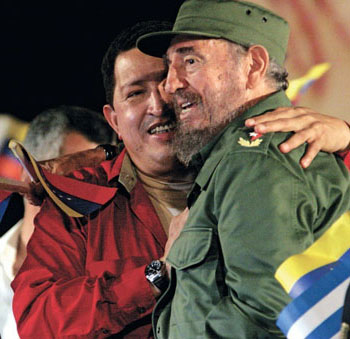 Chavez faced obstacles to export Castro's Communism, so with intellectual Dieterich, below, he redefined it as 'Socialism for the 21st century'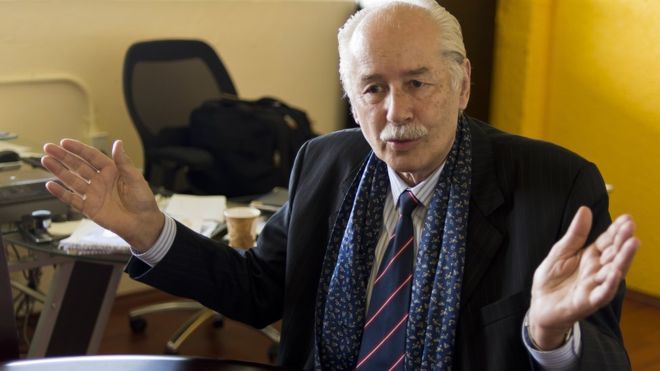 On the same day, Chavez defined himself as Trotskyist and described his Socialism of the 21
st
Century as a political program based on a doctrine that combines ideological elements from Marxism-Leninism, Trotskyism and Christian Socialism. (Reference text
here
)
The communist inspiration of Hugo Chavez was no secret. His admiration for Fidel Castro was blatant and he was clearly modeling his regime in Venezuela on that of the Castro Brothers in Cuba. However, Chavez faced difficult obstacles when he sought to spread Communism outside Venezuela. The failure and horrors of the Cuban regime projected a dark shadow over the Venezuelan scenario, which make it difficult to present it as an ideal.
He exited this quagmire in 1996, after an encounter with German sociologist and political analyst Heinz Dieterich living in Mexico. His successful book –
Socialism of the 21st Century
– was preeminently anti-capitalist and pro-Marxist, and served to give a more intellectual tone to Chavez Communism.
This encounter was providential for Chavez, who re-baptized his regime with the forward-sounding name – Socialism of the 21
st
century; he also called it Bolivarianism after the popular 19
th
century revolutionary Simon Bolivar who led many Latin American countries to demand independence from the Spanish Empire. This new look with new names was a propaganda trick to make the brutal Venezuelan regime appear more palatable for international consume. In these new vestments, Chavez "exported" his experiment to Bolivia and Ecuador.
Heinz Dieterich was asked to be an official advisor of the Chavez government. In a BBC interview he acknowledged his influence on Chavism and contribution to the Venezuelan regime. He said: "Chavez did not have a name for his program, and when we met, he saw that 'Socialism of the 21
st
century' could differentiate his plan from everything else on the political market." (Reference text
here
).
Journalists report on the connection between Chavez and Podemos; left, Monedero, right, with Iglesias
For this "plastic surgery" on his ugly Communism, Chavez also counted on the assistance of Spanish leaders, such as Pablo Iglesias and Juan Carlos Monedero and their organization the
Center for Political and Social Studies Foundation
, a socialist and anti-capitalist think tank headquarted in Valencia, Spain.
This foundation (CEPS) is a Spanish political organization, has been quite active in politics in countries in Latin America, providing political, legal and economic consulting to their progressivist wings and currents. It was the CEPS that provided a team of "Marxists constitutional scholars" to write the new socialist constitution of Bolivia, Ecuador and Venezuela (reference text
here
)
Pablo Iglesias and Juan Carlos Monedero co-founded the Spanish leftist party
Podemos
in 2014.
The money behind the conquest
On April 25, 1999, Hugo Chavez called the referendum that he proposed in his electoral campaign, which supported his plan to form a constituent assembly. From this would come the new constitution that provided him the dictatorial powers he needed to impose his new Socialism.
The Center for Political and Social Studies makes no secret of the funding they received from the socialist leaders they helped to implant. Ecuadorean President Rafael Correa stated in a radio interview that he paid CEPS advisors $18,000 a month for their assistance in writing the 2008 Constitution. According to the Venezuelan Ministry of Culture, the CEPS Foundation received $7 million for its advising services for the government of Hugo Chavez. (
Ibid
)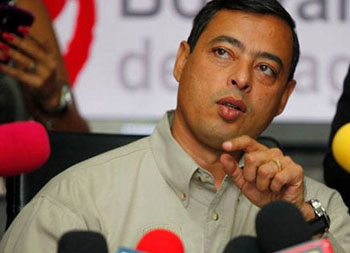 Former Finance Minister Rafael Isea accuses Chavez of funneling money to Podemos
Journalist Jaime Bayly categorically affirms that Pablo Iglesias, "the Spanish Chavista of
Podemos
," received "millions" of euros from Hugo Chavez for alleged advice. In fact, there are strong links emerging between the Hugo Chavez regime in Venezuela and the founding of
Podemos
.
Rafael Isea, former Minister of Finance of Venezuela under the mandate of Hugo Chavez, has admitted that the
Podemos
founders received 7.1 million euros "to create a party related to Chavism in Spain." (Reference document
here
)
There is also evidence that former Bolivian President Evo Morales financed Pablo Iglesias and
Podemos
. "And where did Morales get the millions of euros to give to Pablito Iglesias of
Podemos
?" Bayly asked on his television program. "From the sale of cocaine to Mexicans," he responded. (Reference text
here
)
The Socialism "based in fraternity, justice and liberty and equality for all" touted by Chavez in another speech in mid 2006 were empty words. It is not, as he pretends, a movement from the people. It was financed by a corrupt network of socialist organs. It is not a local movement, but part of an international web with money from Latin America to Spain, where also a new 21
st
century Socialism took root.
Socialism of the 21
st
century, in short, is nothing but a façade for corruption and despotism, part of an international movement to continue Communism with another name.
Continued

Posted June 15, 2020
| | | |
| --- | --- | --- |
| Volume I | Volume II | Volume III |
| Volume IV | Volume V | Volume VI |
| Volume VII | Volume VIII | Volume IX |
| Volume X | Volume XI | Special Edition |