Art & Architecture
Witches & Wizards Usurp
Catholic Church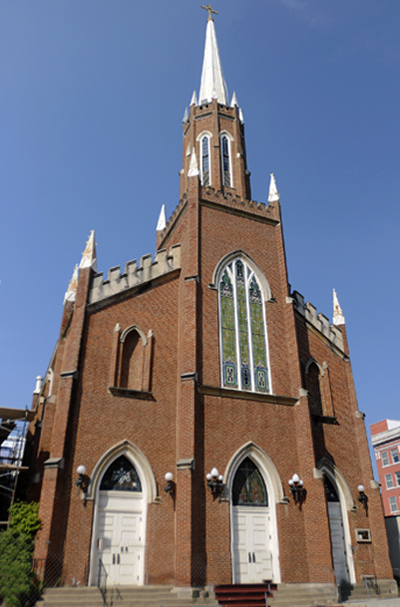 This stately brick building with its rich stained gass windows, bell tower and working pipe organ, is the oldest Catholic Church in Frankfort, capital city of the Commonwealth of Kentucky, as this conservative State proudly calls itself.
It is a city with a rich Catholic history. The first Mass in Frankfort was celebrated in 1794 by Fr. Stephen Badin, the first priest ordained in the U.S. who worked as a missionary in Kentury. With the influx of Irish and German migrants, the congregation had grown so much by 1840 that a new church was needed. A site was purchased on Wrapping Street in downtown Frankfurt and construction on Good Shepherd Catholic Church began.
Carpenters and craftsman offered their help make the Church as beautiful as possible, often working to late hours after their daily jobs. It was an organic movement to make something beautiful for Our Lord, the Good Shepherd, carrying vague whiffs of the medieval spirit that gave birth to the marvelous cathedrals of Europe.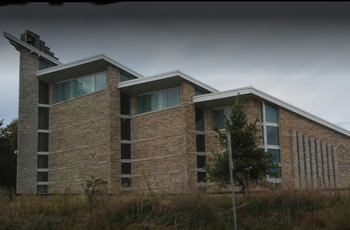 The ugly progressivist replacement for Good Shepherd Church stripped of the sacral and grandiose

That was then. New winds blew in the new spirit of Vatican II. Like so many imposing august churches, Good Shepherd was relegated to the dustbin of history under the pretext that it was too old-fashioned, too dilapidated, too difficult to maintain. A new church with ugly modern architecture was built to replace the specimen of "old Catholicism."
And so the old Good Shepherd Church stood, an embarassing reminder of a great devotion and a rich past, marked as a "historical site" by the State, thus preventing it from the the fate of bulldozers that would have razed it to the ground.
The Altar of God becomes the Altar of Baal
Today, Good Shepherd Church has a new name, a new purpose. Renovated in 2014, the church has become the city's latest venue center: Lancaster of St. Claire. And its most popular event is this: "The Alabaster School of Witchcraft and Wizardy, the American Counterpart to Hogwarts," an extravaganza that starts in November and ends in a grandiose "Christmas" fest.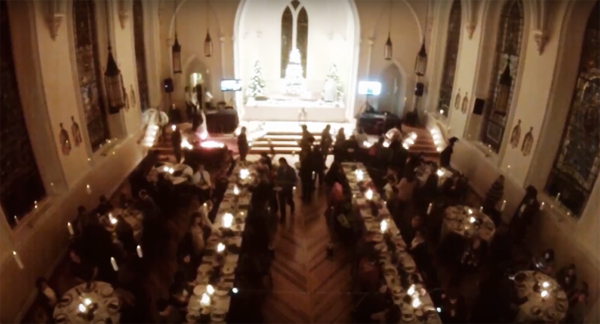 A pagan witch stang in the place of the tabernacle, floating candles and magical symbols transform the church into a temple banquet honoring Satan
"Welcome, future wizards and witches, to the very special holiday celebration at The Lancaster at St. Claire. Here you will experience magic first hand, with a bountiful feast, real life magic and an amazing atmosphere!"
Behold, the Holy Shepherd Church transformed into a haven for witches and warlocks to gather to honor their Lord Satan! The Grand Wizard presides at a table in the "magical banquet hall" for the so-called Christmas feast in the very sanctuary where Our Lord used to reside.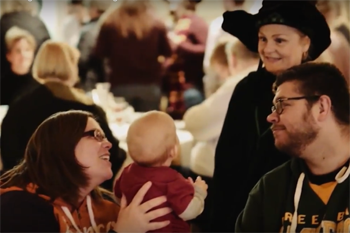 Making the School of Witchcraft and Wizardy extravaganza a family affair
Inspired by the
Harry Potter
series, a new generation (including Catholics) aspires to become witches and wizards and to gather and learn magic spells. The extravaganza features master warlocks teaching spells, engaging in duels and offering a pagan occult boutique filled with wizard hats, crystal balls and books of spells and magic.
"Get Christmas gifts for your children," the advertisements invites. A Wizard's marketplace for Christmas, in effect, replaces the celebration of the birth of Christ with a festival to Satan.
And what has been the reaction of the Catholic officials and faithful to this sacrilege? After all, in a city that, following Vatican II, became celebrated for its ecumenical spirit, we should not be surprised to find an open welcome for Satan at the interfaith table.
"Historic buildings like the former Good Shepherd Church are landmarks of our community," we can
read online,
"and their future should never be questioned, but valued for their contributions to our community's identity as shelter, fostering ever new and evolving uses."
What we are seeing a church become a hall of wizardy being accepted as normal. It reveals in our post-Vatican II world the ever bolder spirit of Satan, who wants to be adored as god. Once the Catholic Church was the chief enemy against his endeavors to ensnare man. Today the progressisivists want to transform her into the very site where Satan is celebrated and adored.
Posted October 29, 2018
| | | |
| --- | --- | --- |
| Volume I | Volume II | Volume III |
| Volume IV | Volume V | Volume VI |
| Volume VII | Volume VIII | Volume IX |
| Volume XI | Special Edition | Special Edition |