In Part I of this article the author analyzes the Vatican Press Conference on January 21, 2008, in which Cardinal Andrea Cordero Lanza di Montezemolo, archpriest of St. Paul Outside the Walls, confirmed that this important Roman Basilica will open an "ecumenical chapel." In this Part II the author looks at the ecumenical message Pope Benedict has sent to the two last Consistories, and makes a realistic assessment of the action of the purportedly "conservative" Pontiff.
Benedict's Consistories

Andrea Cordero Lanza di Montezemolo, archpriest of St. Paul Outside the Walls, was created a Cardinal at the first Consistory of Pope Benedict XVI, March 25, 2006. Also created Cardinals at this time were Boston's Sean O'Malley; San Francisco's William Levada, and Stanislaus Dziwisz, former secretary of Pope John Paul II and Archbishop of Krakow. (1)

The Pope sent a clear ecumenical message at this consistory. Benedict said to his new Cardinals, "I count on you to make the path to full Christian unity quicker and more secure, picking out one area in which he [the Pope] would like to see progress," as ANSA reported. (2)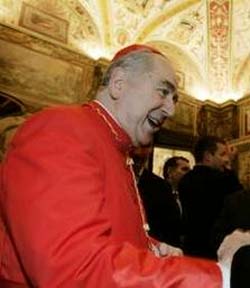 A red hat went to one of the most charismatic-friendly prelates in Rome: Stanislaus Rylko

In the recent consistory of November 24, 2007, Benedict bestowed another 23 Cardinal's hats,(3) two of which were given to the most Charismatic-friendly prelates in Rome: Archbishops Paul Cordes and Stanislaus Rylko (At a Charismatic gathering I attended in Steubenville, 2005, Charismatic Ralph Martin said that he and his wife went into Archbishop Rylko's office in Rome. Rylko saw them and shouted with glee, "Charismatic Renewal Forever!") (4)

Ecumenism was a major theme at the November 2007 Consistory, even more so than at the 2006 Consistory. Vatican Information Service reported that at this second Consistory, "Benedict XVI introduced the theme for the day's discussion: Ecumenical Dialogue in the Light of Prayer and of the Lord's Command: Ut Unum Sint." (5)

In the context of this Consistory, Cardinal Walter Kasper gave a speech to the Cardinals that was immediately published in the Vatican's L'Osservatore Romano under the title: "Ecumenism as a 'Holy Obligation.'"

In the presence of the Pope, Cardinal Kasper
noted that Pope John Paul II declared that the ecumenical effort in the Church is an "irreversible path";


reiterated that Pope Benedict XVI from the first day of his Pontificate, made ecumenism a principal element of his regime;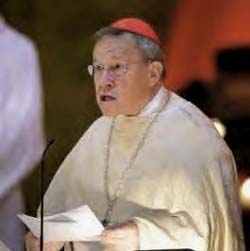 At the 2007 Consistory, Kasper declared Vatican II ecumenism "irreversible"
gave unqualified praise to the 1993 Balamand Agreement that declares the Catholic Church and Schismatic Orthodox as "Sister churches" that should not try to convert one another. (The document calls such the principle of conversion an "outdated ecclesiology");


rejoiced that various Protestant groups and Catholic communities of religious life and the new spiritual movements have recently formed a "spiritual network";


reiterated that "spiritual ecumenism" (Catholics and non-Catholic publicly praying together) is the "very soul of the ecumenical movement."(6)


Mentioned that for the Catholic, unity consists in the "presupposition for a Eucharistic Communion". This is extremely vague, since the New Code of Canon Law allows non-Catholics to receive Communion in various circumstances.


Nowhere is the doctrine of Pope Pius XI reiterated that there is only one way to unity: the return of dissidents to the one true Church of Christ.

In fact, Cardinal Kasper is on record as disparaging the traditional Catholic teaching on Christian Unity. He said in 2001, "Today we no longer understand ecumenism in the sense of a return, by which the others would 'be converted' and return to being 'Catholics.' This was expressly abandoned at Vatican II."(7)

Traditional Catholics are rightly outraged at this statement. Yet it must be asked, how does Kasper's denial of traditional doctrine differ substantially from Pope Benedict XVI's words at the ecumenical meeting in Cologne, 2005. Here, the Pope said,
"This unity does not mean what could be called ecumenism of the return: that is, to deny and to reject one's own faith history. Absolutely not! It does not mean uniformity in all expressions of theology and spirituality, in liturgical forms and in discipline. Unity in multiplicity, and multiplicity in unity ... To this end, dialogue has its own contribution to make."(8)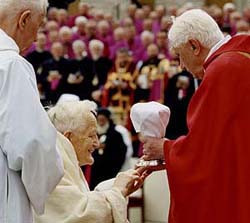 Benedict gives Communion to Protestant brother Roger [for more, click here]

This was the same speech in which Pope Benedict said of the recently slain Protestant Brother Roger from Taize, "He is now visiting us and speaking to us from on high."(9)

As Cardinal Kasper continued his remarks at the 2007 Vatican Consistory of Cardinals, he voiced unqualified praise for the 1993 Directory for the Application of the Principles and Norms of Ecumenism, a radical document that promotes countless inter-denominational activities always condemned by the Church as sins against Faith. Some of these include the permission for Protestants to conduct the readings (except the Gospel) in a Catholic Church [#133]; and the encouragement of "common spiritual exercises" and "retreats" between Catholics and Protestants [#114] (10).

One of the Directory's proposals germane to the present discussion recommends the construction of a single church to be owned and used by both Catholics and non-Catholics [#138]; and further recommends that in these joint churches, the Blessed Sacrament be placed in a separate chapel or room so as not to offend non-believers. [#139]

How can we not see in this a kind of model for the ecumenical chapel announced for St. Paul Outside the Walls? Remember, this Directory was given positive mention by Cardinal Kasper in the presence of the Pope in the latest Consistory of Cardinals only two months ago.

Following up on this ecumenical joint-church recommendation in the 1993 Directory, Cardinal Walter Kasper's 2007 Handbook for Spiritual Ecumenism makes a similar proposal:
"Pay due attention, in national and international sanctuaries dedicated to the Virgin Mary, to the presence and pastoral needs of those visitors who belong to other churches and ecclesial communities by making available appropriate prayers or meditations, along with the use of appropriate liturgical signs and symbols." (11)
Hence the notion for an ecumenical chapel is not necessarily an original idea from Cardinal Andrea Cordero Lanza di Montezemolo, archpriest of the papal basilica. Similar proposals appear in the 1993 Vatican Ecumenical Directory praised at the latest Consistory of Cardinals in the presence of Pope Benedict XVI, and in Cardinal Kasper's 2007 Handbook for Spiritual Ecumenism.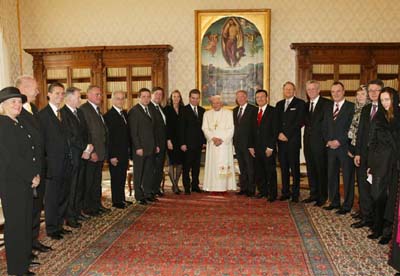 January 18, 2007 - Benedict tells Finnish Lutherans that joint prayer is the "royal door of ecumenism"

To sum up: Pope Benedict XVI encouraged ecumenism as part of the mission of St. Paul Outside the Walls, and encouraged ecumenism as a central aspect of the Pauline Year. Pope Benedict also made ecumenism a theme in both of his consistories of Cardinals, the last one featuring an ecumenical theme chosen by Benedict, and a speech by Cardinal Kasper promoting the pan-Christian ecumenism that has been the bane of the post-conciliar Church for the last 40 years.

This ecumenism was given a further boost by Pope Benedict XVI on January 18, 2008 when he praised Lutheran/Catholic prayer. Vatican Information Service reported his words: "The joint prayer of Lutherans and Catholics from Finland is a humble but faithful sharing in the prayer of Jesus." (12)

Catholics need to mount an uncompromising resistance to these ecumenical initiatives, since today's ecumenism, as Pope Pius XI warned, leads to a "false Christianity, quite alien to the one Church of Christ."(13)

Catholics also need to resist the proposed ecumenical chapel because of the trickle-down effect it will have throughout the world. Once a major Roman church — a Papal Basilica — establishes an ecumenical chapel within its walls, other Cardinals and Bishops may establish similar ecumenical housing in their own diocesan cathedrals. It is a scandal that can multiply in cities around the world. How will a Catholic complain to his Bishop about such an abuse when Pope Benedict XVI permits it in a major Roman Basilica?

Catholics were rightly critical of Fatima Shrine Rector Guerra who lends out the Fatima Shrine once a year for a group of Anglicans to hold their retreats, liturgies included. (14) But how can Guerra be held fully accountable when an ecumenical Pontiff permits a permanent pan-Christian structure at one of the most venerable sites in Rome?

How many copy-cat ecumenical ventures will occur throughout the world when this scandalous chapel is allowed to flourish in the very heart of Christendom? How will we oppose Cardinal Egan, for example, if he turns over a section of New York's St. Patrick's Cathedral for non-Catholic worship? What do we say to modern Bishops and shrine rectors when they respond to our protests against modern ecumenism with the honest claim that they follow the Pope's lead?

A realistic assessment

The purpose of this article is not to throw stones at anyone. Nor is it meant to advance a sede-vacantist position — a position I do not hold. Rather, the purpose of this article is an attempt to gain a realistic assessment of the push-me-pull-you direction of the present pontificate — a baffling spectacle that appears to move in two opposite directions at once. It reminds one of what Pius X warned about the Modernists: "Hence in their books you find some things which might well be expressed by a Catholic, but in the next page you find other things which might have been dictated by a rationalist."(15)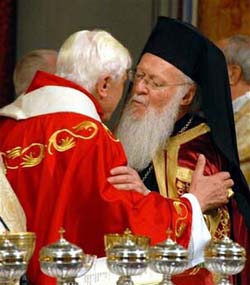 Benedict follows JPII's style. Above, kissing Patriarch Bartholomew

Nothing said in this article is meant to downplay any attempt by Benedict XVI to return to legitimate Catholic tradition: such as the freeing of the Tridentine Mass, his recent celebration of Mass ad orientem, his efforts to restore sacred music in Catholic worship. All of these gains should not be undervalued and should be regarded with gratitude.

At the same time, however, Pope Benedict's forward march of conciliar ecumenism is cause for concern. Have traditional Catholics fought all these years to settle for a kind of ecumenical High-Anglicanism? A new Hegelian synthesis of picture-perfect liturgies and revolutionary theology?

While we appreciate any legitimate return to Tradition under the present pontificate, let us not cease to resist the advances in ecumenism that come from the same quarters: an ecumenism that St. Maximilian Kolbe warned is the "enemy of the Immaculata;" an ecumenism "which every Knight must not only fight against, but also neutralize through diametrically opposed action and ultimately destroy."
Notes: 1. "New Cardinals", The Dallas Morning News, Feb. 24, 2006.
2. "Pope Hands Out 15 Cardinal's Hats", ANSA, March 24, 2006.
3. "Church Embraces New Cardinals", Zenit, Nov. 27, 2007.
4. This was from Martin's talk: "Transformation in Christ: Wisdom of the Saints." Likewise, Archbishop Paul Cordes is equally favorable towards Charismatics and modern ecumenism, as is evident from his book Call to Holiness: Reflections on the Catholic Charismatic Renewal, Liturgical Press, Collegeville, MN,1997.
5. DICI (Dec. 19, 2007), taken from Vatican Information Service, November 23-25, 2007.
6. "Ecumenism as a 'Holy Obligation'", Intervention by Cardinal Kasper to the College of Cardinals. L'Osservatore Romano. December 5, 2007, pp. 6-7.
7. Adisti, Feb. 26, 2001. English translation quoted from "Where Have They Hidden the Body?" by Christopher Ferrara, The Remnant, June 30, 2001 [emphasis added].
8. "Apostolic Journey to Cologne, On the Occasion of the XX World Youth Day," Ecumenical Meeting, Address of His Holiness Pope Benedict XVI, Cologne - Archbishop's House: Friday, 19 August 2005. On Vatican webpage at: www.vatican.va/holy_father/benedict_xvi/speeches/2005/august/documents/hf_ben-xvi_spe_20050819_ecumenical-meeting_en.html [emphasis added].
9. Ibid., See also Brother Schultz Died a Protestant, J. Vennari, Catholic Family News, Oct., 2006. [Reprint 2154 available for $2.00 postpaid from CFN].
10. For a fuller treatment of the 1993 Directory, see "The Ecumenical Church of the Third Millennium", J. Vennari, Catholic Family News, January, 1998. (Reprint 256 available for $2.00 postpaid from CFN).
11. Cardinal Walter Kasper, A Handbook of Spiritual Ecumenism, [Hyde Park: New City Press, 2007], pp. 34.35.
12. "Prayer is the 'Royal Door' of Ecumenism", Vatican Information Service, Jan. 18, 2008. According to this report, Benedict on this date also said, "We must be grateful for the fruits of the Nordic Lutheran-Catholic theological dialogue in Finland and Sweden concerning central matters of the Christian faith, including the question of justification in the life of the Church". 13. Mortalium Animos, Pope Pius XI, 1928. 14. See "A Colossal Monument to Diabolic Disorientation", J. Vennari, Catholic Family News, November, 2007. [(Reprint 2286 available from CFN for $2.00 postpaid]. Also on the web at: www.cfnews.org/dia-monument.htm 15. Pascendi, #18.

Posted January 30, 2007