Secret Forces
Hell at the 2019 Grammy Music Awards
NOTE TO READERS: Like
its 2015 predecessor
and others, the 2019 61st Grammy Awards is one long depraved festival, all about drugs, illicit sex, abortion, feminism, homosexuality, the occult and now, hell - lots and lots of hell. And yes, it is even worse and more blatantly hellish than the 2015 program.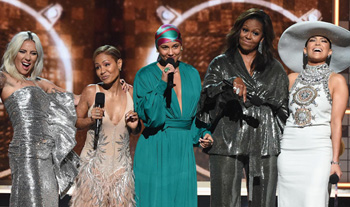 Michelle Obama smiles and points to Hell
Right from the beginning we have a hint of what is to come. A feminist quintet - Lady Gaga, Jennifer Lopez, Alicia Keys, Michelle Obama and Jada Pinkett Smith, - open the show. Towards the end (6:39 on
the video
) Alicia Keys suddenly asks "Who runs the world?" Michelle Obama does not hesitate: She points her finger down, indicating Satan in Hell, as the audience wildly screams and claps...
This is the correct answer especially if the question is who is running the Music World, and especially if you take the 2019 Grammy's Awards performances as the indicator. As I tried to enter the Grammy performances to review it, I realized how dangerous it is. Much of the music has a mesmeric occult power that can pull a person in even if he claims to be against modern music.
It is the power of the Devil, quite obviously. Please, parents, don't be fooled. This is very dangerous music. I have serious concerns that you cannot watch these frenzied, erotic, hellish performances and remain in the state of grace.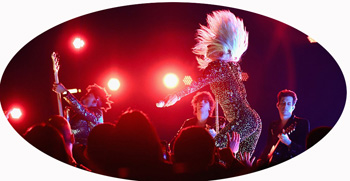 Lady Gaga offers her typical hellish performance

As I started my research, I found myself unable to continue without running the risk of having sleep problems. So, I had recourse to the review of
The Vigilant Citizen
, an interesting site that analyzes the symbols in the modern arts industry. Its anonymous author seems to have a gift for analyzing this occult and demonic world without losing his own equilibrium or sleep.
What I particularly like about his analyses is that he does not send his readers to the music videos, as if he is fully aware of the peril to souls. He offers pictures and describes the occult undertones and atrocities to warn sleepy unsuspicious fans of the perils that lurk within.
What follows are excerpts from his review of the 2019 American Music Awards, which he describes as "Hell. Literally." - Marian T Horvat
The 2019 AMAs [American Music Awards] was a satanic extravaganza mixed with a whole lot of "woke" brainwashing. And, to top it off, there was a recurrent theme that was difficult to ignore: Hell. Like, literal hell.
Indeed, several performances featured artists performing in actual hellfire. And, when there was no hellfire, we had to suffer through another kind of hell: Virtue signaling. Heavy-handed and contrived virtue signaling.
If you did not watch the AMAs, you did good because you did not miss anything. Except for a boatload of agenda-pushing. Here are the lowlights of these three hours of hell. ...
Kesha's Raising Hell
At the AMAs, Kesha performed a song appropriately titled Raising Hell. The performance began with Kesha saying "Welcome to OUR Sunday service," which appears to be a dig at Kanye West's recent Sunday services. However, Kesha's service is not about Jesus. As the title of the song suggests, it is about the opposite.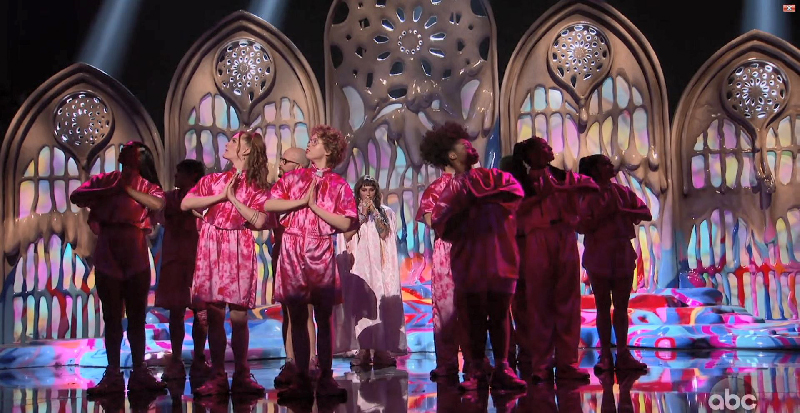 Kesha performs in a church that is 'melting' into rainbow colors
At the beginning of the performance, Kesha stands in a church that is melting to rainbow colors – a symbolic image alluding to the "dissolving" of Christianity to create a new "woke" religion.
Around Kesha is a cast of carefully selected dancers, ranging from "gender-neutral" people to men dressed in pink robes. Then, Kesha sings lyrics that are rather blasphemous:
Hands up, witness; Solo cup full of holy spirits;
Something wicked (ooh); Speaking in tongues in my blood-red lipstick...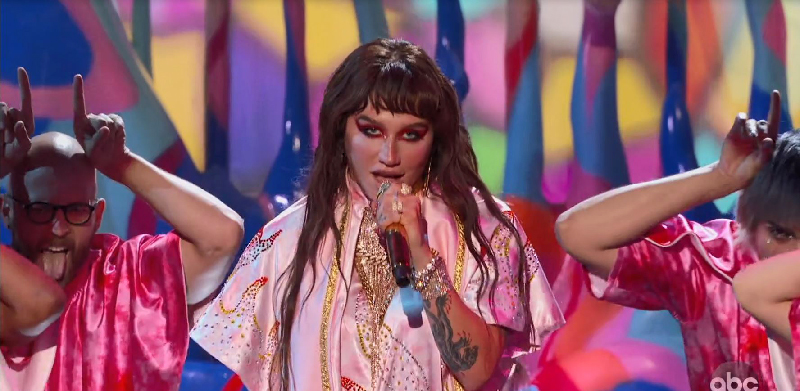 Kesha's backup dancers do devil horns when she sings
'I don't wanna go to Heaven without raising hell'
Then, Big Freedia – a rapper who performs in drag – comes out and drops some [not very nice] rhymes. ...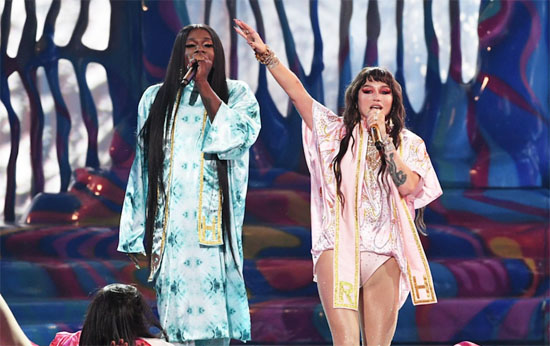 Big Freedia and Kesha dressed in priest stoles performing in front of stained glass windows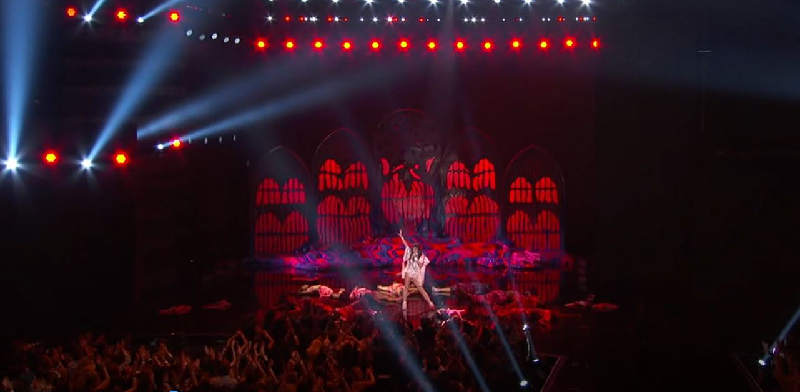 At the end of the performance, the background becomes fiery-red and the dancers drop dead
In short, this performance was a thinly-veiled satanic black mass (which is based on the desecration of Christian mass).
Then, the AMAs kept the darkness going with another industry pawn. A brand new pawn that is loved by children and tweens.
Hellish Eilish
After Kesha's song Raising Hell, the viewers are treated to Billie Eilish's All the good girls go to hell. Do you see a theme going on here? In my article The Dark Meaning of "all the good girls go to hell" by Billie Eilish, I explained how the music video of this song was about Billie being possessed by Lucifer himself and rooting for the destruction of humanity.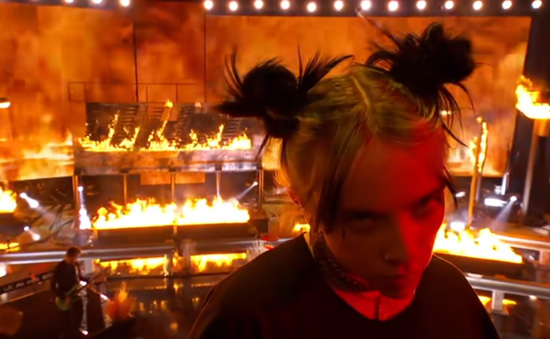 Billie Eilish's performance was basically about the world slowly turning into hell.
Although the words mumbled by Billie during the performance were barely intelligible, she says some dark stuff.
All the good girls go to Hell, 'Cause even God herself has enemies;
And once the water starts to rise, And Heaven's out of sight,
She'll want the Devil on her team...
Despite its obvious satanic undertone, the song is marketed as being about global warming.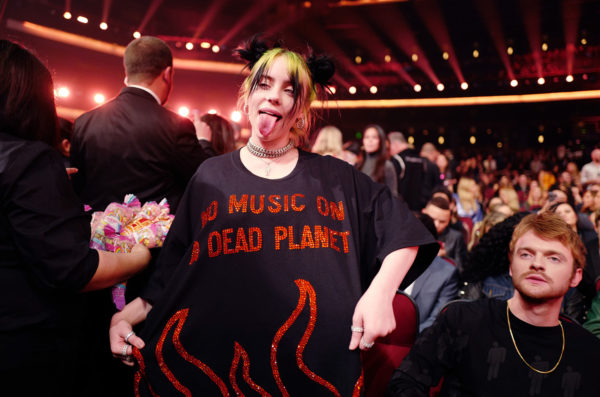 Her shirt said "No music on a dead planet," a perfect reflection of the bleak depressing world outlook being taught to youth
The performance ended with Billie being raised on a platform as the whole set caught on fire.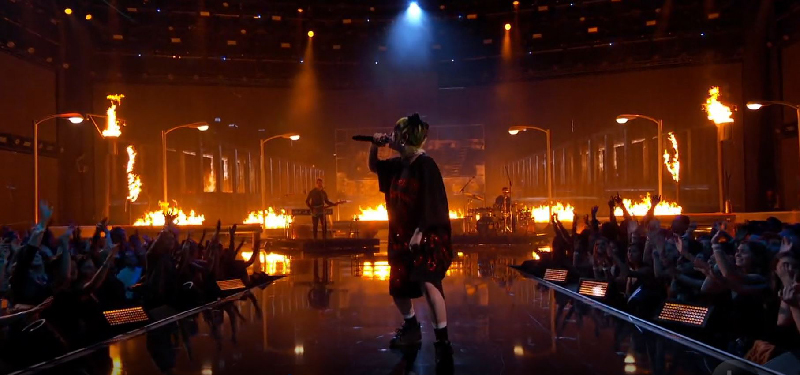 The stage becomes a pit of fire, the Hell she says she's going to
In short, Billie's performance was about a new industry star singing about being possessed by Lucifer as the world burned. And that was not even the most symbolic performance of the night.
Camila Cabello's Initiation
For the past couple of years, Camila Cabello has been one of the "chosen ones" of award shows. She's everywhere. She performs, she presents and she gets tons of close-up shots when she's in the crowd. Also, she's now in a hot relationship with Shawn Mendes, which is the perfect PR stunt to get her more media attention.
However, that sweet spotlight time comes at a price. And her performance of the song
Living Proof
is … "living proof" of this.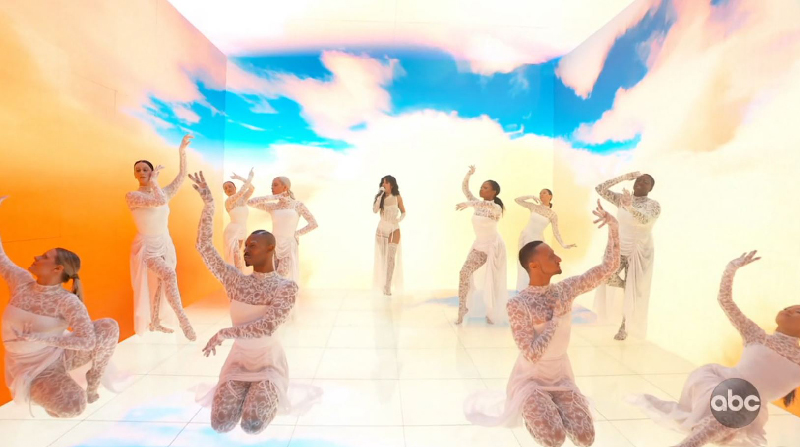 The performance began in a "celestial" setting with everyone dressed in white – color of purity and innocence. Yes, there are men wearing a white dress. The
gender-blurring agenda
is unavoidable.
Camila sings:
Like a choir singing 'Hallelujah,' When my body's crashin' right into you; When we align, ooh yeah, Do you feel me? Can you feel me? 'Cause I can't breathe...
The industry loves to sexualize anything godly. It is part of its satanic mindset. The word Hallelujah has an ancient sacred quality to it as it means "God be praised." In this performance, it is used repeatedly in a dark and sexual context.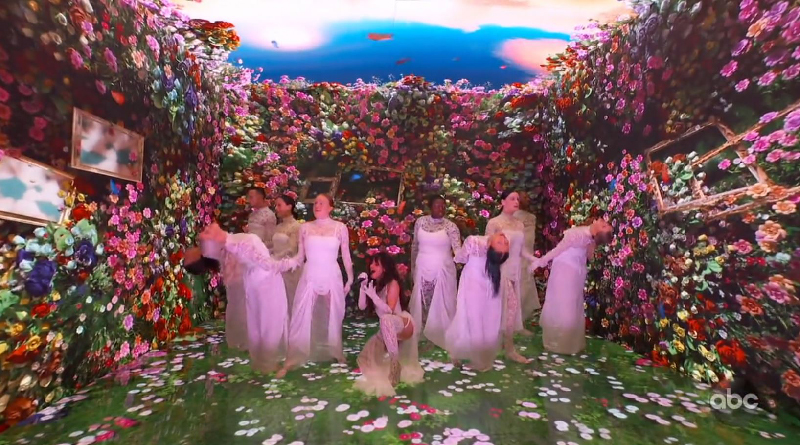 Later, the performers are surrounded by greenery, illustrating the fact that they've descended from heaven to Earth.
Then, things get symbolic.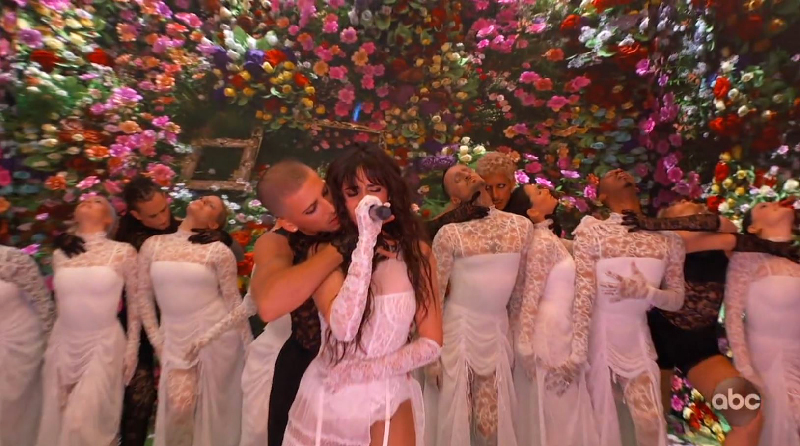 People dressed in black grab the white-clad performers by the throat. Evil takes over goodness and purity.
As the sky gets dark, Camila is offered a black rose – symbolizing the "dark side." Did she accept it?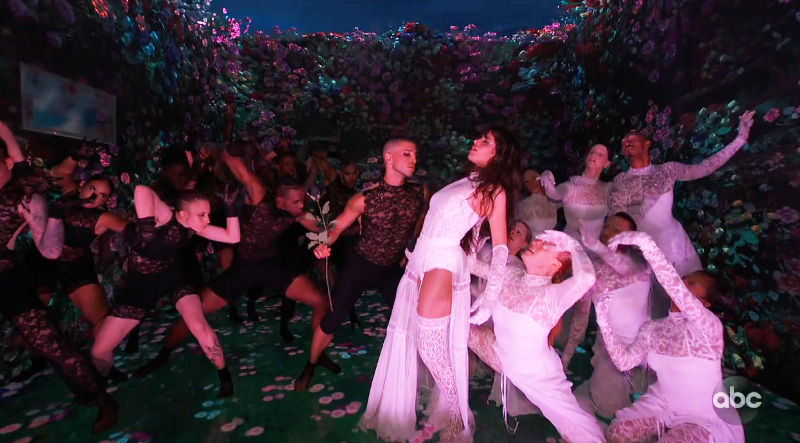 Of course, she did. She's an industry pawn.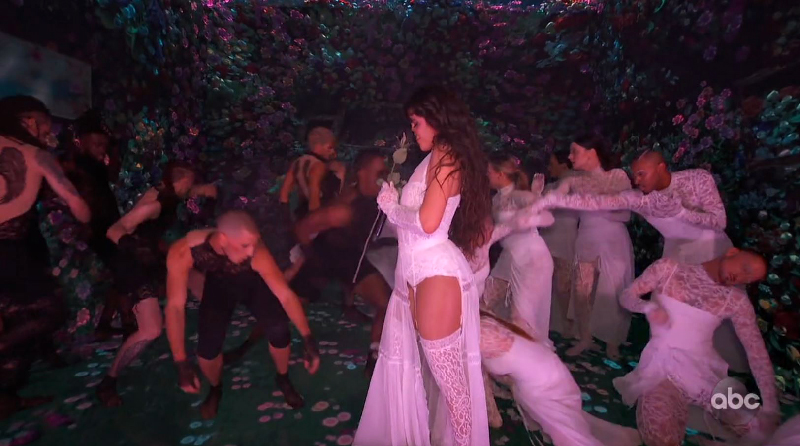 Then all hell breaks loose. Literally.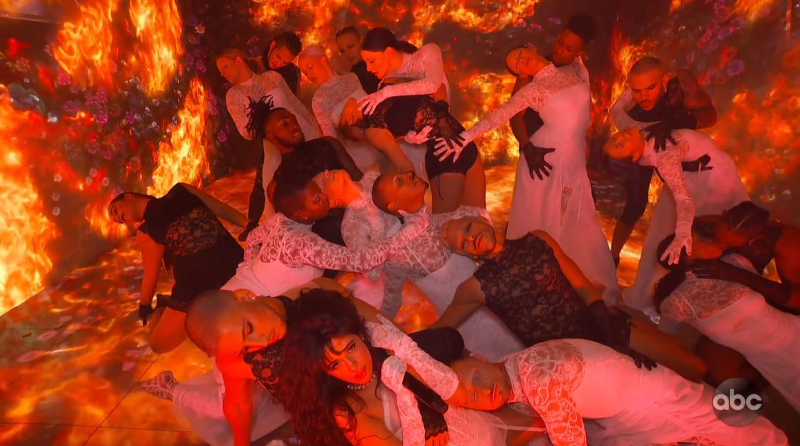 Everything catches fire and everybody has sex with everybody else.
From heaven, Camila descended to Earth. Then, she accepted the "dark side" and she descended to hell.
The entire performance embodied the classic narrative of the "good girl gone bad" that has been highlighted on this site countless times. Every pop star who wishes to ascend to superstardom must be associated with this kind of narrative.
The Prince of Darkness and His Minions
Post Malone's performance took place in a dungeon-like setting with chains hanging all around, conjuring images of pain, torture and slavery. Ozzy Osbourne – known as The Prince of Darkness (which is also the title given to Satan) – sits on a throne as his "minions" perform on each side of him. ...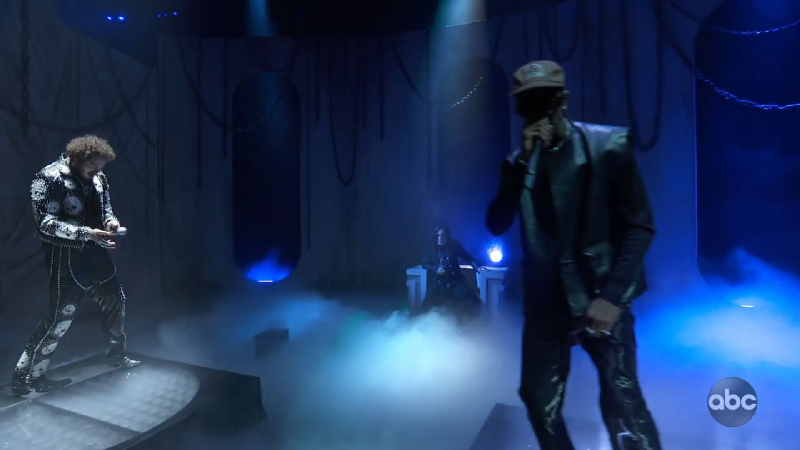 Ozzy Osbourne sits on his underworld throne between Post Malone and Travis Scott
Guess what happens at the end of the performance?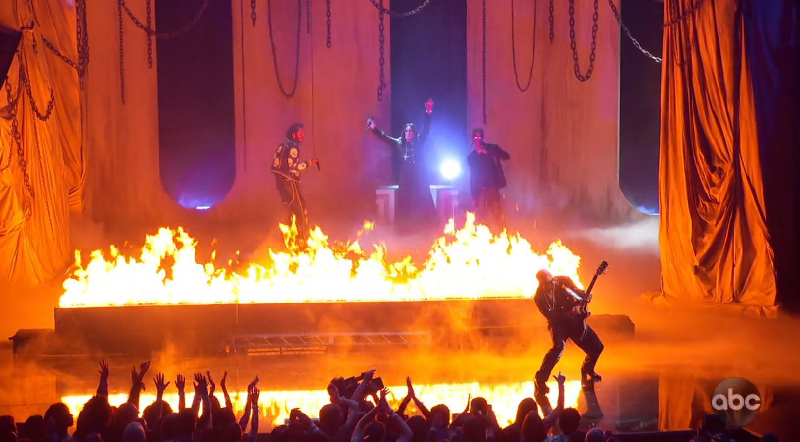 Hellfire. Again.
In short, this performance introduced two of the biggest artists in rap to the dark side of the industry.
In Conclusion
The 2019 AMAs had a clear recurring theme and it was "hell." More specifically: hell on earth. Through its ungodly agenda, the elite is effectively trying to bring hell on earth by straying humanity away from everything that is good, pure and sacred to push it towards the evil, the sick and the corrupt.
These award shows serve two purposes: On one hand, they showcase industry pawns as they perform about their owned slavery. On the other hand, they give the most useful pawns shiny trophies to tell other artists: You could have this too if you follow our rules.
Oh, and another proof that this show was literal hell: Taylor Swift was given the "artist of the decade" award. And she performed for about 10 minutes. Hell.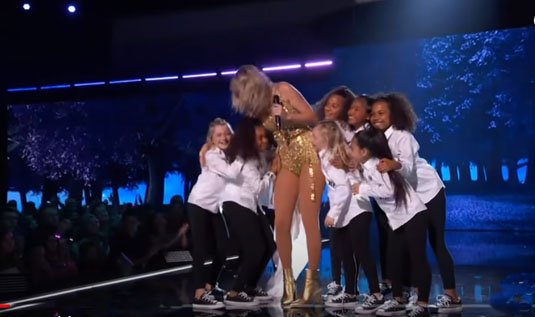 Taylor starts her routine with a bevy of girl fans around her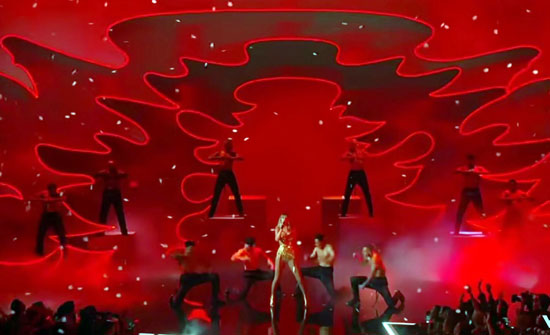 She ends her highly immoral song dance routine in hell where she is taking her fans...
This article was first published on The Vigilant Citizen blog
on November 26, 2019
Posted July 6, 2020
| | | |
| --- | --- | --- |
| Volume I | Volume II | Volume III |
| Volume IV | Volume V | Volume VI |
| Volume VII | Volume VIII | Volume IX |
| Volume X | Volume XI | Special Edition |