Personalities

King Ferdinand III & the Siege of Seville - II
Our Lady Assures Her Warrior King of Victory
The
statue of Our Lady of the Kings
was a great consolation to the King. However, the long and exhausting summer continued. The army had been encamped for over a year around Seville, and sickness, hunger and weariness were eating away at the morale of the troops.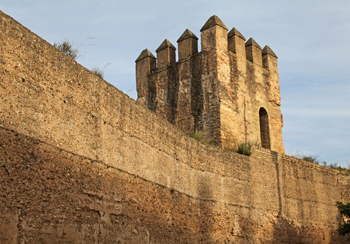 The ancient impregnable walls & towers of old Seville
In Don Ferdinand's camp, the food shortage reached such dire extremities and the Chronicles relates the horrible detail of some deranged soul who ate feces. The royal coffers were empty, and the King was forced to mint coins containing only half of the precious metal, with the King promising that as soon as the difficult circumstances ceased, he would exchange them for coins of full value. All trusted Ferdinand's word so much that those coins were used throughout Castile with no trouble. That is, as one chronicle notes, because the gold of his word was enough to establish universal trust.
One day the Moors of Jerez organized a raiding party to steal the cattle that grazed in the pastures. In the combat that followed, the nobleman Sebastian Gutiérrez received such serious wounds that he died. Don Ferdinand was very grieved, for he considered his nobles as his brothers-in-arms.
That evening, he locked himself in the little chapel and took refuge in the Virgin that everyone in camp called by the name he himself had given her when he first saw her: "This is the Virgin of the Kings!"
The affliction he was in did not permit him to use any preambles. He kissed the image's feet and, as his spirit full of anguish suggested, he prostrated himself before her, placing his face in the dust of the floor.
"Help me, my Lady, intercede with thy Son!" he pleaded.
"Help me and defend me. Thou art the Mother of Mercy. So, dost thou not see, my Lady, how thy sons are in very great toils and combat and sufferings of hunger, illnesses and deaths, so many and such that they can endure it no longer? Dost thou not see, Lady, how the Devil attempts to sow doubts in me that I will not make thee Queen of this city of Seville, where so many of thy sons and servants loved thee so much?
Desiring to look upon the sweet face of his heavenly Mother, Ferdinand got up to kneel as he continued to plead for relief: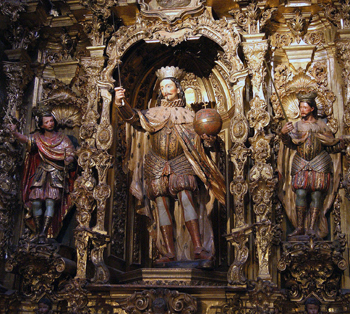 The warrior King who never lost a battle
"Thou were always, my Lady, my help, and thou didst take me out of all of my troubles... Why dost thou now let me suffer like this? Remember, my Lady, Cordoba and Jaen and of all my conquests that were made with thy grace... It is true that I have committed many sins and well deserve these sufferings; but they are suffered not only by me, but by my vassals, and watching them causes my grief to become immense. Queen and Mother of Mercy, help me!"
Could it be an illusion born from the intensity of his prayer? It seemed to the King that the smile of Holy Mary became more accentuated and that her lips were moving as if she were truly Our Lady in soul and body. The King was looking at her in ecstasy when he heard his name: "Ferdinand!"
"What dost thou want of me, Lady?" Ferdinand answered without hesitation.
"You have a constant helper in my image of the
Virgen de la Antigua
that you love so much and which is in Seville."
And showing herself in that incredible look of great beauty, she said in a sweet but persuasive tone: "Continue, because you shall win."
A fixed idea gripped the King's mind: to venerate that image of Holy Mary that for centuries had been hidden in Mohammedan Seville. Forgetting all else, he left the chapel, crossed the camp and left its borders. He was possessed by this idea, feeling no fear of the tremendous danger he was entering. He was as confident as a child holding his mother's hand, without fear of the tremendous danger he was entering.
He was very near the Moslem gates when a handsome young man appeared at his side with a torch in his hand to illuminate the way. Ferdinand followed him. Together they crossed the Tagarete and went in the direction of a small gate on the alcazar. The young man opened it with no difficulty. The King entered and found himself in the intricate labyrinth of Seville's narrow streets. Finally, they came to a building that the guide indicated he should enter.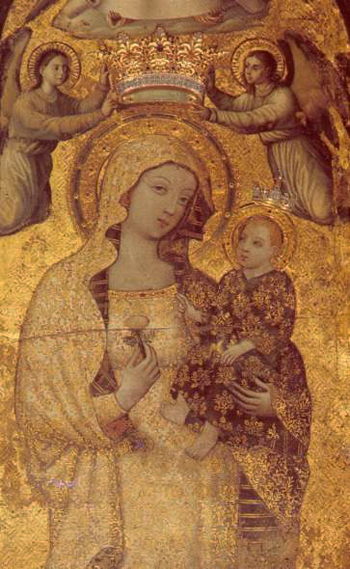 The Virgen de la Antigua, in the Chapel of the Kings in the Cathedral of Seville
By its size, it seemed to be a church. In fact it was the major mosque of the city. The guide pointed to a white wall, and before it the King fell on his knees knowing well what that wall was hiding.
Then, the wall became transparent as if it were crystal, and Ferdinand could see the image of the glorious Queen of Heaven as she had been painted many centuries ago, covered with a veil and the Infant Son in her arms.
How long was he there in prayer asking his Lady to grant him the grace to deliver her from captivity? He could not calculate.
Finally, his guide approached him and touched his shoulder to warn him that it was time to return to camp. He obeyed docilely because he knew it was his Guardian Angel.
They left the guarded city as they had entered it. Perhaps some Moor wrapped in his mantle crossed their path, never dreaming the identity of this man who, with his face hidden by the mantle's hood, walked through Seville at those hours. Once they reached the open field outside the walls of the city, the Angel disappeared.
Ferdinand realized fully the grace that the Mother of Mercy had just granted him. He had asked for courage and light to dissipate the doubts with which the Devil was assailing him. Then, after telling him he would win, she gave him this extraordinary event as a proof that the fact came from God: allowing him to enter Seville at midnight and sending him an Angel to open the doors and lead him to venerate her sacred image.
As proof this was not a dream or a delirium, there he stood now in full possession of his senses far from the Christian camp and only a few feet away from the Moslem city... He felt a strong and steadfast certainty, a firm and calm peace, and he felt an immense gratitude and love toward Christ, Who had granted him such a favor, and to Holy Mary, who had interceded with her prayers.
The King did carry on with confidence the siege of Seville, and in November of 1248 the city was finally conquered. The Virgin of the Kings was solemnly enthroned in the Cathedral of Seville and there she remains to this day. She is reposed above the incorrupt relics of her devoted servant, St. Ferdinand III, King of Castile and Leon.
To be continued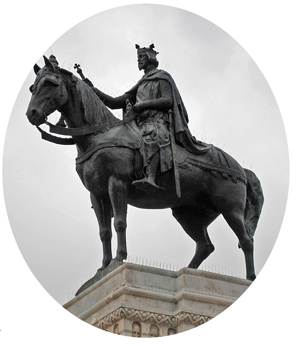 Adapted from M.C. Fernandez de Castro ACJ,
The Life of the Very Noble King of Castile and Léon, Saint Ferdinand III
NY: The Foundation for a Christian Civilization, Inc. 1987, pp. 247-251

Posted November --, 2018
| | | |
| --- | --- | --- |
| Volume I | Volume II | Volume III |
| Volume IV | Volume V | Volume VI |
| Volume VII | Volume VIII | Volume IX |
| Volume X | Volume XI | Special Edition |