Social-Political Issues
Elegant Past Forbidden,
Satanic Future Welcomed
I was struck by the violent contrast in the pictures in two articles recently sent by readers. Let me start by warning the readers that the second photograph is violently hideous and may be offensive to sensitive souls..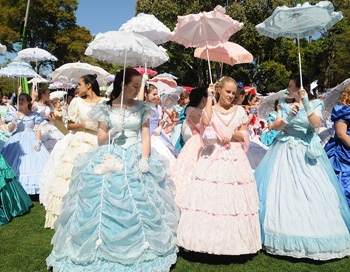 A long tradition ending: the Azalea Belles banished
The first photo, which you see
at right
,
presents
high school girls dressed in antebellum hoop skirts. They are the Azalea Belles. Each year these lovely teenagers represent the Cape Fear Garden Club at the North Carolina Azalea Festival as hostesses, greeting the visitors and guests with antebellum manners and charm.
Now then, one wouldn't expect that 21
st
century girls would vie to wear grand Victorian-style hoop skirts and carry parasols. But, at Wilmington's annual Azalea Festival, more than one hundred modern high school girls would change overnight to charming young ladies, feminine and gracious, bedecking the gardens during the five days of Southern-style pageantry and enhancing the beauty of the gardens and various activities.
The elaborate pastel and very feminine dresses were an important part of the tradition. Their beauty and charm enchanted the young ladies.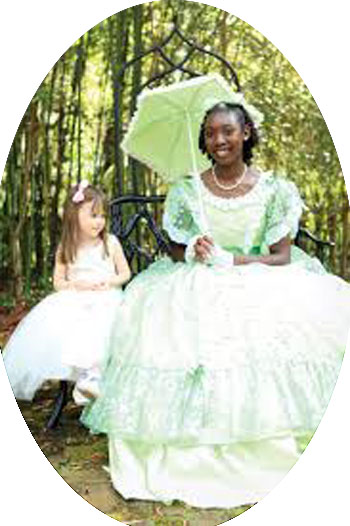 Little girls admire & imitate the Belles
"I feel like I'm getting some culture," one Belles shyly says. Another described how she dreamed of wearing a beautiful dress and greeting guests since she was girl and saw the Belles. "It was like entering a fairy-tale world, and I wanted to be a part of it. The little girls, especially, were so excited to see you and talk to you. You represent something marvelous for them."
"It is beauty, it is fantasy," said one mother, a former Belle whose daughter continued the family tradition and wore the same gown she and her grandmother had worn.
This tradition, however, is ending: "
End of an era: Azalea Belles no longer a part of the Azalea Festival
" the news report reads. In the last year the complaints of feminists and Black Life Matters members have escalated.
The feminists are furious because they hate feminine beauty and charm. They complain that the beautiful costumes make women nothing more than an object and fixture of beauty. It was a former Belle become Radical Feminist who started a petition to end the program.
The Black Life Matters members and sympathizers also entered the fray and loudly
protested
that the costumes memorialize the "racial history" of the past and celebrate "a neo-colonial view of the era." Like the Confederate statues celebrating heroes of the South, the Azalea Belles have to go.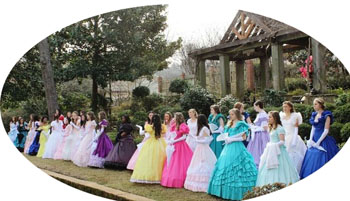 Good-bye to an elegant past
What both groups detest most is the aristocratic tone of the Azalea Belles. They see the program as a symbol of privilege, another hated word in 21
st
century vocabulary. That the Belles generally come from the better families of the area and daughters and granddaughters of Garden Club members are given priority status grates harshly against the egalitarian spirit of our times.
So, to conform to the politically correct agenda being enforced everywhere today, the 440-plus Garden Club members voted to end the Azalea Belles program. The members were concerned for the safety of future Belles, given the aggressiveness of the BLM movement.
Another small remnant of our elegant and aristocratic past was unceremoniously wiped away, because beauty, elegance and distinction are no longer permitted in the increasingly ugly and Satanic world that is emerging.
*
Yes, a Satanic world. This is not an exaggeration.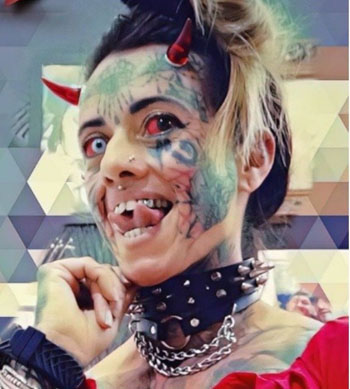 The Devil Woman flaunts her monstrousness
Proof is in the second picture,
at right
, and article I received. You are looking at a woman who works as a body modifier and calls herself "Demon Woman." Her real name is Carol Prado and she lives in Praia Grande on the coast of São Paulo, Brazil.
She got her first piercing when she was 16 and got hooked, then obsessed with tattoos and the so-called "art" of body modification. The now 35-year-old woman said she decided to transform her look to better express herself.
She has 60% of her body tattooed, her tongue split in two like a lizard, her eyes dyed red, her forehead implanted with horns. This is her idea of beauty, and she asks that we all respect it.
"I'm proud to be who I am," Demon Woman declares. She says her friends and family respect her. She claims she is God-fearing (although she practices no religion) and always asks heaven for guidance before carrying out another monstrous procedure.
God doesn't judge her, she explains, and neither should anyone else. She doesn't mind people looking at her on the streets, but demands that they respect her choice to express her inner being. And, unfortunately, she is increasingly accepted and even promoted, being featured in interviews and television broadcasts.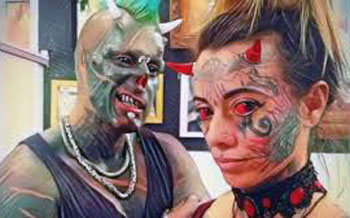 Her husband Big Devil, noseless & earless
Her husband, who calls himself "Big Devil," is also a body modifier and tattooist. Big Devil has 85% of his skin covered with tattoos and even more radical modifications such as elongated teeth and the removal of his ears and nose.
We are entering an era of the Devil when people accept – or at the least tolerate – this type of horrendous ugliness as something routine. At the same time, any remnant of our aristocratic and elegant past – such as the Azalea Belles – cannot be tolerated and must be abolished.
It is the Devil's reign where everything beautiful, elegant and aristocratic must be eradicated and give way to the ugly, vulgar and horrendous.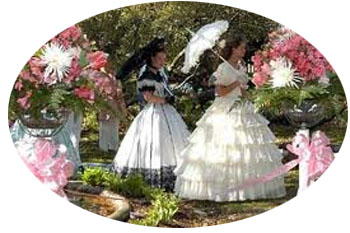 Elegance & beauty no longer welcome
Posted October 23, 2018