Right to Life
Biden & Pelosi Commit Sacrilege at Papal Mass
Well, the White House has confirmed it: House Minority Leader Nancy Pelosi and Vice President Joseph Biden went to Communion sacrilegiously at the papal installation Mass. (Huffington Post
article
.) What I found especially hypocritical, however, was Cardinal Wuerl's statement.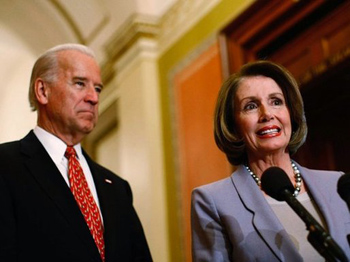 Pelosi and Biden defiantly receive communion at the papal inaugural Mass
Cardinal Donald Wuerl of Washington, part of the conclave that elected Francis, said that he would offer Pelosi communion despite her views on abortion because he didn't believe communion should be used as a weapon. "We never - the Church just didn't use Communion this way. It wasn't a part of the way we do things, and it wasn't a way we convinced Catholic politicians to appropriate the faith and live it and apply it; the challenge has always been to convince people," Wuerl said in a 2010 interview.
His position would logically extend to Biden. The vice president's bishop, Francis Malooly of Wilmington, Del., has also said he
would not deny communion
to Biden.
Denying Communion to a heretic (a person who denies at least one doctrine of the Church) is not using the Eucharist as "a weapon." It is exercising Church law articulated in Canon Law 915. It shows concern for the soul of the person who is heaping up mortal sin on mortal sin, which does several things to the unfortunate soul, i.e., makes it harder to repent, increases the moral debt of the soul so to speak, creates grave scandal when the heretic is a public figure which merits a "millstone," etc. Biden and Pelosi parade their "Catholic" credentials while they blatantly flout Catholic doctrine.
Cardinal Wuerl shows little concern for his Washington, D.C. political flock when he announces he will never refuse to let them crucify Christ by unworthy reception of His body and blood. Did Christ die for pro-abortion Catholic politicians? Of course. Does He want them to pile up one mortal sin of sacrilege after another? Hardly!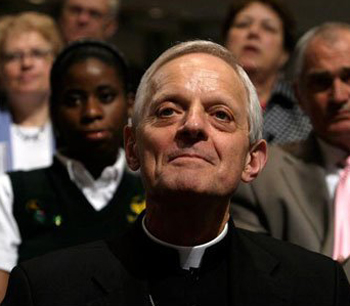 Cardinal Wuerl" 'I will never refuse Communion to politicians based on their abortion politics'
Frankly, I am sorely grieved at the lack of pastoral care bishops like Wuerl have toward these outrageous public sinners. He appears to care more for human respect and his own place in the halls of power than for their eternal salvation. He is like a father who buys his drug-addicted son the next fix instead of loving him enough to say no because he doesn't want to alienate his son.
When I see Cardinal Wuerl's cowardice (What else can it be?) I think of their foils, bishops like Rene Gracida (Bishop emeritus of Corpus Christi) who is a model of pastoral concern and courage when it comes to warning "obstinate public sinners" to refrain from Communion. (See
a case study
describing how Bishop Gracida put a Catholic politician under interdict.)
Why should Biden and Pelosi and others of their ilk repent? Why should they even believe that Christ is present in the Eucharist? There certainly does not appear to be much evidence that their bishops believe it. If they did, would they, like Judas, turn Christ over to them to be crucified again? That's exactly what they do when they give Jesus to heretics.
Cardinal Wuerl and other bishops of his ilk illustrate clearly why the Church in the U.S. is in such a mess. They care less about scandalizing the hoi polloi in the pews than hobnobbing with the rich and powerful. Is it any wonder saints lamented that
the floor of hell is littered
with bishops' skulls and mitres? Sad!