Forgotten Truths
The Poor Who Fight the Rich
Act against Justice & Charity
A considerable part of Pope Francis' social teaching is based on egalitarianism. He also preaches the socialist idea that the poor are poor because of the existence of the rich and encourages the revolt of the poor.

Doing so, Francis takes a position that contradicts the Catholic doctrine taught by previous Popes. Indeed, Benedict XV teaches precisely the opposite. That is, he defends that a well-constituted society needs to have different classes. He also affirms that when the poor revolt against the rich, they are acting against justice and charity.

It is useful for our readers to know this excerpt in order to oppose the growing tide of Socialism coming from conciliar Rome.
Pope Benedict XV
Who can be surprised, Venerable Brethren, that once the twofold bond of cohesion of any social body has been weakened or unbound, that is to say, the union of the members among themselves by mutual charity and their union with their head by dutiful submission to the authority, then human society will present itself as if it were divided into two hostile factions, which impiously and ceaselessly fight each other?
Confronting those who possess goods of fortune, whether by inheritance or their own industry, stand the proletarians and the workers, inflamed with hatred and envy because, although sharing the same nature, they do not enjoy the same condition as the others. Once they have been infatuated by the lies of the agitators to whom they are submissive, who will be able to persuade them that having the same nature is not a reason for all men to occupy the same position in social life? And further, who will ever make them see that each one, save for adverse circumstances, has the position that he earned by his own effort?
Thus,
the poor who fight against the rich as if the latter would have usurped the goods of the former, act not only against justice and charity, but also against reason, particularly considering that they can improve their fortunes by honest industry, if they so choose.
It is unnecessary to enumerate the many consequences brought about by this rivalry of classes, as disastrous for the individual as for society in general.
We all see and deplore the frequent strikes that suddenly paralyze the course of public and social life in its most indispensable functions; we see these threatening revolts and tumultuous crowds, and it not infrequently happens that weapons are used and blood is spilled.
(Benedict XV, Encyclical Ad Beatissimi of November 1, 1914,
Les Enseignements Pontificaux, Solesmes: Desclee & Cie, 1952, pp. 286-287)

Posted February 6, 2016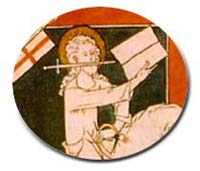 ______________________

| | | |
| --- | --- | --- |
| Volume I | Volume II | Volume III |
| Volume IV | Volume V | Volume VI |
| Volume VII | Volume VIII | Volume IX |
| Volume XI | Special Edition | Special Edition |