Do's and Don'ts for the Man of Commerce
In a society turned toward money - as unfortunately ours is today - it could not be more opportune to recall the rules St. Bernardine of Siena (1388-1440) gave to the merchants of his time. They are rules that are valid for all times since they reflect the justice and wisdom of the Catholic Church.



St. Bernardine of Siena


This is the Decalogue St. Bernardine of Siena proposes for merchants:
Do not sell for a higher price or purchase for a lower price than the law permits;


Never trade in a way that may harm the State, or put your personal interest above the public good;


Sell your goods at the same fair price to both foreigners and your countrymen; to the simple and ignorant as well as the clever and learned;


Do not charge a higher price for those whose payments are late;


Use accurate weights and measures;


Respect contracts and make payment on the dates when they are due;


Do not trade on Sundays and holydays of obligation;


Choose a pious and learned confessor;


Avoid lying, false oaths, duplicity, and all types of fraud;


Do not stay away from your wife too long [on business trips].
(in Osservatore Romano,
French weekly edition of October 23, 1959, p. 3)
Posted November 21, 2008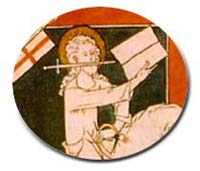 Related Topics of Interest

The Harmful Mentality of Borrowing Money

Critique of Capitalism from an Organic Perspective

What to Do with Surplus Currency

The Role of Economy in the Collapse of the Medieval Mentality

Proportion Between the City and the Man

A Distributist Manifesto Strongly Spiced With Communism