Talks with Jan
The Aureole of Virgins Restored
to Penitent Sinners
Can God restore the state of virginity and allow a fallen woman to sing in the choir of virgins who accompany Our Lady in Heaven? My friend Jan asked me this question.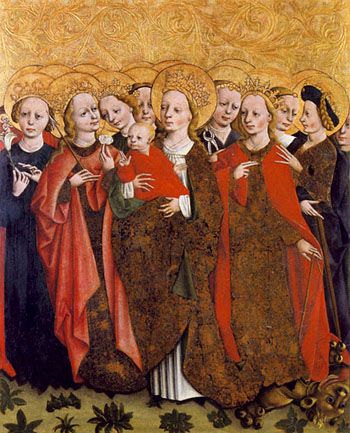 Our Lady & the Virgin Saints in Heaven
She remembered reading about a Saint who had received this favor but could not recall the details. When she asked a priest about it, he told her that this was impossible, just an old wives' tale.
In fact, it is not impossible for a married or fallen woman to receive the aureole of a virgin. This gift has been granted by God to women in some few cases. A
caveat
here: This extraordinary gift from God is granted as a rare exception, not the rule.
From the cases I found in my research, St. Mary Magdalene being the most well-known, the contrition and zeal of the converted sinner is so great that, so to speak, it earns the sympathy of God who in His goodness gives the gift.
Below are several worthy Saints who received this honor.
St. Mary Magdalene, the great Penitent

"Three Saints," Our Lord said to St. Bridget of Sweden, "have been more pleasing to me than all others: Mary My Mother, John the Baptist and Mary Magdalene."
An early tradition of the Church instructs the faithful that because of her great contrition and love, God gave to this favored daughter the aureole of virginity in Heaven. Thus St. Mary Magdalene is found in a place of honor at the head of the Virgins in the Litany of the Saints, the oldest of the approved litanies said to have originated in the 6
th
century.
Mary Magdalene portrayed with the virgin's palm of victory in a medieval illustration
Early Church Doctor St. Peter Chrysologus preached: "Do you see this woman? When she came to the feet of Jesus, she was a sinner, impure, accursed of God and man. When she departed, she was pure, holy, radiant with the glory of virgins. Her crimes and her scandals had made her a dishonored despicable creature. Her lively repentance and her love wrought such a change in her that she merited to bear the very name of the purest of virgins, that of Mary. ...
"Thus, many sins were forgiven her because she loved much. (1)
In the Middle Ages, it was common preaching that, since Mary Magdalene did perfect penance, she regained virginity along with its crown. She had earned a hundredfold reward on account of her penitential tears.
Other Saints with a special devotion to Mary Magdalene were also given a privileged understanding of her place in Heaven not just among the Virgins, but at their head. St. Francis of Rome, who called the great Penitent Saint her "advocate," saw Mary Magdalene in a vision at the head of a chorus of virgins, as their standard bearer. (2)
When St. Margaret of Cortona asked Our Lord if He had placed Mary Magdalene in celestial glory among the Virgins, Our Lord replied, "With the exception of the Virgin Mary and the Martyr Catherine [of Alexandria], no one in the chorus of Virgins is greater than Magdalene." (3)
St. Margaret Cortona (1247-1297)
In his introduction to his book
The Life of Saint Margaret of Cortona
, Canon Anthony Francis Giovagnolli addresses exactly this question of penitent sinners who aspire to recover the virginal splendor of their pristine purity.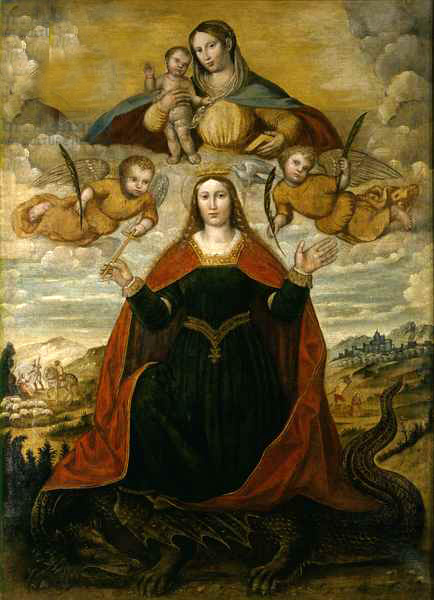 St. Margaret of Cortona: her extreme penitence won her many favors from Heaven
He affirms that the life of St. Margaret of Cortona offers these penitents a consolation and hope: "To them we say: Take and read. Here is a penitent whose whole life is a solemn protestation against the doubt that troubles and arrests you, a proof that virginity may be restored before God, that it is susceptible of an unspeakable reparation."
He quotes Jean-Félix-Onésime Luquet, Bishop of Esbus, who made part of his mission to make St. Margaret of Cortona better known in France. Although she began her youth in profligacy, the sudden murdering of her long time lover made her fall into herself and she repented her evil life. Aided by grace she undertook a penitent life in the Third Order of St. Francis and took St. Mary Magdalene as her special patron. Her contrition was so anguishing and intense that she indeed became a model of grief.
Bishop Luquet continues: "Our Lord deigned to favor her with his private converse, and at first gave her no other name but
poverella
(poor little thing). Happy at first, she at last became saddened to receive no other name from her Beloved, and she humbly complained of it. …
"At last, she heard herself called daughter, and her joy was great. Not long after Our Lord called her by a still dearer title: spouse. Her longings were now crowned, there was naught more to desire.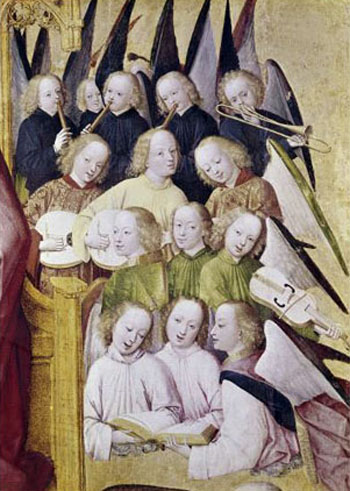 The Angels of the choir of virgins
"But Our Lord, who is infinite, wished to console her beyond all hopes, and He, who is truth itself, called Margaret the poor companion of His Virgins, consequently His virgin. She could not believe it, she was alarmed, thinking doubtless that the Devil wished to deceive her.
"He, who is the resurrection and the life, re-assured and confirmed her title, promising to place her in His Kingdom in the rank of Virgins, because all is possible to love." (4)
In fact, so pleased was Our Lord with her deep penitence and refined humility, that He once told her: "You have become so pure that I reckon you among the Virgins, and in their Choir prepare you a throne of glory equal to Magdalene." (5)
Warned by God of the day and hour of her death, she died on February 22, 1297, having spent 29 years performing acts of penance.
St. Thais, a 4th century repentant courtesan
In the lives of the Fathers of the Desert, we find an incident that wonderfully corroborates the possibility of a restored virginity. It is the history of St. Thais, a wealthy and beautiful woman of Alexandria who became a courtesan.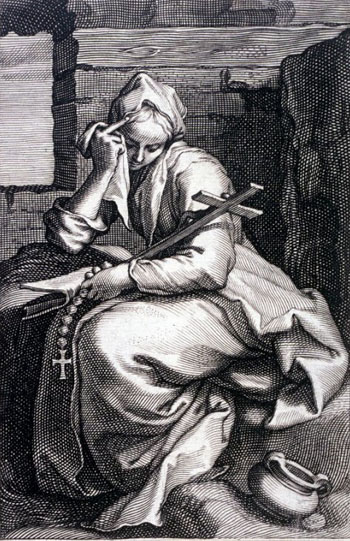 St. Thais: three years walled in a cell with her sins ever before her eyes
Repenting of her past life through the influence of St. Paphnutius, she asked to be walled up in a cell to perform extreme penance for her dissolute past life.
At the end of three years St. Paphnutius consulted St. Anthony as to whether God had forgiven her sins. The Saint called his monks and bade them all watch and pray the coming night to know the answer to this query.
While all then were in prayer, Paul, the greatest of the disciples of St. Anthony, saw in Heaven a bed adorned with precious curtains and ornaments guarded by four Virgins. Then he was made to understand that this bed was for Thais the sinner, who had completely restored herself in the eyes of her heavenly Bridegroom.
Thais was released from her cell of penitence and died in peace 15 days later.
The story of St. Thais, with its message that no sinner is beyond the reach of God's compassion, enjoyed widespread popularity throughout the Middle Ages.
Ven. Elizabeth Canori Mora (1774-1825)
In the book,
Life of the Ven. Elizabeth Canori Mora
, translated from the Italian by Lady Herbert (London 1878), the author writes:
"There is one peculiarity in her life that deserves also to be placed in a clear light. God allowed her [Ven. Elizabeth Canori Mora] as a child to make a vow of virginity, and then to forget it and embrace the marriage state.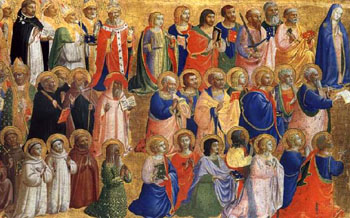 Ven. Elizabeth Mora was told she would enter the choir of virgins led by Mary Magdalene, bottom line in red
"And yet, in order to show that His mercy can surmount every obstacle, He was pleased to permit her in the end to receive the 'aureole' of Virgins, so that she might ' follow the Lamb wheresoever He goeth.'
"This great privilege was likewise granted to St. Mary Magdalene, St. Margaret of Cortona, and several other Saints in the like manner, and was looked upon by Elizabeth as the most signal favor Our Lord had bestowed upon her." (6)
These Saints illustrate well how, through the formidable combination of divine love and exemplary penance, Our Lord deigns to remake "a ruined vessel, a vessel of effrontery, into a vase of glory" (Rom 9:21-23).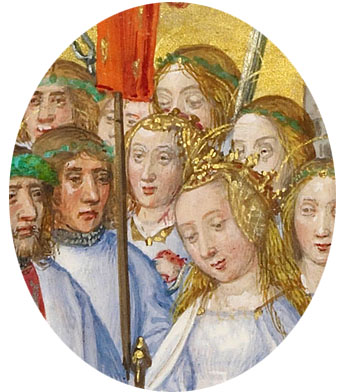 Dimissa sunt ei peccata multa quia dilexit multum."
Katherine L Jansen, "Like a Virgin: The Meaning of the Magdalene for Female Penitents of Later Medieval Italy." Memoirs of the American Academy in Rome, 45, 2000, p. 148.V
FIozzelli, Legends, IV, 15, 231-232, in Ibid, p. 131.
Philadelphia: P.G. Cunningham & Son, 1888, pp. 9-10; the book has the approbation of St. John Neumann, Bishop of Philadelphia.
Ibid., p. 78
R. Washbourne, 1878, p. 17.
Posted April 23, 2021
| | | |
| --- | --- | --- |
| Volume I | Volume II | Volume III |
| Volume IV | Volume V | Volume VI |
| Volume VII | Volume VIII | Volume IX |
| Volume X | Volume XI | Special Edition |