Stories & Legends
A Ring Returned with a Message

King St. Edward the Confessor (1005-1066) had a special devotion to St. John the Evangelist, and was accustomed never to refuse anything asked in his name.
One day the King was riding to assist at a Mass in a chapel dedicated to St. John the Evangelist in Essex when he came upon an old man. He asked the King for alms "for the love of St. John." St. Edward put his hand to his purse, but neither silver nor gold could he find. He sent for his almoner, but he was lost in the crowd, and still the poor man stood before him and begged.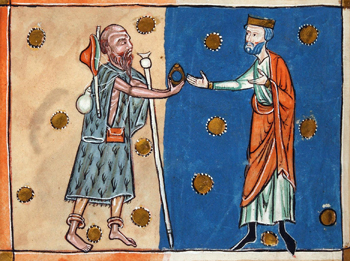 The King gives his ring to the beggar
Then King Edward drew from his finger a large and very precious ring. And, for the love of St. John, he gave it to the beggar, who thanked him gently, and left.
And now you shall hear what happened to the ring.
A few years later, two English pilgrims were traveling in the Holy Land and had lost their way in the wilderness.
The sun had set behind the bare mountains, and the two men were all alone in the desolate place, knowing not which way to turn, nor where to find shelter from robbers and wild beasts. As they were wondering what to do, a band of youths in bright raiment appeared before them, and in their midst was an old man, white and hoary, and wonderful to look upon.
"Dear friends," he said to the pilgrims, "Whence come you? Of what creed and birth are you? Of what kingdom and king? What seek you here?"
"We are Christians and from England. We have come to expiate our sins, seeking the holy places where Jesus lived and died. Our king is named Edward, and we have lost our way."
"Come after me, and I will conduct you to a good hostelry for the love of King Edward." So he led them to a city, where they found an inn with the table laid for supper. And, after they had eaten, they went to rest.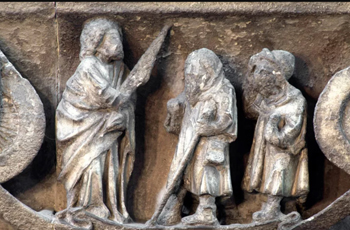 St John sends the ring & a message
with the two pilgrims
The next morning the old man came to them, and said: "I am John the Evangelist. For the love of Edward I will not fail you, and you shall arrive safe and sound in England. Then, go to Edward, and say you have brought a ring which he gave to me at the dedication of my church when I besought him in poor array. And tell him that in six months he shall come to be with me in Paradise."
The pilgrims came back to England without misadventure, and gave the ring back to Edward with St. John's message.
The King then ordered prayers to be said for himself and prepared himself joyfully for death. Indeed, St. Edward took ill on Christmas night of that year and he died most piously on January 5, the day foretold by St. John, t in the year of salvation 1066.
"Weep not," said Edward to his queen Edith as he lay on his deathbed, "I shall not die but shall live. Departing from the land of the dying, I hope to see the good things of the Lord in the land of the living."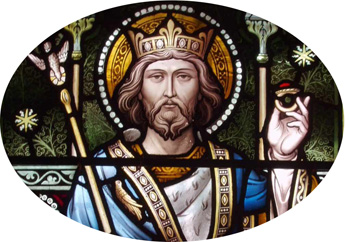 St. Edward the Confessor
portrayed with scepter & ring
His emblem is a finger ring, which he is sometimes shown handing to a pilgrim. King Edward is often shown in royal robes, holding a scepter surmounted with a dove for he was known as the Peacemaker and his reign was generally peaceful. However, he had to contend with the ambitious and powerful Godwin's opposition and other grave difficulties (rivalry between Norman and Saxon courtiers), and he did so with a determination that hardly supports the common picture of Edward as a soft and ineffectual ruler.
A century after his death Pope Alexander III raised King Edward, famous for miracles, to the altar of the saints. Innocent XI ordered his memory to be celebrated by the whole Church with a public Office on the day of his Translation, which took place 36 years after his death, his body being found incorrupt and exhaling a sweet fragrance.

Posted November 6, 2021