Stories & Legends
St. James Comes to the Aid of a Bishop

This story comes from the 12th century Liber Sancti Jacobi, of the Book of St. James, attributed to Pope Callixtus II.


In the year of Our Lord 1102, a certain Bishop was returning from Jerusalem. He was sitting at the edge of the ship and singing from his open Psalter when a strong wave surged up and swept him, along with several others, into the sea.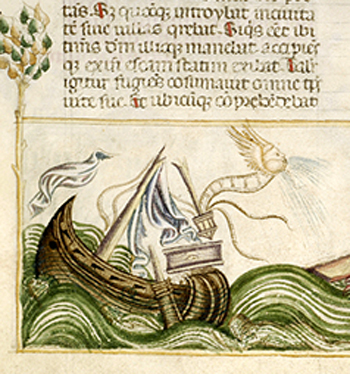 A great wave swept over the ship
When they were floating away on the waves and already at a distance of 60 cubits, they called in a loud voice to St. James, who was there for them immediately.
Standing on the waves of the sea with the soles of his feet still dry, he said to those in danger who had called on him: "Do not fear, my little children."
Then he immediately ordered the sea to return to the ship those whom she had taken from it. Then the Saint called out from afar and advised the sailors to halt the boat that was moving further and further away from the group that had been swept into the waves.
Thus it occurred. The sailors halted the ship, and the waves of the sea, at the Saint's command, returned all those whom it had swept off of the ship – including the Bishop with the book from which he was reading still open – safely and completely unharmed.
Then the Apostle immediately disappeared.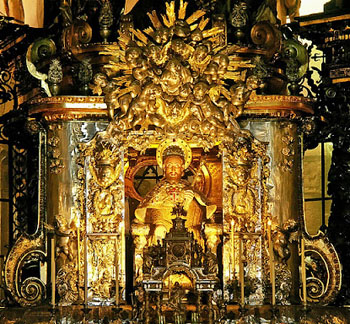 The shrine of St. James at Compostella
This was accomplished by the Lord and it is miraculous in our eyes.
Afterwards, this venerable Bishop of the Lord, who had been rescued from the dangers of the sea through the help of St. James, went to the most glorious Apostle shrine in the region of Galicia (Santiago de Compostela). In thanksgiving for that great favor, he composed the following responsory in the Saint's honor in the first tone of the musical art.
He intoned it joyously singing in this way: "O help for all ages, O honor of the Apostles, O bright light of the Galicians, O advocate of the pilgrims, James, supplanter of vices, release the chains of our sins, and lead us to the port of safety."
Afterwards he composed a versicle in this form: "You who help those at sea or on land calling out to you in their peril, help us now and in the trial of our death." Then he repeated: "Lead us to the port of safety."
That this story was faithfully recounted to me and is true, may Jesus Christ Our Lord Himself deign to be our guarantor, Who, with the Father and the Holy Spirit, lives and reigns as God. World without end. Amen.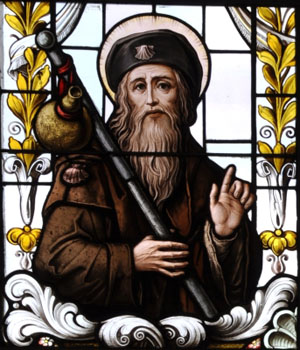 St. James as a pilgrim

Adapted from The Miracles of Saint James
(Kindle Locations 1637-1641). Kindle Edition
Posted July 31, 2021