Stories & Legends
Through Our Lady, a Heretic Converts

In the history of the foundations of the Company of Jesus, in the Kingdom of Naples, the following story of a noble youth of Scotland named William Elphinstone is related. He was a relation of King James.
Born a heretic, he followed the false sect to which he belonged. But, enlightened by divine grace, which showed him his errors, he went to France, where, with the assistance of a good Jesuit priest who was like himself a Scotchman, and still more by the intercession of the Blessed Virgin, he at length saw the truth, abjured heresy and became a Catholic.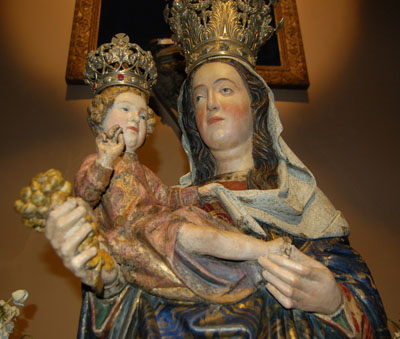 The statue of Our Lady of Aberdeen was saved from destruction during the Reformation
He went afterwards to Rome, where a friend of his found him one day very much afflicted and weeping. He asked him the cause, and he answered that in the night his mother had appeared to him and said: "My son, it is well for thee that thou hast entered the true Church. I am already lost because I died in heresy."
From that time he became more fervent in his devotion to Mary, chose her for his mother and by her was inspired to become a religious. He made a vow to do so, but being ill, he went to Naples to restore his health by a change of air.
But, Our Lord ordered it so that he should die in Naples and die a religious. For, having become dangerously ill soon after his arrival there, he, by prayers and tears, obtained from the superiors admittance. Then, shortly before receiving the viaticum, he made his vows in the presence of the Blessed Sacrament and was enrolled in the Society.
After this, deeply moved, he gave thanks to his mother Mary for having rescued him from heresy and brought him to die in the true Church, and in a religious house in the midst of his brethren. Being exhorted to take a little rest, he answered: "Ah, this is not the time to rest when the end of my life is drawing near."
Before dying, he said to the persons present: "Brethren, do you not see the Angels of Heaven around me?" One of the religious, having heard him murmuring something to himself, asked him what he had said. He answered, that his Guardian Angel had revealed to him that he should be in Purgatory but a short time, and would soon enter Paradise.
Then, he began again to talk with his sweet mother Mary, and repeating the word, mother, mother, he tranquilly expired, like a child falling asleep in the arms of his mother. Soon after, it was revealed to a devout religious that he had already entered Paradise.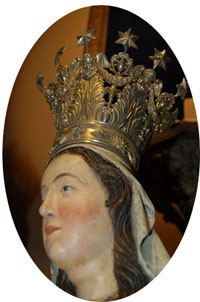 Our Lady of Aberdeen also has the title of Our Lady of Good Success

Excerpt from St. Alphonsus Liguori, The Glories of Mary,
NY: PJ Kenedy & Sons, 1988, pp. 47-49.
Posted March 30, 2019