Movies & Shows
The New Hero: The Villain
Review of the Disney show Villainous (2019)
Elizabeth Lozowski
Villain: In days gone by, the mere mention of this word would bring shudders to an innocent child. His imagination would immediately be filled with pictures of witches, sorcerers, werewolves, wicked stepmothers and other evil creatures for whom he must watch out. And then he would remember the demons that lurk in the shadows trying to snatch his soul for Hell. Instinctively the child would associate the villain in all its forms with the Devil. Nothing could ever convince him that villains are good.
Maleficent fans crowd around actress Angelina Jolie in admiration for her new role as villain
In our demented age, children have lost their innocence, as
Our Lady of Good Success predicted
. Instead of fearing villains, they are being taught to sympathize with – and even aspire to be – villains.
The Walt Disney Company seems to be pioneering the movement by glorifying the villains of its films. This is particularly evident with the new release of the second live action film revolving around
Maleficent,
the evil witch from
Sleeping Beauty
who turns into a dragon. Both of these
Maleficent
films aim to create compassion and affection for one of Disney's most evil villains, portrayed now as being merely "misunderstood."
Disney has changed much since its first classic films, particularly in the way good and evil are presented.
Snow White and the Seven Dwarves
,
Cinderella
and
Sleeping Beauty
had unequivocal good and evil characters, following the storyline of their respective fairy tales. The good heroes always triumphed and the evil villains were always punished.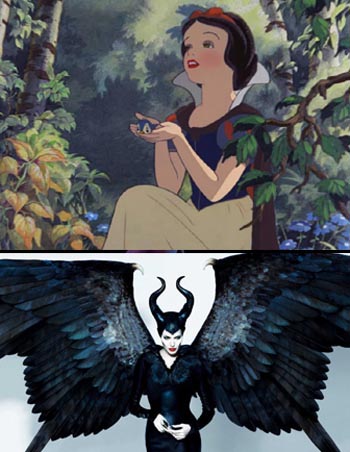 The innocent & good Snow White compared to the new Maleficent
Then, the company slowly and subtly began to change how a villain is viewed. Films such as
The Little Mermaid
,
Aladdin
and
The Lion King
featured wickedly alluring villains that were often more interesting than the heroes. Youth were impelled to sympathize with and even applaud the evil-doers. In contrast with the cold, frightening villains of the early films who never had so much as a feature song, these new villains were full of personality, with their own memorable songs for children and adults to sing along.
The latest Disney films have almost entirely done away with the idea of a real villain.
Frozen
and
Moana
feature villains that are either pathetic or misunderstood. Good and evil are no longer stringently distinct. As seen in
Maleficent,
the villains are being portrayed as neither entirely good nor entirely bad.
'A little villain in us all'
Championing the villain in a more explicit way, this year Disney created a show for Disney's California Adventureland for Halloween time. The motto of the show, titled
Villainous
, is: "Deep down there is a little villain in all of us."
Lights, lasers and animation illuminated the "twisted tale" as Shelley Marie, a young girl dressed in punk-gothic style clothing and makeup, searches for the right costume for Halloween, her favorite holiday. In her aim, according to
Disney's synopsis
of the show, "to be as strong and unique" as some of her favorite villains like The Queen, Ursula, Dr. Facilier, Hades, Jafar and Maleficent, she starts on "an unforgettable journey" where she learns that it is acceptable to be evil.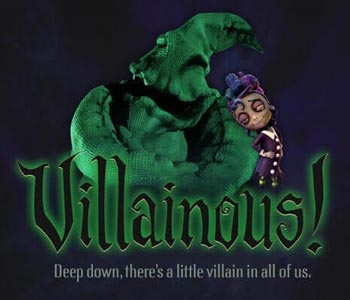 A deliberant attempt to blur the lines between good and evil
Villainous
starts with
an introduction to Shelley Marie by the Boogie Man, the villain from
Nightmare before Christmas
, a demented film glorifying the pagan aspects of Halloween. The Boogie Man describes Shelley's costume dilemma in these terms: "She can choose to be a princess and fit in with everyone else, or she can choose to be different."
Shelley asks the Evil Queen's Mirror what she should do. So that she can better understand what a true villain is, she steps through the mirror.
Now then, the villainous traits Shelley learns and admires are the following: using black magic, seeking power, fortune telling, asking help from "friends on the other side" – demons summoned up by a Voodoo witch doctor in
The Princess and the Frog
, and destroying those who are good and powerful.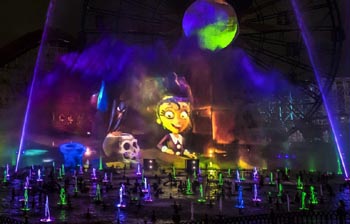 Shelley Marie is fascinated with spells and potions
In the end, Shelley chooses to dress like a dragon – a beast that has always symbolized the Devil. Her mother, who also loves Halloween, dresses as Maleficent and is pleased with Shelley, saying: "I love your bold choice. It really shows off your unique inner voice. Let them see the real you on our favorite day."
If a dragon is truly her "unique inner voice," then Shelley must not be listening to her conscience, but to the Devil.
Villains as different & unique
Eric Goldberg, director of Walt Disney Animation Studios,
describes the storyline
he created: Shelley Marie goes on a "journey" to "find out what it is like to be a villain and, basically, she finds out it's okay to be different."
So, now being a villain is classified as "being different." Just as Satanism is promoted as a "different" option for children, so the villains are promoted as the new heroes. As usual, anything that blurs the notions of good and evil, as most modern movies and books do, is praised by the Revolution.
Todd Martens from
Los Angeles Times
applauds Shelley Marie'
s uniqueness: "She's something of an anti-princess. That is, she's a regular kid, a preteen whose idols aren't the privileged class but the outsize personalities that make up some of Disney's most warped characters."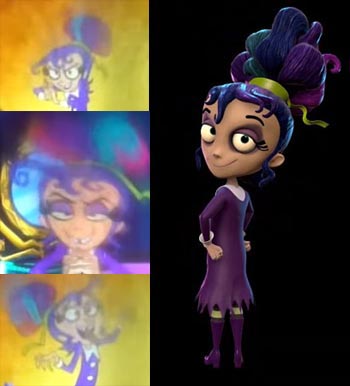 Shelley Marie - who celebreates being bad at times - new model for children
This statement is shocking. Siding with the villain is tantamount to siding with the revolutionaries. In an
organic Catholic society
, children look up to the "privileged class" – nobles, princes and princesses, kings and queens – as model ideals of dignity and goodness. In our revolutionary society, children are induced to favor the degenerate man and to rebel against authority.
Mr. Martens continues: "The company's fairy tale crafters are making the case that evil doesn't have to mean bad. After all, no one is ever always good. Instead, the young Shelley Marie – her name a play on 'Frankenstein' author Mary Shelley – is a celebration of the individual, and an acknowledgment from the happily-ever-after factory that 'normal' isn't one size fits all."
The senselessness of Mr. Martens' comments reveals the absurdity of his goal – to eliminate the notion of evil. How can evil not mean bad? The two words are synonyms and to deny this is contradictory. It is true that we all have temptations to be bad, but it is part of the Catholic fight to conquer our evil tendencies and become good and holy.
"Celebrating the individual" is a phrase used to make people content with their faults and mediocrity. Unique, another misused word, means letting one's passions run free and embracing one's vices. A virtuous man is considered dull and plain; an immoral man is viewed as intriguing and exciting.
In our day and age, when sin is applauded openly and
Satanic cults
shamelessly take a place in the public sphere, it is no wonder that villains are admired. But this fact should make us indignant and more vigilant in the fight against villains.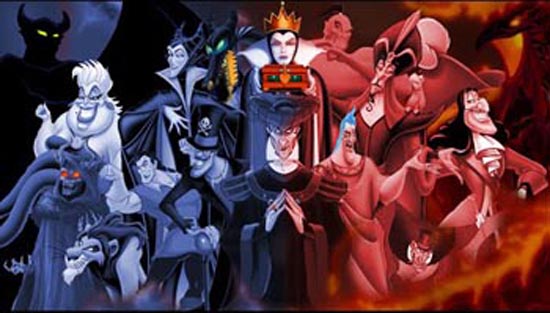 The villains Shelley admires are also admired by Disney fans.

Posted November 25, 2019