Saint of the Day
Humiliation of St. Joseph - December 23-25
- Part I -
We will read the text of Anne Catherine Emmerick that describes the humiliation of St. Joseph when he arrived in Bethlehem.
These revelations are not
de fide,
that is, one can be a good Catholic and not believe in them just as one can be a Catholic and believe in them, since they were examined and studied by the due Roman Congregation and found to be orthodox.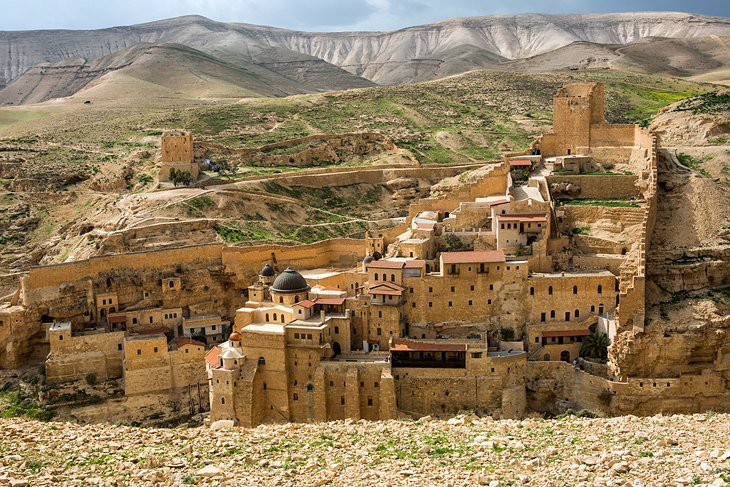 The ancient town of Bethlehem where St. Joseph sought lodging for the night
St. Ignatius of Loyola and other Saints recommend that when we meditate, it is very useful to imagine the place where the scene of the meditation takes place: St. Ignatius called this mental operation "composition of place."
Since Anne Catherine Emmerick gives a very detailed description of Bethlehem as she reports what she saw on the Birth of Our Lord, we will take advantage of her description for the "composition of place" in our meditation on St. Joseph, Our Lady and the Divine Infant when they were there.
She describes in a very precise and at times picturesque way the arrival of the Holy Family at Bethlehem. She saw a small and spread out city with houses some distance from one another. In certain areas, there are still open fields in the city; in other parts the houses are more dense. Our Lady and St. Joseph go from one side of the town to the other seeking a place to stay. The reason to find a place is, more immediately, to provide comfort and shelter from the bad weather, but in this case it is not the principal one. In fact Our Lady knew that Our Lord would be born in Bethlehem and had communicated this fact to St. Joseph after an Angel appeared to him and explained she had conceived of the Holy Spirit.
It was natural, then, that for such an august event they desired a place with a minimum of dignity. Thus can we understand the true torment suffered by St. Joseph, more than what Our Lady underwent. As the head of the Holy Family St. Joseph felt a particular obligation to find a dignified place for the Birth of the Child.
So, Anne Catherine Emmerick reports the various places where he inquired without finding an accommodation; finally he went to the shepherd's cave outside the town. The affliction of St. Joseph was enormous. He believed that his lack of success was due to some fault of his own, a sign of infidelity.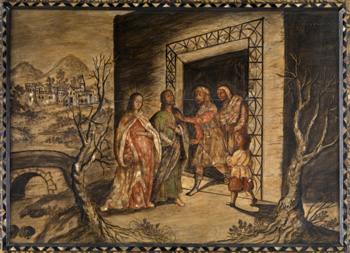 Joseph receives one rejection after another
Catherine Emmerick writes:
"They entered into Bethlehem, the buildings were at some distance from each other. The entrance was through ruined walls, as if the gate had been destroyed. Mary remained with the donkey at the very entrance of the street, while Joseph sought in vain a lodging in the nearest houses."
We can imagine the sublimity of the scene: Our Lady, Queen of Heaven and Earth, the Living Tabernacle that bore the Savior, standing near a small donkey, while the Patriarch St. Joseph, perhaps the most glorious of the Saints, going from door to door asking for a place in a small street of a very small city. She stood there alone, with no even looking at her.
"St. Joseph returned near Mary, saying that as no shelter was to be found there, they would go on farther into the town."
We see that they started their inquiry on the outskirts of Bethlehem. We can imagine what St. Joseph could be thinking in his innermost soul: An order of Our Lord – and thus a request of Our Lady to Him – would suffice for an accommodation to appear. It would seem that it was a matter that depended on them. But they left him abandoned, without any help! Why? This perplexity augmented his suffering.
"St. Joseph led the donkey on by the bridle, and the Blessed Virgin walked beside him. When they came to the beginning of another street, Mary again stopped by the donkey, and Joseph again went from house to house seeking a lodging."
The humiliating scene starts again.
"But he did not find any house to receive them. Again he came sadly back. This happened several times, and the Blessed Virgin often had long to wait."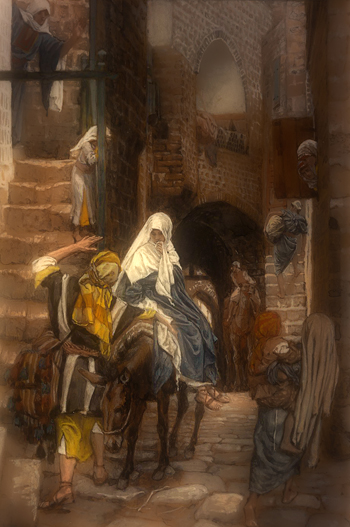 No one pays attention to Our Lady, who bears the Savior of the world
It is clear that, St. Joseph was greatly afflicted to see Our Lady having to wait for so long a time, above all in her condition. This cascade of deceptions and humiliations would continue.
"Everywhere the houses were filled with people, everywhere he was turned away, so he said to Mary that they would go to another part of Bethlehem where they would surely find lodging."
We will see that he knew some persons in that part and fully expected that they would help him.
We need to note that in those times there were not inns and it was common for persons to have a room for guests in their houses to receive friends or persons who needed accommodations. In Antiquity this was common. Thus, it was extraordinary for St. Joseph not to find a place.
"They went a little way back in the direction in which they had come and then turned southwards. They went hesitatingly through the street, which was more like a country road, for the houses were built on slopes. Here, too, their search was fruitless. On the other side of Bethlehem, where the houses lie farther apart, they came to a lower-lying open space, like a field, where it was more solitary. There was a sort of shed here and, not far from it, a great spreading tree, with shady branches like a big lime-tree. The trunk was smooth and the spreading branches made a kind of roof.
"Joseph led the Blessed Virgin to this tree, and made her a comfortable seat against its trunk with their bundles, so that she might rest while he sought for shelter in the houses near. The donkey stood with its head turned towards the tree. At first Mary stood upright, leaning against the trunk of the tree."
What a poetic scene: A beautiful tree with large branches in a deserted field where the houses lay far apart, the small donkey and, finally, Our Lady standing and leaning against the tree. It was a scene of an extraordinary beauty, but those people did not notice.
How can this rejection be explained? Those people were the same one who, 33 years later, would commit the Deicide. Did they not demonstrate that they were capable of that horrible act? One is capable of killing Our Lord is capable of passing close by Our Lady and paying her no heed.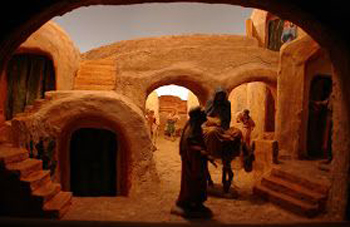 St. Joseph is humiliated by his failure to provide dignified lodging for the Birth of Our Savior
Catherine Emmerick now gives some feminine details of Our Lady's dress:
"Her ample white woolen dress had no girdle and hung round her in folds. Her head was covered with a white veil. Many persons passed by and looked at her, not knowing that their Savior and Redeemer was so near to them. What patient humility and resignation Mary had! Ah, she had to wait a long, long time; she sat down at last on the rug covering the packages. She sat with her head bent and her hands crossed over her."
It is another very beautiful scene and position that Our Lady took: Her hands over her chest, her head bent, the leafy tree, the small donkey like a bibelot, in the background the Eastern sky.
"Joseph came back to her in great distress; he had found no shelter. His friends, of whom he had spoken to the Blessed Virgin had hardly recognized him."
It is very humiliating for a head of family. A man normally would say: "Now, I will go to visit my friends who will certainly receive us." The wife thus realizes his good standing with his friends. But this is not the case. He returns to her and says: "They did not recognize me."
He was a poor man and they paid no attention to him.
"He wept and Mary comforted him. He went once more from one house to another, this time revealing the approaching confinement of his wife as his chief reason for his request, he met with even more decided refusals."
Anne Catherine Emmerick says that when he explained the situation in this way, the rejection was even more emphatic. The doors were closed to them. It is inconceivable! But this is the way it was... Those persons who refused him in Bethlehem were the precursors of those who would commit the Deicide.
Continued




Prof. Plinio Corrêa de Oliveira
The Saint of the Day
features highlights from the lives of saints based on comments made by the late Prof. Plinio Corrêa de Oliveira. Following the example of St. John Bosco who used to make similar talks for the boys of his College, each evening it was Prof. Plinio's custom to make a short commentary on the lives of the next day's saint in a meeting for youth in order to encourage them in the practice of virtue and love for the Catholic Church. TIA thought that its readers could profit from these valuable commentaries.
The texts of both the biographical data and the comments come from personal notes taken by Atila S. Guimarães from 1964 to 1995. Given the fact that the source is a personal notebook, it is possible that at times the biographic notes transcribed here will not rigorously follow the original text read by Prof. Plinio. The commentaries have also been adapted and translated for TIA's site.