Saints of the Day
St. Francis di Girolamo - May 11
Biographical selection:
Francis was born in a small village near Naples on December 17, 1642, the eldest of 11 children of Giovanni Leonardo di Girolamo and Gentilesca Gravina, exceptionally virtuous parents. After entering the Jesuit Order in 1666, his greatest desire was to be a missionary in the Indies and Japan. But God destined him to evangelize the Kingdom of Naples, a work to which he dedicated himself completely.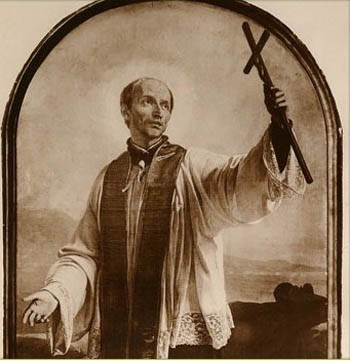 St. Francis di Girolamo, the Apostle of Naples
To assist him, he organized a confraternity of artisans and workmen – the Oratory of the Mission – who, besides their numerous works to assist the mission priests, would follow the Saint every Sunday as he preached through the streets and squares of Naples. They would leave from the Jesuit church
Gesú Nuovo
in procession singing as Francis led the way to the sites where people were accustomed to gather.
Seeing this pious procession. many persons leading bad lives abandoned what they were doing – often not without anger – for they dared not resist the force and sanctity of the group led by St. Francis nor that speck of faith that still remained in their souls.
Francis first would ascend to an elevated place and speak to the audience. He would start by describing with forceful energy the horrible effects of sin and the punishments awaiting the sinner. When fear had entered the hearts of all, then he would speak of the mercy of God.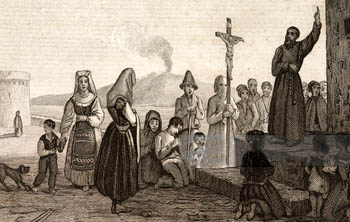 After preaching on Hell & the mercy of God,
he scourged himself before the crucifix
Afterwards he would tell his audience that he would make penance for both himself and them. Kneeling before a Cross, tears streaming down his face, he would scourge his shoulders with an iron discipline. No more was needed for the people to follow him, filled with contrition and eager to repent.
He was a great devotee of the Virgin and she would constantly send him the sinners she wanted to convert. A famous case is a man who had long been away from the Church whom Our Lady protected because he always showed her respect and greeted her when he passed her images. She appeared to him three times and told him to seek out Francis in order to make a confession.
After suffering a painful illness, St. Francis di Girolamo died on May 11, 1716, singing the
Magnificat
in thanksgiving for the graces he had received during his lifetime.
Comments of Dr. Plinio:
The entire life of St. Francis di Girolamo is very beautiful. We see how grace prepares persons to accomplish what they should in the ambiences where they should act. It is evident that St. Francis, who desired to preach in the distant Indies and Japan, had everything necessary to preach much closer in his own Naples. We see that he was very Italian and that his way to preach could not be more Italian.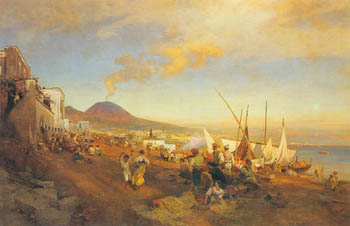 Sunlit Naples reared a people given to dance, song, ceremony & processions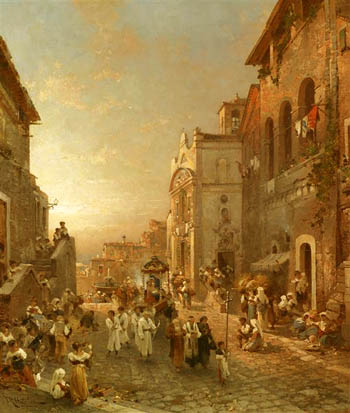 The people of Southern Italy are enthused with music, ceremonies, processions, etc. They are gifted with a warm and facile imagination much different from Northern peoples. We see how appropriate it was in sun-bathed Southern Italy for a group to leave a Neapolitan church and enter the streets singing in a procession. It was very different from a group of Britons leaving the Cathedral of Westminster singing and making a procession in the fog of London.
In Italy this description takes on a different tone and, in Naples, a special poetry. So, we have our Saint inventing a first class publicity stunt to draw the attention of a people in a place where everyone sings.
In the poetic Italy of that time – where people worked less and lived better – St. Francis of Girolamo left his church singing. We can imagine a group of men leaving the
Gesù
church and entering the narrow streets of Naples. Even bad and shameless persons would come to the doors of the
bodeghe oscure
(dark bars) to see the procession pass. This was because at that time – without radio and television – such a spectacle provided a good occasion even for bad people to hear a little of music.
So, we can imagine a man in a bar blaspheming and carrying a half-empty bottle to the door. When he sees the procession, he says: "What! Let me see what this is!" He would remain there and listen to the Saint preaching from an elevated spot in the square.
St. Francis had the keen psychological sense to start his preaching by arousing fear in those listeners. Persons who are brutalized and hardened by sin are incapable of love in that state of soul. In order to remove those persons from their earthly attachments, it is necessary to convince them that these goods are transient and speak of the eternal flames of Hell.
Only then, after his audience was taken by fear and beginning to feel some detachment, did he start to speak of mercy. You see that preaching about the mercy of God is to give them hope for a future good, to feed the love of God and place before them the loving face of God. It is the path from fear to love very well constructed by St. Francis di Girolamo. This discourse was planned to bring those adventurers, Mafiosi and shameless bad people of Naples to think about Hell.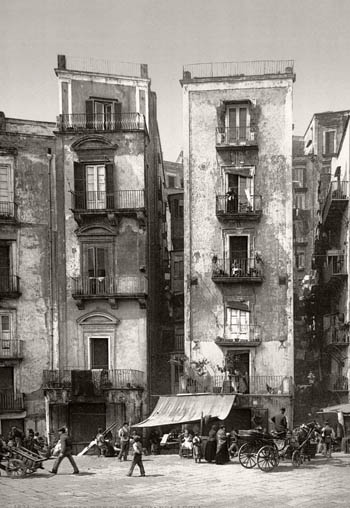 He went to the poorest streets to preach
Afterwards came the moment when justice and mercy kiss: It is when the Saint gave a proof of the need for justice and the immensity of God's mercy. It is when he knelt before a Cross and said, "The blood that I will shed is for you," and would begin to scourge himself. When the blood of the innocent starts to flow, grace starts to act. There is nothing more efficient than this double dose of grace: the grace of humility added to the grace of shedding one's blood.
This humility was expressed by the preacher who spoke without thinking about himself; rather, he was thinking about the salvation of those people and the cause of the Church. The fact that he was not thinking about himself challenged the egoism of the others and dragged them, as it were, to abandon their own egoism. He took this so far as to shed his blood for them.
In these flagellation made with humility – because a flagellation made with pride would not bear any fruit – he induced souls to follow him.
The result we see: Until the end of his life he remained a man completely humble and abnegated despite his extraordinary success. He died attributing to Our Lady all the graces he had received, as he should.
It was the death of a Saint and the most beautiful death one can have: singing the very canticle voiced by Our Lady in thanksgiving for the gifts she had received from God! His was a full life, a life that humbly and joyfully proclaimed its plenitude at the moment when its dusk fell.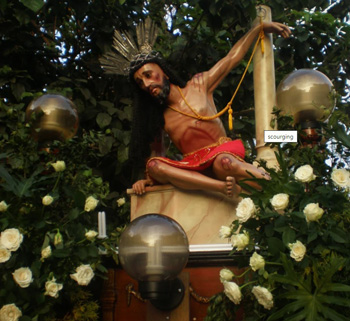 Our Lord gave the example of being scourged
to save sinners
What I most desire for each one of us is unpretentiousness. We should not be concerned about what others are thinking of us; we should not be striving to play a beautiful role before others; we should be indifferent to applause or boos.
On the contrary, we should know how to calmly tread our path doing what Our Lady wishes from us, understanding that for God every man is a sinner and a man's virtue comes not from himself but from God. Therefore, it is to God Our Lord through Mary that all thanksgiving should be given.
It takes a beautiful degree of humility to be resigned to receive boos from those around us. However, to conserve humility while being praised is even more difficult; to conserve humility in an ambience where there is sympathy toward us is more difficult.
I invite all to practice these two aspects of the virtue of humility. May Our Lady grant us this unpretentiousness and then, I guarantee you, all the rest will be given in addition.





Prof. Plinio Corrêa de Oliveira
The Saint of the Day
features highlights from the lives of saints based on comments made by the late Prof. Plinio Corrêa de Oliveira. Following the example of St. John Bosco who used to make similar talks for the boys of his College, each evening it was Prof. Plinio's custom to make a short commentary on the lives of the next day's saint in a meeting for youth in order to encourage them in the practice of virtue and love for the Catholic Church. TIA thought that its readers could profit from these valuable commentaries.
The texts of both the biographical data and the comments come from personal notes taken by Atila S. Guimarães from 1964 to 1995. Given the fact that the source is a personal notebook, it is possible that at times the biographic notes transcribed here will not rigorously follow the original text read by Prof. Plinio. The commentaries have also been adapted and translated for TIA's site.