Special Feast Days
Dedication of the Basilicas of the
Apostles Peter & Paul - November 18
Regarding the dedication of the Basilicas of the Apostles St. Peter and St. Paul, we know that although St. Peter is the Prince of the Apostles, the apostolate of St. Paul in Rome was of such importance that it made a special mark on the city. In fact, in Rome there is the great Basilica of St. Paul Outside the Walls, built by Constantine in the 4th century, damaged in the 19th century, and later duly restored. The bones of St. Paul were buried in that Basilica.

The Basilicas of St. Peter, left, &
St. Paul Outside the Walls
The bones of St. Peter were buried in the original Basilica of St. Peter, also constructed by Constantine and later completely reformed in the Renaissance Popes. Today St. Peter's Basilica still conserves the bones of St. Peter.
The Bishops of the entire world have the obligation to visit the tombs of the two Apostles in these Basilicas every five years. This visit is called the
Ad limina Apostolorum
[to the tombs of the Apostles]. This obligation also has an administrative function since the Bishops take the opportunity to report personally to the Pope about their respective Dioceses. This is one means the Pope has to maintain a direct control over what is going on in the entire Catholic world.
These two Basilicas whose dedication we celebrate today are, in a certain way, the Basilicas that most characterize Rome.
What can we say about this celebration?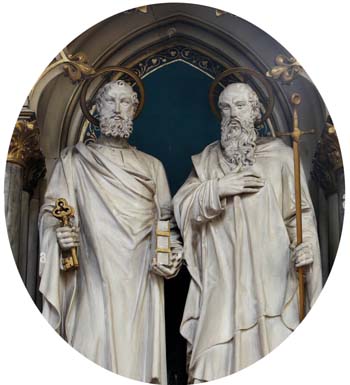 The two Saints admired & supported
one another in the apostolate
It causes us to consider how the works of God do not follow set rules. In effect, we could say that since St. Peter was the Prince of the Apostles and reigned in Rome, St. Paul would not have too much to do in the Eternal City. According to the more acceptable functional approach used today, St. Peter should be averse to the presence of St. Paul, who appeared in Rome with his personal magnetism, fire and capacity. The activity of St. Paul in Rome almost obscured that of St. Peter, who was perhaps a less intelligent person than St. Paul.
We could also say that St. Peter would be somewhat obscured by St. John because he was the most beloved Disciple. You can imagine what St. Peter might have thought when he heard Our Lord say to St. John: "Thou art My beloved Disciple." St. John was so favored that during the Last Supper St. Peter requested St. John to ask Our Lord who was the traitor present there.
However, when it came to designating His successor on earth, St. John was put aside. Again, according to the modern mindset, St. John should have thought: "How ungrateful! He is not acknowledging my friendship and total dedication!"
And St. Peter, following that same wrong thinking, should have thought: "So, what does this mean? I am the one He entrusts to be the Head of the Apostolic College and yet the beloved disciple is another? How can I maintain my prestige with this contradiction? It is not consistent!"
And both St. Peter and St. John could think something similar about St. Paul: "We are members of the College of the Twelve, which is already complete. Judas betrayed Our Lord and was replaced by St. Matthias. Now that everything is already established, St. Paul appears and is parachuted into the College of the Apostles…"

For three years Our Lord instructed St. Paul
in the desert of Arabia
The most curious thing is that Our Lord, when He was already in His Glory in Heaven, returned to earth and took St. Paul to the desert of Arabia to explain the Catholic Religion to him. Thus did he become an Apostle like the others, instructed personally by Our Lord in a place and under circumstances completely different from the others. He went with Christ, learned from Him, and made a most brilliant apostolate, but he only encountered the Head of the College of the Apostles a long time afterwards.
If we consider what the other Apostles did, their successes were much less than what St. Paul achieved. The ensemble of the Apostles harvested very few fruits… while the last Apostle to come gathered in a great deal more. Afterwards, he went to Rome and sat at the side of the Prince of the Apostles and shone like a sun in the city where St. Peter resided… They were martyred on the same day, which created a kind a parity between the two.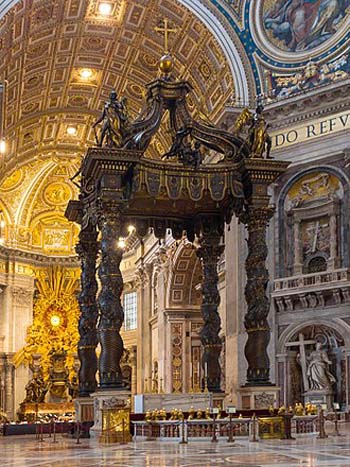 The tomb of St. Peter lies directly below St. Peter's baldachin in his Basilica
Why is this? It is because, regarding the gifts God chooses gives, He admits no boundaries or rules. No one can say: "I am the owner of God. God gave me these gifts and they constitute everything He could have given. So, you have to obey me because He gave me the Keys of the Kingdoms of Heaven and Earth." This God does not tolerate!
The works of God demand simplicity, requesting great and true humility from those who receive His privileges. This is what this Feast of the Dedication of the two Basilicas should remind us. We should understand and love the plurality of God's gifts.
It is necessary to obey the voice of Providence, which sometimes asks us to not enter fields to which we are not called. At other times, we should act. It is necessary to discern what is best. When we perceive that an initiative is inspired by good spirit, by virtue, and that the person is undertaking it with detachment and the will to serve, we should understand that it is legitimate and allow it, because it is the will of God. In this field there are no "restricted areas" or "closed" private properties.
The plurality of God's gifts is enormous in the Counter-Revolution. Those placed in positions of authority must recognize their authority as coming from God and use it to emphasize the diversity of God's gifts. Their role is to be continuously calling attention to the plurality of God's gifts in our movement. They have the duty to have a great joy for the gifts God gave to others.
Many times we see that God gives a gift to another that He did not give to us. Instead of becoming sad and resentful or pretending a fake indifference, we should feel a true joy. "What a great joy I have to see that person doing a thing I am not able to do! What happiness I have to see another person doing something that I have no time to do! What happiness to see that still another person can shine more than I do and can do much more for God so that He is better served!"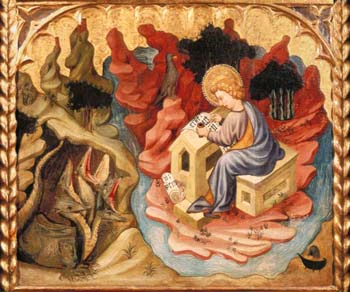 St. John on Patmos
This lack of personal attachment is a very important thing!
Unfortunately, one who makes an apostolate can often follow a different spirit and think: "Ah, now I will show these people how capable I am. I will carry out the assignment I received so splendidly that they will understand I am a colossus!"
We should be vigilant against states of spirit like this.
St. John exiled on the small island of Patmos, could have heard of the successes of St. Peter in Rome governing the entire Catholic world while he was incapable of helping in that apostolate. Hearing this, he should think: "How good it is that God placed St. Peter at the very foundation of the edifice of the Holy Church! What happiness I have to know that he is governing everything with such sanctity! How everyone respects him! I will send him my homage to be added to that of all others!"
Likewise we can imagine of St. Peter and St. Paul praising St. John, or St. Peter and St. John praising St. Paul.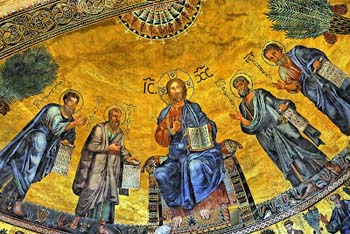 The Apostles gather in unity of spirit around Christ in a mosaic in St. Paul's Outside the Walls
These are the correct reactions we should have. This is the disinterest of Saints, who praise one another for the glory of God.
After we do some work of apostolate, after a talk, a class, a meeting or a report we give, we should not keep remembering and bringing up the things we did or said that could be praised. Our only aim should be to inflict a defeat on the Revolution and to give glory to God. That victory should cause joy in everyone who is good. If it does not, we should still be very happy to have served Our Lord and Our Lady.
With the various gifts God gave us, there should be a symphony played by many different instruments, a harmonious melody sung by many different voices. We should combine our voices instead of having just one voice singing or one instrument playing. We can find examples of this harmony in the relationship of St. Peter, St. Paul and St. John.





Prof. Plinio Corrêa de Oliveira
The Saint of the Day
features highlights from the lives of saints based on comments made by the late Prof. Plinio Corrêa de Oliveira. Following the example of St. John Bosco who used to make similar talks for the boys of his College, each evening it was Prof. Plinio's custom to make a short commentary on the lives of the next day's saint in a meeting for youth in order to encourage them in the practice of virtue and love for the Catholic Church. TIA thought that its readers could profit from these valuable commentaries.
The texts of both the biographical data and the comments come from personal notes taken by Atila S. Guimarães from 1964 to 1995. Given the fact that the source is a personal notebook, it is possible that at times the biographic notes transcribed here will not rigorously follow the original text read by Prof. Plinio. The commentaries have also been adapted and translated for TIA's site.