The Saint of the Day
Bl. Gregory Lopez - July 20
Biographical selection:
Gregory was born in Madrid in July 1542 during the splendor of the Spanish hegemony in Europe. A page at the court of Phillip II, he made a pilgrimage in 1572 to Our Lady of Guadalupe in Extremadura. There, he heard of another sanctuary of Our Lady of Guadalupe in Mexico. An ardent flame ignited his heart with the desire to go to the New World to serve Our Lord and His Most Holy Mother.
The walled port of Fort Ulua in Mexico where Gregory landed in the New World
Landing in San Juan de Ulúa, the city that Hernán Cortez had named Villa Rica de la Vera Cruz (Rich City of the Holy Cross), Gregory sold all his possessions and gave the money to the poor. To earn enough to live, he initially took employment as an amanuensis for a short while.
Finally, he left society and went to a solitary place to make penance as a hermit. Only on Sundays and feast days would he walk 24 miles to Mass and Communion.
The hermit started to attract the attention of the people, who were suspicious of him because of his unusual way of life and they spread detractions and lies. Twice the Archbishop of Mexico ordered investigations of Gregory, both time with positive results.
The Jesuit who conducted the second inquiry noted that, comparing himself to Gregory, he himself looked like someone who did know the elementary truths of the spiritual life. After his way of life was approved, Gregoy began to be looked upon as holy and many sought his counsel.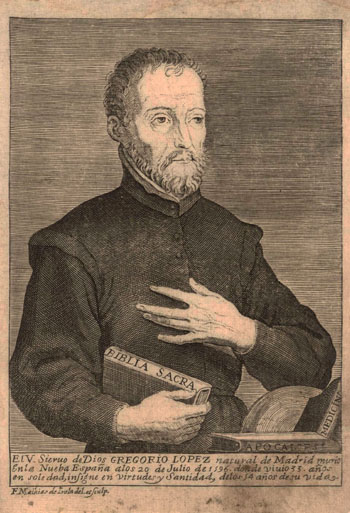 Gregory Lopez, first hermit of New Spain
Gregory was tall, with well formed features, dark brown hair and beard and lively black eyes. His body was marked by mortifications, fasting and long vigils. His only possessions were the Bible, a world map and a globe. The map and the globe were made by his own hands. He was a skillful cosmographer and calligrapher, and an expert in anatomy and medicine.
He left various writings, including a book in which he described the beneficial qualities of countless plants. He was also a tailor and a shoemaker.
Blessed Gregory, the first hermit in American lands, died on July 20, 1596, at age 56 after two months of a very painful illness. Countless miracles occurred on his grave. His many admirers fought to have his relics and, finally, his body remained with the Carmelites in Mexico while his head was sent to Spain.
King Phillip IV of Spain ordered the Viceroy of Mexico Henrique Pacheco y Osorio to gather the writings Blessed Gregory left. Among those works is an explanation of the Apocalypse.
Comments of Prof. Plinio:
You see in Blessed Gregory the contemplative spirit in a form that greatly interests us. He was a contemplative, but his type of spirit did not correspond to the idea most persons have of a contemplative. Normally, people think that contemplation is a pure and direct meditation on the content of Revelation and Tradition, the documents of the Magisterium and topics of a strictly religious character.
A man can contemplate God in nature as he works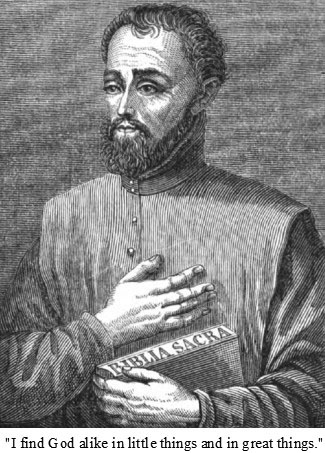 It is difficult for these people to conceive that, according to another type of spirit, a man can interpose the directly religious meditation with the religious aspects of temporal things. It is possible to raise oneself to God and have elevated meditations on, for example, the vegetal kingdom.
Thus, by collecting elements of the vegetal nature or making a study about them, a man can reach the pinnacles of contemplation. It is evidently a secondary and less noble form of meditation, but also a perfect one. It is indispensable that this form should be carried out by mankind throughout History to glorify God, and that some contemplative spirits be destined to follow this path.
It is also possible to work in a contemplative way. For example, an artisan may carve a beautiful piece of furniture in a contemplative spirit. He may not only have a contemplative idea of that piece of furniture but also, while making it, have a contemplative vision of the beauty the work he is starting. Then, afterwards, he considers the adequacy of his finished work with the one he had envisioned. Doing this, he can make a true contemplation.
You see in the life of Bl. Gregory Lopez that he was a great contemplative - duly recognized by the Church who made him a Blessed - whose contemplation was turned toward Our Lord and Our Lady through temporal things. His study on the properties of plants and herbs reveals that he had this type of perspective. Also, the fact that he was a experienced cartographer able to draw his own map of the world shows that he also contemplated God in the distribution He made of the land, continents, rivers and oceans.
This type of contemplation coincides with the spiritual school of the Counter-Revolution. We ascend to God through the admiration of temporal things, even as we recognize that the principal themes of meditations are habitually topics that are directly religious and spiritual.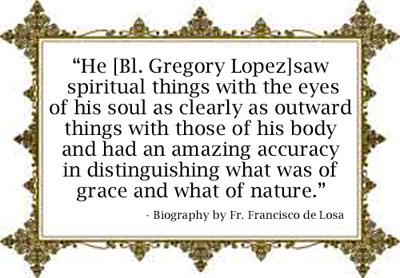 Prof. Plinio Corrêa de Oliveira
The Saint of the Day
features highlights from the lives of saints based on comments made by the late Prof. Plinio Corrêa de Oliveira. Following the example of St. John Bosco who used to make similar talks for the boys of his College, each evening it was Prof. Plinio's custom to make a short commentary on the lives of the next day's saint in a meeting for youth in order to encourage them in the practice of virtue and love for the Catholic Church. TIA thought that its readers could profit from these valuable commentaries.
The texts of both the biographical data and the comments come from personal notes taken by Atila S. Guimarães from 1964 to 1995. Given the fact that the source is a personal notebook, it is possible that at times the biographic notes transcribed here will not rigorously follow the original text read by Prof. Plinio. The commentaries have also been adapted and translated for TIA's site.