Progressivism in the Church
Church Revolution in Pictures
Photo of the Week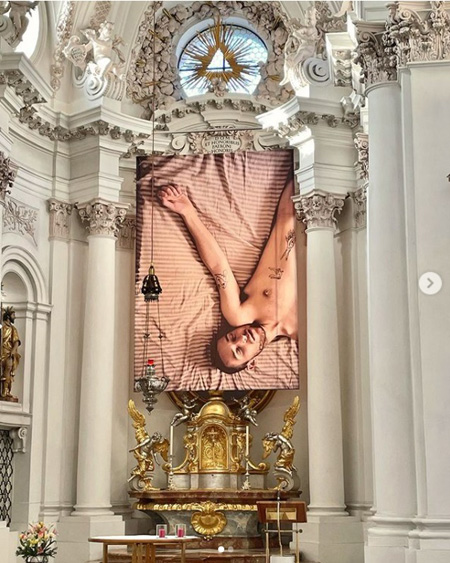 How Lent started in Innsbruck
His Excellency Hermann Glettler, Bishop of Innsbruck, has offered some thoughts for his sheep on how to begin their Lent on March 2, 2022, Ash Wednesday.
These thoughts were posted on his
Instagram
page with a photo showing St. John Church in his Diocese with a large photo of a naked man replacing the Crucifix posted directly over the altar,
above and first row below
.
A translation of Glettler's comments on this photo follows:
Tired? Exhausted?
Beginning of Lent: Intervention of Art in the Church.
Large-format photo staged by Tyrolean artist Carmen Brucic in Innsbruck's University Church of St. John. The photo is from the series "Private Stages" in Tbilisi. David, half-Ukrainian - shown in the picture in an exhausted state (or simply at rest?) - is demonstrating in the Georgian capital these days against the madness of the war. A matter of collective and personal fatigue, but also a restoring the strength for the resistance.
Lent is a time for reflection, purification, awareness of needs, and a "rising" from the power of faith. Go with Jesus, sympathize. An inner connection with God. Tonight's service with a cross of ashes. Happy Lent everyone!
In the photo we see a naked young man lying on a bed sheet. When we went to investigate the mentioned collection "
Private Stages
," we realized that it features homosexuals protesting against the closing of the queer nightclub Bassiani in the Georgian capital by the police. One of the homos who appears in the protest-documentary is David Apakidze, who posed naked for "artist" Carmen Brucic in Tbilisi,
second to fourth rows.
Detail: The photo shoot by Brucic was made in 2021. Therefore, the work is a clear protest against the closing of the homo nightclub, and not a protest against the war in Ukraine, as Glettler deceptively suggests.
So, in one of the churches of his Diocese, Bishop Glettler placed over the Altar the naked photo a homo exhibitionist to inspire his flock to reflect on the Lenten purification they should undertake... It is an irony and a profanation.
Further, by promoting the "resistance" in Tbilisi, he is actually reinforcing this vice against nature and sanctioning the scandalous performance of the homosexual libidinous shows that took place in the mentioned nightclub.
Last row
, Bishop Glettler in a great communion of souls with Pope Bergoglio, another admirer of homosexuals.

Posted March 6, 2022
________________________