Progressivism in the Church
Church Revolution in Pictures
Photo of the Week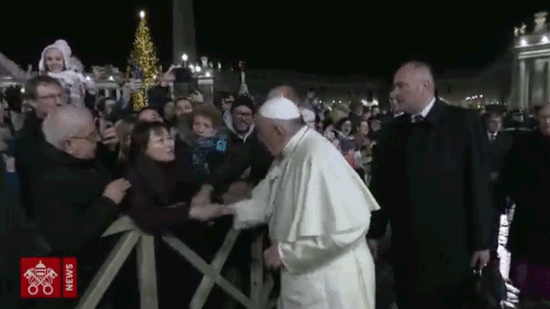 The slapping Pope
After the Mass on December 31, 2019, Pope Francis went to visit the Manger at St. Peter Square. During his walk he was greeting some of the faithful who were lined up to see him.
A Chinese lady grasped his hand to ask his intercession for the Chinese people who are losing their Faith in her country due the increased persecution of the communist government... Actually, according to
Monte Sanmarti
, the lady's words were: "
Hold! Hold! Look for the Chinese village! They are losing the faith!
" She was speaking in English, which she obviously did not know well, because she said "hold" instead of "wait" and "village" instead of "people."
After hearing her words, Francis became furious and slapped her hand.
Was he furious because she pulled him or because she criticized his betrayal of the Chinese Catholics of the Underground Church and the Pope's concessions to Communist China and its Patriotic Church?
Below
, we present
first,
the scene of the lady making the Sign of the Cross to prepare herself to deliver her message;
then
, a series of photos showing the brutal and incomprehensible reaction of the man who should be the true representative of Jesus Christ on earth.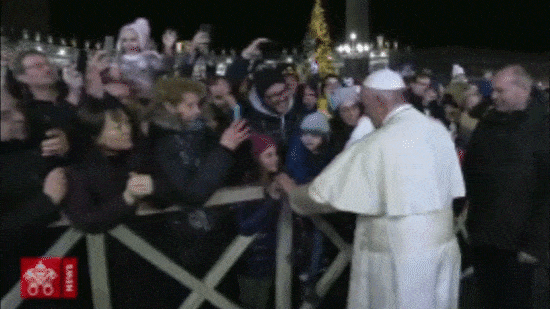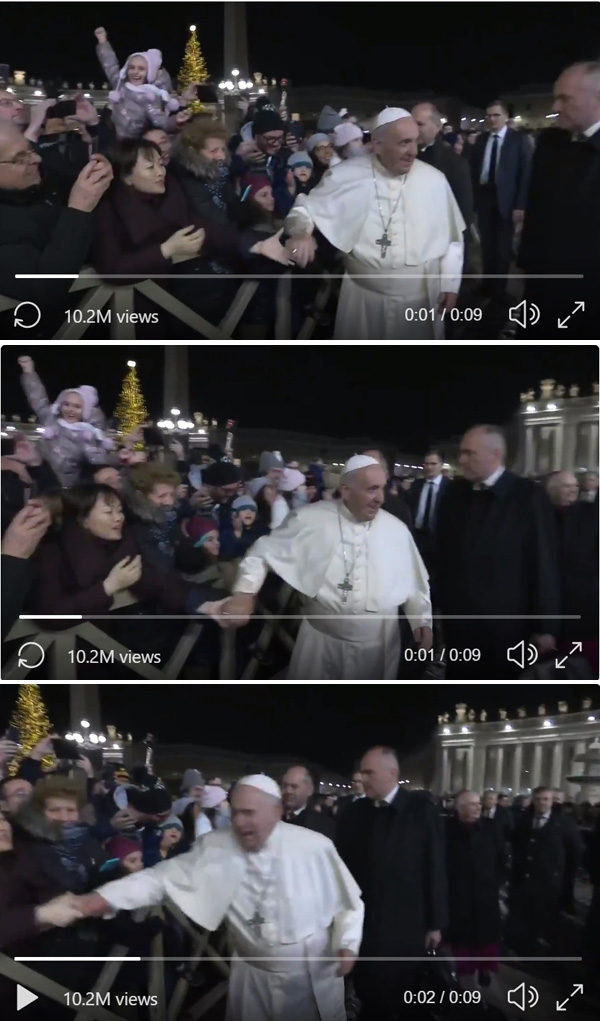 The Chinese lady grasps the Pope's hand and draws him toward her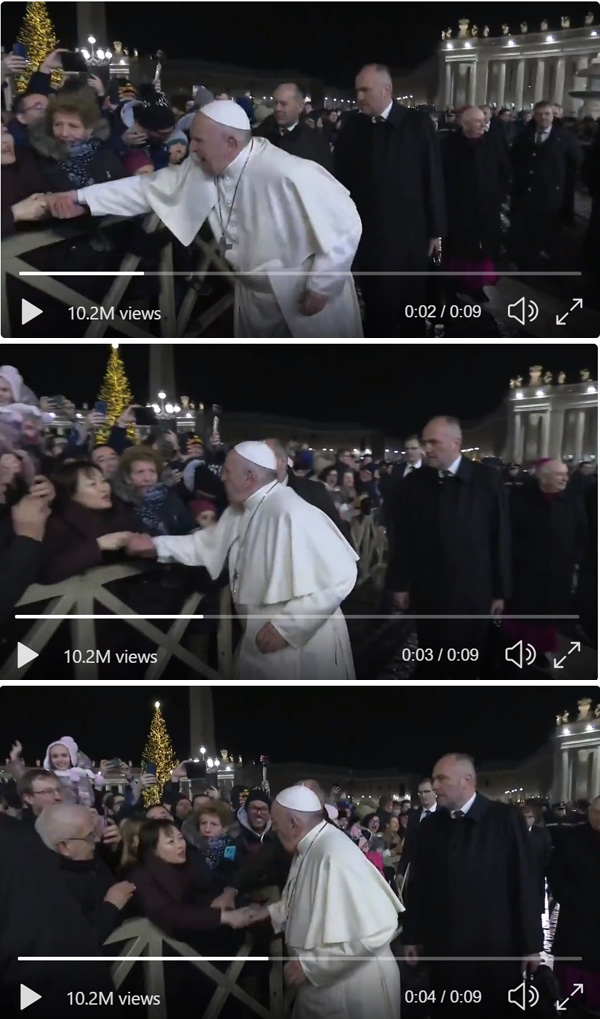 The Pope first shows surprise and fear, then listens to her message:
"Hold! Hold! Look for the Chinese village! They are losing the faith!"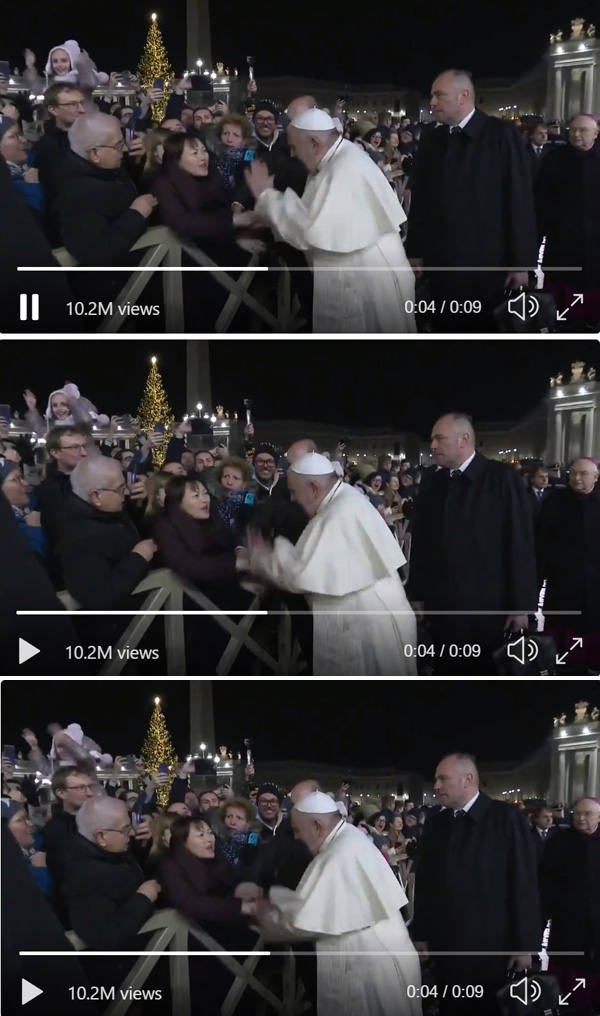 He becomes indignant and roughly slaps her hand twice to be rid of her and not hear more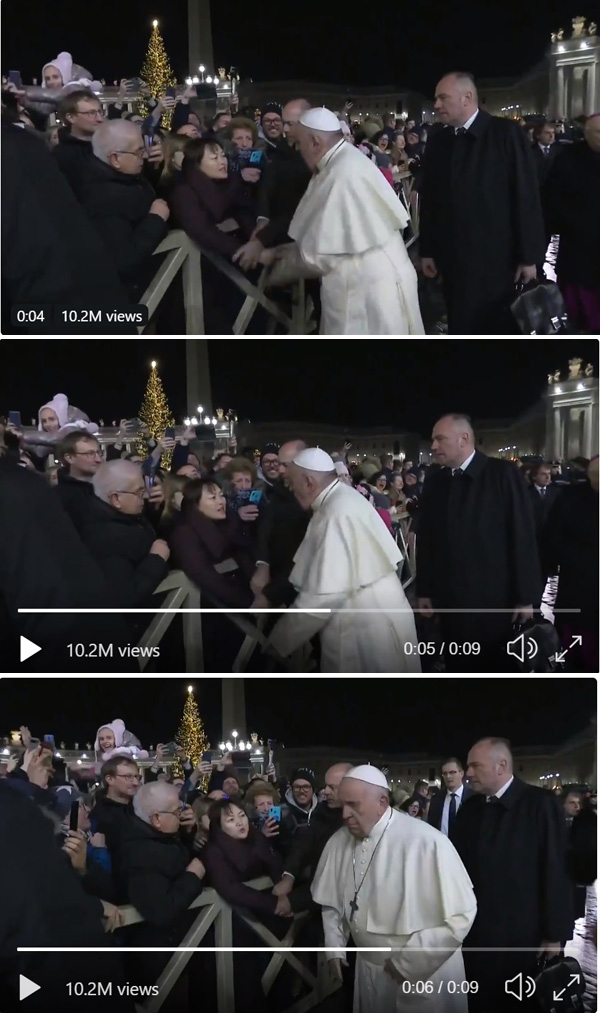 She does not give up and continues to speak
until the bodyguard takes her hand and frees the Pope from her earnest grip
Francis leaves the scene showing a deep resentment,
while the bodyguard violently represses the lady

Posted January 5, 2020
________________________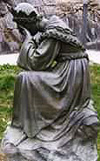 Our Lady of La Salette,
restore the Holy Church.