Progressivism in the Church
Church Revolution in Pictures
Photo of the Week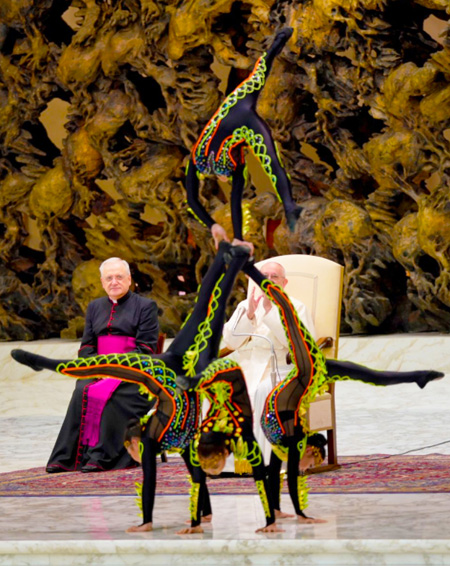 Immoral circus show at the Vatican
Following in the footsteps of JPII and Benedict XVI, Francis is turning the Vatican into a circus.
Pictured
above
are acrobats from the Golden Circus of Liana Orfei. The acrobats – who are wearing skin-tight, sheer outfits – gave their immoral performance before Pope Francis and thousands of people during his general audience in Paul VI Hall on December 27, 2017. It is remarkable that the show of the four young women in the pictures included obscene open-leg movements. This is added to the fact that the side stripes on their body leotards were a type of lace through which we can distinguish their skin and shape quite clearly.
The acrobats performed to entertain Francis, who sees nothing wrong in this immoral pastime (
here
,
here
,
here
and
here
). Circus performances have become common around Christmas at the Vatican.
Paradoxically, on that holy occasion Pope Bergoglio commented that today "we are witnessing a kind of distortion of Christmas" where often "any reference to the birth of Jesus is eliminated from the festivities." Undoubtedly a fair criticism, but curiously Francis seems guilty of his own complaint since, as far as we could verify, that circus performance had nothing to do with Our Lord, Christmas or even Catholicism.
Such performances are occurring at the Vatican many times a year under almost any pretext. Why this frequency?
Independent of the immodest dress of the artists that promotes immorality, we see in these circuses performances an abandonment of the seriousness of the Papacy. How can a Vicar of Christ be a representative of the "Man of Sorrows" and at the same time identify himself with clowns and circus acrobats? We see no possibility of doing the two things coexisting since one excludes the other.
By watching these performances, Francis continues to push for Vatican II's agenda of adapting the Church to the modern world and to make a mockery of the chair of St. Peter as he eliminates its seriousness and sacrality.

Posted January 7, 2018
________________________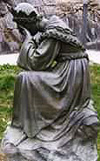 Our Lady of La Salette,
restore the Holy Church.
________________________