Progressivism in the Church
Church Revolution in Pictures
Photo of the Week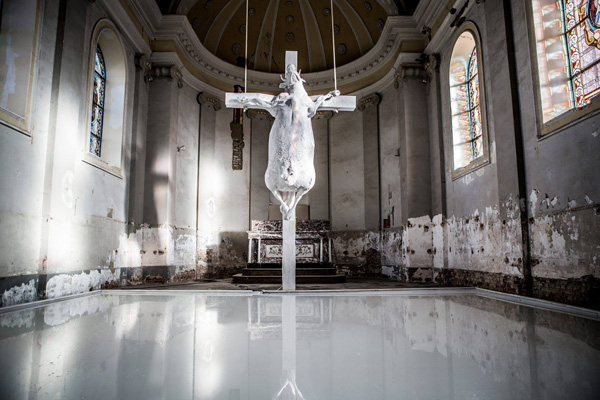 Crucified cow in a Belgian Catholic Church
Pictured
above,
you see the corpse of a real cow, all covered in white paint, nailed to a cross. Beneath the cross is a pool of 5,000 liters of milk. This "artistic" work titled
Holy Cow
has been displayed since early November in St. John the Baptist Catholic Church of Kuttekoven in Borgloon, Belgium.
The work was made by Tom Herck,
first row below,
and is a supposed protest against wastefulness, with the church being a part of this.
Built in 1840, the church is a historic neo-classic structure. Yet, despite its rich history and its contribution to local cultural heritage, Herck considers the church an architectural wasteland, since no one cares about its "insufferably tedious Masses."
Although the church was closed in 2006 and handed over to local authorities because of its alleged "dilapidated" state, the building has not been "de-consecrated" and still occasionally hosts masses. Apparently this church is not dilapidated enough to be used by the local authorities for art exhibits.
This shameless blasphemy is a proof of the permissiveness of the progressivist authorities, who are doing nothing to remove the exhibit. Bishop Patrick Hoogmartens is the Prelate responsible for allowing this profanation,
last row below
being embraced by Pope Francis. So far he has done nothing. Instead of taking immediate action,
Hoogmartens' Diocese responded
with a mild cursory statement on November 7, qualifying the exhibit as possibly "hurtful" and "inappropriate," but did not prohibit it.
The exhibit, which will remain in the church until early December, provoked a strong reaction in many Catholics. Some of them took action by standing outside the church,
third row below
, and publicly praying the Rosary in reparation for the blasphemies committed against Our Lord, while holding a sign in Dutch that reads: "Stop blasphemy and degenerate art."
The group
Vox Populi
recorded the exhibit and posted a
video
on Youtube. One of its leaders declared: "This is a disgrace for Christ, True God and True Man, who died for us all and who came to give us salvation. Here we stand, to give witness of our Faith, as our own Bishops and priests let us down. We testify here for Christ, for His Kingship in the world."
What will it take to open the eyes of middle-of-the-road and conservative Catholics to the reality that the Vatican has been completely hijacked by progressivists, who are enemies of the Catholic Faith?

Posted November 26, 2017
________________________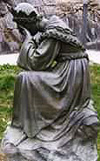 Our Lady of La Salette,
restore the Holy Church.
________________________