Progressivism in the Church
Church Revolution in Pictures
Photo of the Week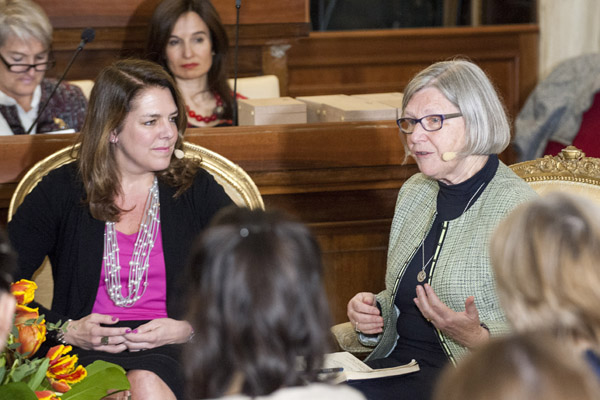 Vatican sponsors feminist platform
On March 8, 2017, under the sponsorship of the head of the Pontifical Academy of Sciences, Bishop Marcelo Sanchez Sorondo, the Vatican allowed the "Voices of Faith" meeting to be held in its facilities. At this feminist event women gather, echoing the UN International Women's Day. This is the fourth year the Vatican has hosted this initiative that started with Pope Francis.
Among the speakers was Sr. Simone Campbell,
above right
, an American
pro-abortion nun
, who is also known for her other leftist positions, which include: promoting
ordination of women
to the priesthood; proposing the complete economic equality of the classes; being against any superiority of men over women (labeled as patriarchalism); being indiscriminately against war; being an advocate of the multiple leftist items on the agenda of the "
Nuns on the Bus
."
The speaker of honor was Fr. Arturo Sosa, Superior General of the Jesuits,
below first row.
In his address he referred to
God as Mother
and encouraged the feminist fight for the ordination of women by noting that Pope Francis had created a commission to study the possibility of women deacons.
Sosa also criticized xenophobia, referring to a country's protection of its own values against foreign ones – an indirect reference to Brexit and Trump – and the fact that women make less money than men.
We do not need to read Marx, Lenin or Trotsky and follow the initiatives of the Communist Party to know how the ideals of Communism are winning today. We just need to read the documents of the Vatican, the speeches of its leaders and follow what the Holy See is doing...
Below second row
, a close-up of the participants at the 2017 meeting, Sr. Campbell is in the
back row at left
.
Third row,
assisting at Voices of Faith meeting in a previous year;
fourth row,
speaking at a "Nuns on the Bus" rally.
Read more
here
.


Posted March 19, 2017
________________________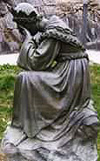 Our Lady of La Salette,
restore the Holy Church.
________________________