Progressivism in the Church
Church Revolution in Pictures
Photo of the Week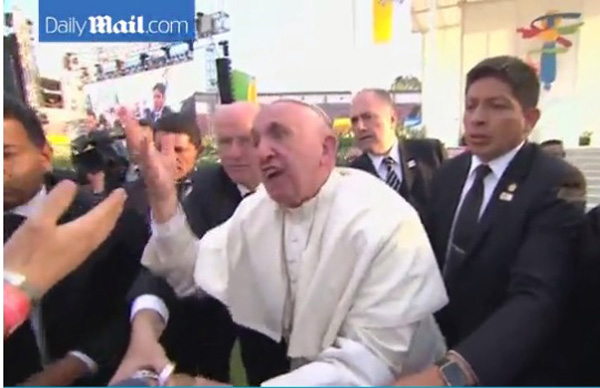 Lessons from Francis' explosion of fury
As he arrived at a stadium in the Mexican city of Morelia on February 17, 2016, Pope Francis came close to a group of handicapped people. According to the spokesman of the Holy See, Fr. Federico Lombardi, one of them grabbed the arm of the Pope and pulled him down in his direction (check video in Spanish
here)
. Francis lost his equilibrium and partially fell over another handicapped man in a wheelchair,
first and second rows below
. The bodyguards came to his assistance and Francis regained his balance.
Right after this occurred, Bergoglio yelled loudly at the mentally ill youth who had accidentally caused the mishap: "Do not be an egoist! Do not be an egoist!" The sequence of facial expressions of papal fury displayed during this outburst is shown on this page.
What are the lessons to be drawn from this explosion?
First
, we see that Francis the "humble" is extremely concerned about his own public image. When something potentially embarrassing happens that can harm his image, like being pulled down and losing his balance, he becomes furious.
Second
, the least we can say is that his charity toward the handicapped is not bullet-proof. When one of these poor mentally ill persons does something that is irrational, the "compassionate" Bergoglio has no compassion for him. He furiously yells at the "offender," without considering that it is completely normal for a person who is mentally handicapped to react in this way in the excitement of the moment.
Third
, Fr. Lombardi, when asked to explain the episode, said that "it was a human reaction" that each one of us would have had in that situation. The problem is that the Pope is not just "one of us." We would expect more than "a human reaction" from the Supreme Pontiff. What we expect to find is a model in the practice of virtues proper to the Vicar of Christ. It is obvious that we do not see this model in Francis.
Fourth
, during these last three years, Bergoglio has indefatigably destroyed the aura of the Papacy and affirmed that the Pope is just one of the people. So, we can only wonder why is he so furious when one of the people considers the Pope as an equal and treats him as such?
Watch a video by
Daily Mail
here
.

Posted February 21, 2016
________________________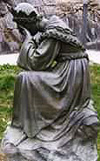 Our Lady of La Salette,
restore the Holy Church.