Progressivism in the Church
Church Revolution in Pictures
Photo of the Week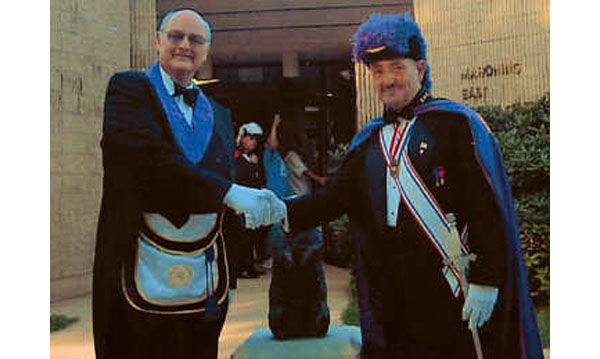 Are the Knights of Columbus part of Freemasonry?
At the entrance of a building called Masonic East, a Freemason wearing his apron shakes hands with a knight of Columbus in his full solemn apparel. What is this?
Walking Together ... for Life
reads the headline of the online
Pennsylvania Freemason
. The caption gives the details:
Richard A. Carnes, District Deputy Grand Master for District 39, shakes hands with Peter P. Pape, Corps Commander, Knights of Columbus, demonstrating Masons and Knights of Columbus members working together in harmony as escorts for cancer survivors during the annual American Cancer Society's Walk for Life on August 4, 2006.
But this was not the only occasion when the two organizations walked together. In Minnesota, an online circular for the Masons of the State invites them to a pancakes breakfast at the Knights of Columbus headquarters:
Templar Lodge No. 176 in St. Louis Park is hosting a special fundraising event for their Master, W. Brother Scott Anderson. Scott is 42 years old and recently suffered two strokes.
The medical bills are high, and the lodge is trying to raise some money and then go to the Grand Lodge for some matching funds in an effort to help him out.
The pancake breakfast is on Sunday, August 12th, 9 a.m. to 1 p.m.
At the Marian hall, Knights of Columbus, 1114 American Blvd. West, Bloomington. Cost is $7.00 a plate and includes pancakes, sausage, milk and juice.
Can't make it but you would still like to contribute? Please feel free to send a donation to Templar Lodge No. 176, Secretary Michael Dunn, 7400 Beard Ave N, Brooklyn Park, MN 55443-3534. Thank you for your consideration.
Douglas Campbell - Grand Secretary - Grand Lodge of Minnesota
If you apply the maxim - Tell me who your friends are, and I will tell you who you are - it seems difficult not to conclude that the Knights of Columbus are linked to Freemasonry.
Posted December 2, 2012
________________________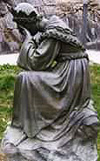 Our Lady of La Salette,
restore the Holy Church.