Progressivism in the Church
Church Revolution in Pictures

Photo of the Week
Ambiguous symbol on papal vestments
During his visit to England, Benedict XVI wore a a blue stole with stylized hearts, as seen above. It was at a prayer service in St. Mary's University College in London on September 17, 2010. The hearts were copied from Cardinal Newman's coat-of-arms, shown below, and to place them on a papal stole was meant to be a glorification of that symbol of Newman.

Now then, since throughout his life Newman professed a particularly ardent love for some male disciples or companions he had, the last being his "dearly beloved" companion of 32 years Fr. Ambrose Saint John, the motto on his coat-of-arms - The Heart Speaks to the Heart - and the symbol of the heart have, at the least, a double meaning. They can represent the love of benevolence every Catholic should have for his neighbor as an expression of his love for God. Or they can represent homosexual love. The heart as Newman's symbol is quite ambiguous.

Therefore, by glorifying that symbol Benedict also glorified its ambiguity. It seems to us difficult not to say that somehow he strengthened the homosexual movement, which presents Newman as one of their own.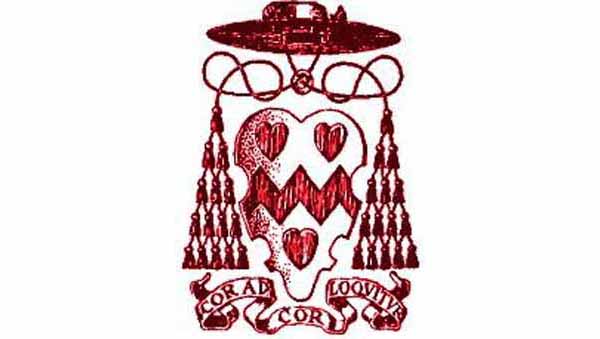 Photos from the Internet & Catholic Press Photo
Posted April 3, 2011

Related Topics of Interest

Was Cardinal Newman 'Gay'?

Polemic on Newman's Homosexuality Increases

More Symptoms of Newman's Homosexuality

A Pulverized Newman

Doubts about the Beatification of Card. Newman

The Liberal Newman: Documents
Pictures | Home | Books | CDs | Search | Contact Us | Donate



© 2002- Tradition in Action, Inc. All Rights Reserved