Progressivism in the Church
Church Revolution in Pictures

Photo of the Week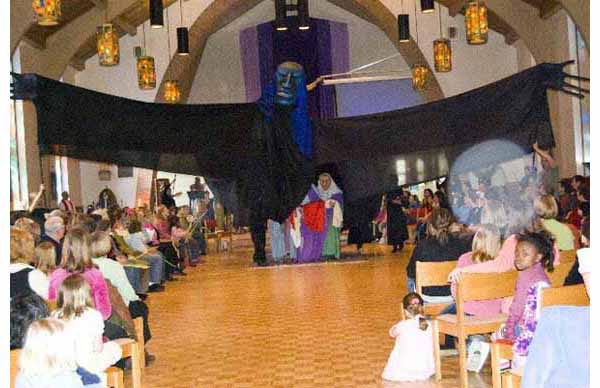 Easter Sunday in Minneapolis
To celebrate the Resurrection of Our Lord Jesus Christ, a pastor in Minneapolis chose to display a sinister Christ with the air of a vampire to the children of his parish, above.

One only wonders what idea these poor children will have of the glorious victory of the Word Incarnate over death, which is one of the basic dogmas of the Catholic Faith. It should come as no surprise if tomorrow many of them abandon the Faith. Indeed, who wants to have a type of vampire as his god? This is one more example of the bad fruits of the liturgical liberty Vatican II gave the clergy.

Below, a depiction of the Resurrection by Pietro Perugino according to traditional Catholic iconography.
Posted June 21, 2009

Related Topics of Interest

French Diocese Presents Christ as an E.T.

A Requiem for Judas in Austria

Immoral Art Exposition in Brussels Notre Dame Chapel

Tabernacle in the Shape of a Phallus in India

Dervishes Perform in the Votive Church of Vienna

Dance Festival in St. Gallen Cathedral

A Theater Play Desecrates a Church in Lucerne

Women Replace the Crucified Christ in Germany
Pictures | Home | Books | CDs | Search | Contact Us | Donate



© 2002- Tradition in Action, Inc. All Rights Reserved