Progressivism in the Church
Church Revolution in Pictures

Photo of the Week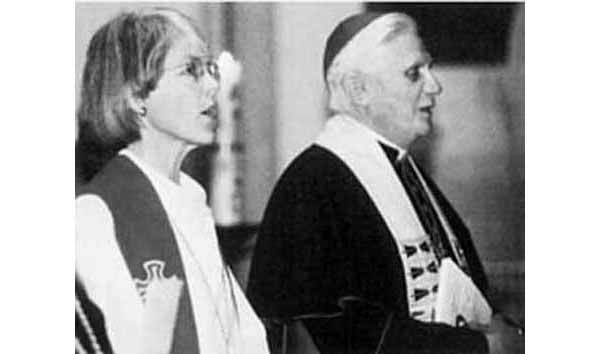 Benedict and the Protestants, yesterday and today
Above, as Archbishop of Munich, Joseph Ratzinger sings alongside a Protestant woman minister at a common prayer service. Later, as Prefect of the Congregation for the Doctrine of the Faith, he was the one who penned the Catholic-Lutheran Accord that compromised the doctrine of justification defined by the Council of Trent.

As Pope, Benedict XVI has consistently given Protestants great prestige and support.

Below first row, he receives a framed prayer written by Luther from Mark Hanson, President of the Lutheran World Federation on April 13, 2007. Second row, he wecomes representatives of the Lutherans of Finland to his private library, where he tells them that joint prayer is the "royal door of ecumenism." Third row, he hosts a delegation from the World Alliance of Reformed Churches on January 7, 2006 and agrees to the call for a new era of partnership.
Posted March 8, 2009

Related Topics of Interest

Card. Ratzinger Gives Communion to a Protestant

Catholic-Lutheran Accord

JPII Kisses the Hand of Anglican Bishop

Benedict: Brother Schutz Is in Heaven

Brother Schutz Did Not Convert

Protestant Oscar Cullmann and Ratzinger

Benedict Did Not Change

Fr. Ratzinger under Suspicion of Heresy
Pictures | Home | Books | CDs | Search | Contact Us | Donate



© 2002- Tradition in Action, Inc. All Rights Reserved