Documents for your files
PROGRESSIVIST DOCUMENT OF THE WEEK
Francis Greets Leonardo Boff
Leonardo Boff is one of the stars of Liberation Theology. After a censure by Card. Joseph Ratzinger, he was dismissed from the Franciscan Order in which he was a priest. Boff never denied his communist ideas and continued to preach them with the support of the Brazilian Cardinals and the Conference of Brazilian Bishops.
He is one of the leaders of the Basic Christian Communities, which are a political force in Brazil able to elect Lula twice as president and also Dilma Rousseff twice.
With the end of the USSR, Boff
turned to Ecology
and became the author of proposals for the
Earth Charter
under the direction of Gorbachev.
Recently Pope Francis addressed a letter in Spanish to Leonardo Boff greeting him for his 80
th
birthday. Boff posted this letter on December 17, 2018, on his website. We reproduce
below
a shot of his website.
In blue print we present a complete translation of Boff's posting to English including the text of the papal letter in Spanish, followed by a snapshot of the website in Portuguese and Spanish.
Letter of Pope Francis to Leonardo Boff

December 17, 2018

Pope Francis is suffering great opposition from part of the Roman Curia and, curiously, also from conservative members of the Trump government, articulated with conservative and even reactionary groups of the American Catholic Church, led by Card. [sic] Vigano.

To support Pope Francis I wrote him a letter, as I had done other times. He used to answer me through the Argentinian ambassador to the Holy See, Valdes during the term of Cristiana Kirchner. He did the same thanking me for my modest collaboration when he wrote the encyclical Laudato Si on the care for the Common Home.

Here, I post the letter thanking me for my support to him with the best wishes for my 80 years of life.

This is the letter:

Dr. Leonardo Boff

Dear brother,

Thank you for your letter sent through Fr. Fabian.

I was glad to receive it and I thank you for the generosity of your comments.

I recall our first encounter in San Miguel, during the meeting of the CLAR, between the years 1972-1975. Thenceforth I followed you reading some of your works.

At some point soon you will be having your 80th birthday. I send you my best wishes.

And, please, don't forget to pray for me. I pray for you and your Wife.

May Jesus bless you and the Virgin take care of you.

Fraternally,

Francis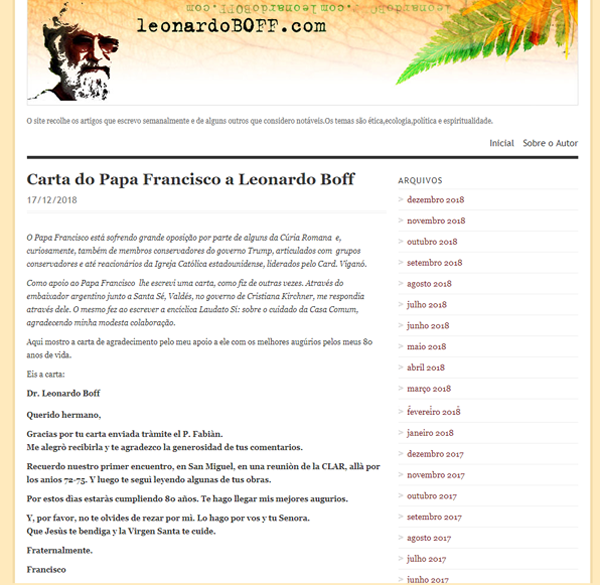 For a larger copy click here
It is opportune to remark that Leonardo Boff is not married, but for more than 12 years cohabitates with his concubine Marcia Monteiro Miranda, photo below.
Nonetheless, Pope Francis treats her as Boff's wife - the Spanish expression "
tu Señora
" habitually means "your wife." It is a curious facet of Francis' morals, which ignores the Commandments of God and Catholic Morals about chastity and marriage...